10 Best Things to do in NYC in 3 Days
I'm here to tell you about the 10 Best Things to do in NYC in 3 Days. We spent 3 days in NYC at the beginning of April and it was cold and windy!  Although it was grey and wet, we managed to make the most of our 3 days in New York City. NYC in 3 days is a quick trip with all there is to see, so I made sure to see 10 of the best things in New York City.
10 Best Things to do in NYC in 3 Days
1. Sarabeth's
We started our day at Sarabeth's.  This was recommended to us by a local New Yorker and it did not disappoint.  There are a few locations around the city and we dined in Tribeca.  I initially loved it because my name is Sarah (with an h) and my sister's name is Beth.  It sounded like a good fit.
The ambiance was adorable, the coffee was exactly what I needed and the lemon ricotta pancakes were out of this world!!!!!  The portions were large and so delicious. We had leftovers that we passed onto a homeless man sleeping on the sidewalk.  As visitors, we didn't need leftovers, and sharing our meal felt really good!
Yum!  We left feeling good and passed along that feeling…
We picked this location so we could walk past the 9/11 memorial, stock exchange and head to Battery Park where we boarded to see the Statue of Liberty and Ellis Island.  It was an easy walk with so much to see. We did in NYC in 3 days but if we there long, I'd love to try SaraBeth's at Central Park
2. 9/11 Memorial
This was an area I knew would be powerful.  Being in my 30s, I haven't had many "I know exactly where I was when…." moments.  September 11, 2001, is one of them.  We all have our stories about that day but speaking with someone who was there and standing in front of the exact locations was obviously very different.
We spoke with a man outside of the survivor tree.  He was there to speak about how this resilient little tree has made it through some of New York's devastating events.  The story evolved into his day working in the second tower on 9/11.  Time didn't allow us to go to the museum but making a personal connection with this man and his stories about the 1993 World Trade Center bombing, 9/11 attacks, and the hurricanes was a history lesson I really felt.
3. Statue of Liberty
Lady Liberty was someone I was looking forward to meeting.  If you only have 3 days in NYC, this is a must-see! My young children and nieces all know and asked about the Statue of Liberty.  She's social studies 101 to all of us and I was excited to see her in person.
As we boarded the boat, it started pouring cold rain.  The grey sky doesn't show the sheets of rain that were flowing as we walked around.  We had tickets for the grounds only.  We splashed in puddles as we took wet pictures and laughed as our umbrellas turned inside out.
If we have the opportunity to go back, I'd book tickets to the crown well in advance.  We planned our trip with short notice and would have liked to see inside.
4. Ellis Island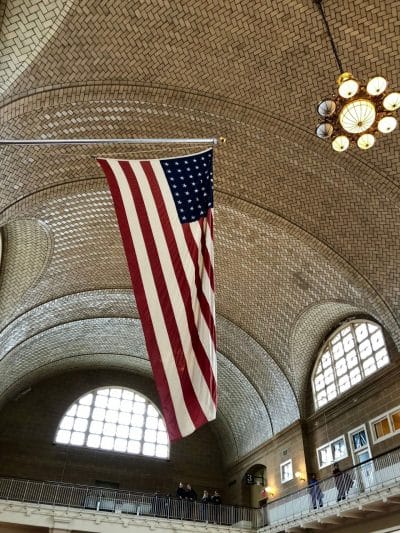 After a wet time at the Statue of Liberty, we entered Ellis Island.   You could easily spend all day here reading all the information around the building.   It mapped out the fabric of our melting pot of country and really was something to see.
At this point, I had a migraine attack rising, was tired, wet, and ready to head back to our hotel. If I am in NYC in 3 Days, it is inevitable that I will get a migraine attack.
5. St Patrick's Cathedral
When we travel, we almost always find a church to visit.  "Every year, more than five million people of every different nationality and faith enter this Cathedral."
We walked in off a bustling street to this gorgeous and harmonious cathedral.  Usually, when we walk through a church it is really quiet and still.  This church happened to be filled with a high school choir singing and they blessed us all with their songs!  It was magical! As we walked around admiring the endless stained glass and details, the church felt alive, warm, and welcoming.
6. Top of the Rock
Wind in my hair, I don't care.  (For more crazy hair and New York pictures, check out my Instagram)
In our 3 days in NYC trip, we went to the Top of the Rock at Rockefeller Center there were 50 mile an hour winds.  We headed up 70 floors and I literally almost fell over. *Tip: The guard told me to drop to the ground when he saw me carried by the wind.
Thankfully it didn't rain on us that day.  I would not have loved being up there in rain, but even on a windy cloudy day, this view was impressive!
7. Rockefeller Plaza
I've seen Rockefeller Plaza on t.v. so many times, we had to see it.  The ice skating rink is right smack in the middle of all of these buildings.  That's New York City.  You walk through all these buildings then all of a sudden a special gem is nestled among them. (I felt the same way about St. Patrick's Cathedral.)
We went the Monday after Easter and there were beautiful flowers and twirling characters promising Spring while we walked among them in our Winter coats.
8. Times Square
We went to Times Square during both the day and night.  It gave a different vibe each time.  Seeing the New Year's Eve ball was cool.  Once again, this was a place I've seen on t.v. for many years.  Imagining the street with wall-to-wall people as it is on New Year's Eve made me a bit claustrophobic but on a Tuesday in April, it provided entertaining people watching, lots of billboard watching, shopping, and lunch.
9. Chelsea Market
I originally wanted to go to Chelsea Market to see the High Line.  The High Line is an old railroad track-turned attraction which boasts amazing wildlife and city views.  Unfortunately, it was too early in the year for wildlife and was a bit cold for an evening stroll.
Chelsea Market, yet again, was something to experience in NYC in 3 Days.  I'll admit that I'm not a huge shopper.  Despite that, we enjoyed wandering the shops of this unique market.  We spent time in a cute book store, enjoyed the local artist's creations and designs while wandering past countless food options.
10. Artichoke Pizza
Although Chelsea Market had endless choices for food, we always end up at pizza.
I had heard about Artichoke Pizza and it was close to Chelsea Market so we stopped in and got a cute corner table.  They played great music, had a cool laid back vibe, and most importantly had phenomenal pizza.  The slices were huge, filling and so good!  We had to try New York pizza and I'm so glad we tried Artichoke!
Best of NYC in 3 Days
Overall, 3 days in New York City can't even touch the number of things to do in NYC.  10 Best Things to do in NYC in 3 Days is just the beginning of what you can explore. We ate, we walked, we toured and we enjoyed ourselves!  We got rained on, blown over, and saw a bit of sunshine.  I found New Yorkers to be pleasant and didn't feel unsafe as I had been warned by so many.
It was a place with endless options, lots of energy, and history.  I can see why people exclaim "I Love New York" because I loved New York.
*Tip: Be ready for the weather.
Check out some other places I love to travel on the blog and IG for added photos
How We Spent a Weekend in Phoenix, with Kids
Sponsored: How Traveling was Different this Year
Migraine While Traveling: How to Avoid
Allay Lamp- Green Light Therapy
Sarah tells stories of My Migraine Life. Living life through Migraine consists of advocacy, treatment, prevention, and searching for health and happiness in a positive honest way. Her kids, husband, dog, family and friends motivate her to make a difference in the Migraine World.
I don't often write about medications. It's tricky and personal for me. Over the years, I have taken ...
Read More

→
An integrative approach to migraine may include diet, sleep, environment, vitamins, mindfulness, stress management, yoga and walking, acupuncture, ...
Read More

→
Setting smart goals vs resolutions with chronic illness is vastly different in mindset and outcome. A resolution is ...
Read More

→