A Dream you Dream Alone is Only a Dream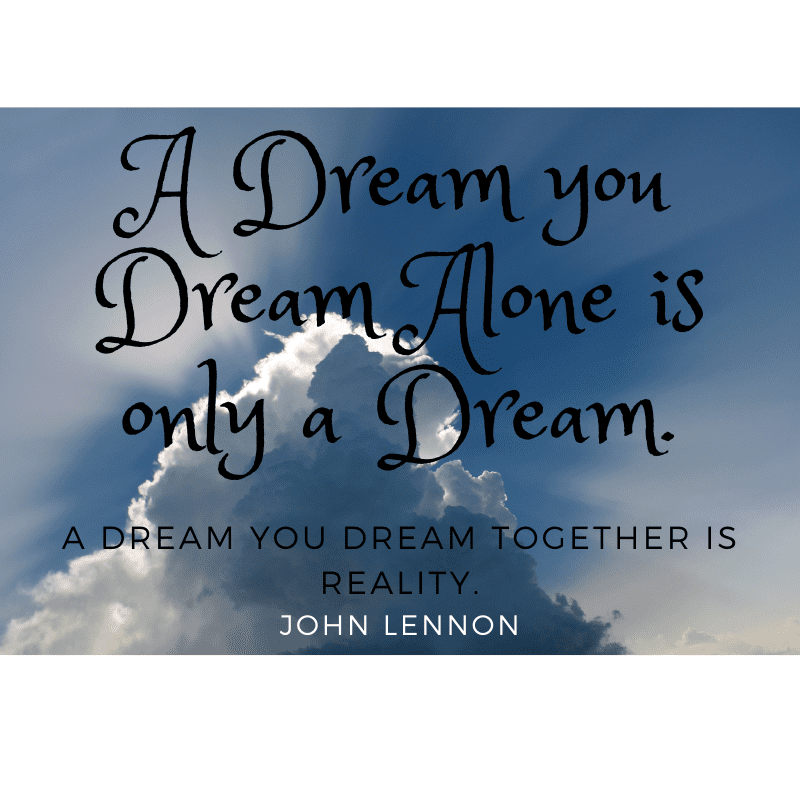 "A dream you dream alone is only a dream.  A dream you dream together is reality."-John Lennon
I love this statement, yet it should have the disclaimer….with a lot of hard work.  Besides hitting the lottery, I can't think of any dream that can be achieved without hard work and usually needs some sort of luck.  If it was easy to obtain it wouldn't be a dream.  So let's talk about my personal dreams for migraine.
A Dream you Dream Alone is Only a Dream
Find a Cure
To be cured almost seems too farfetched for me, but that's why I dream!
Find Medication that Works
I have been on countless medications and I have always had side effects from them.  For years and years, I didn't understand the side effect of my medications. I was under the impression that the way I felt was either a  side effect of my migraines or just my weak system.  My migraines have many more symptoms than just head pain and my meds compound the difficulties my body struggles with.
I have found some relief for small amounts of time then I seem to get resistance, my body changes, or for whatever reason, it stops working.  I have even gone to the extreme of having migraine surgery and it did not leave me with a cure or without side effects.  Too many meds,  yet when my pain level escalates to above a 7 it seems like there are not enough meds.  I'd just like one that works all the time, every time.
Fund Research
This is what I'm talking about when I discuss hard work and luck.  It seems like funding just isn't a priority even with many people working hard to make it one.  I'd like some celebrities and political figures to back this.  That would be lucky….it should be their duty, but it would be lucky.
Stop the Stigma
Give migraine the respect and recognition that it deserves.
A Dream you Dream Together is Reality
Increase Support Systems
I am fortunate to have a huge circle of love and support but I'm not sure how I would do it alone.  I've spoken with many that are battling by themselves and it's not ok.  With migraine comes a whole plethora of physical and mental obstacles that need to be addressed as a whole.  There is a great need for support in a world that can seem so misunderstood and isolated.
I can go on and on about my dreams and the dreams of the migraine community.  Together we can make it a reality but not without hard work.  Dreams aren't handed to you so it only makes sense to work together.
Dream Symbol
I Dreamed a Dream by Susan Boyle
Reoccurring dream and Migraine
Sign up for our newsletter
Hynt Beauty is a luxurious skincare brand made naturally. Hynt is vegan (except the mascara) and is free of known toxins, gluten, parabens, silicone, and talc. Their products are made in the U.S.A are made in small batches by hand, to align with their dedication to freshness, high quality, and high performance. I had the…
Read More

→
This weekend was Miles for Migraine inaugural walk/run in Cleveland.  It was a great success due to all of the generous donations!!!  Thank you for all of the support! The donations At time of post… Total donations: $3,831 My Migraine Life team: $1,519 Due to everyone's support, my team was the top fundraisers and…
Read More

→
It's National Puppy Day 2017 2 weeks ago my dog spent 10 hours in bed with me while I was violently sick with a migraine. She heard my kids snacking and playing down stairs & my husband in and out. She never moved. She never leaves my side when I'm sick. That's love!!!!????????❤ How My…
Read More

→