Acupuncture for Migraine and Headaches: Reasons it Works when Affordable
Acupuncture for migraine, does it work? I tried acupuncture treatment for my migraine and other issues.  For years, I have heard about acupuncture for migraine and acupuncture for headache relief but was hesitant.  I get on average 75-90 shots a year to treat my chronic migraine and don't love it.  The thought of trying another doctor putting needles in me didn't sound appealing.
Acupuncture for Migraine
I was recommended to an acupuncturist by a family member. She is a physician shadowing an acupuncturist who she described as brilliant.  The office was about an hour away while the appointments lasted about 20-30 minutes.  As always, I had a driver. I was told the results could cause feelings of "drinking a 6 pack of beer" and I didn't need to be driving an hour after my treatment woozy.  I was also hesitant because my insurance didn't cover acupuncture and it was going to be more out-of-pocket costs.
With all this, I tried it anyways.  The doctor I saw gave me an immediate calming feeling.  After years of doctor's visits, I tend to start a new treatment with a bit of trepidation.  Retelling my history gets tedious and after 30 years I feel like I've heard it all.  But this doctor was special.  He believed me!  He didn't give me a list of things to try that I had already attempted, he didn't judge, he just believed me.
The coolest assessment he did was to have me hold my middle finger and thumb together while he pulled them apart.  He did this with ease.  After asking questions and putting a few metal discs with band-aids on he tried the assessment again.  This time my fingers held tight.  He looked at my mom and said, "See, she's really hurting.  This would not have happened if she wasn't able to tell me where she hurts."  This was not saying that my mom did not believe me (she knows I hurt) but to say that my pain was real.  Having a doctor ask and not tell me what to do was profound.
How Does Acupuncture Make you Feel?
Each time I walked out of his office I felt optimistic.  I felt lighter and less pained.  This was something new for me being I'm used to walking out of offices with a script and pumped full of much-needed meds but mentally down.  I was pricked with very few needles that were essentially painless.
While I was there we talked not only about pain but triggers, emotions, and concerns.  Once again he was letting me talk and treating me from there.  It wasn't a protocol that the medical professionals deemed for everyone, it was specific to me.  I've always fought to be treated as an individual and not just one of 57 million migraine sufferers.  It was refreshing, I felt heard.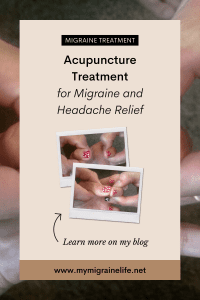 Does Acupuncture for Migraine Work?
Each time was different as I find with all treatments.  The optimism was the same.  One treatment I felt no "6 pack" feeling, while another my head was swimming on the way home.  One time I felt it lasted a week (which for someone who gets migraines daily at some point) was a relief.  Another time I got hammered with a 3-day severe migraine the next day which made me want to give up on my acupuncture treatments.
These results seem to be on par with all of my treatments.  Nothing works every time, in the same way, every time.  After several months my doctor retired.  This was the end of my acupuncture treatments.
How Long does Acupuncture Last?
Why did I not follow up with another acupuncturist closer by?  While loving my doctor and the incredibly interesting ways he treated me, I'm shelving acupuncture for now.  I feel that I got lucky with this amazing doctor and know that every doctor is not created equal.  I fear disappointment in finding another doctor and losing the little bit of magic that acupuncture and this brilliant doctor provided me.  Above all, it's expensive and not something I can financially justify at this time.
Can Acupuncture Help Migraine?
I would recommend acupuncture especially because I enjoy using an integrative approach to my health.  Follow your own path, we all react differently.  You can read about the benefits of migraine treatments from many different resources.  My goal is to give you my experiences and hope that you will learn from my stories. Listen to where your heart, body, and money takes you.  After saying no to acupuncture for so long I finally said yes and it was the right decision for me.  I'm glad I tried it and would try it again in the future.  I don't think it would be around for thousands of years to treat hundreds of things if people hadn't had success.
Have you tried acupuncture for Migraine?
What did you think?
Sign up for our newsletter
I have fears of migraine attacks. It's called Cephalalgiaphobia.  Cephalalgiaphobia "Cephalalgiaphobia is the fear of having a headache attack during a pain-free period that may induce patients to use analgesics in the absence of pain to prevent headaches and improve their performance." National Library of Medicine Fears of Migraine Attacks While in the throes of…
Read More

→
One of the first signs that a migraine attack is coming is my migraine sugar craving. I have a lot of good habits that I follow every day to manage migraine. If I ignore the things I do to live preventively, I will probably be bedridden permanently. The list changes constantly, but I'm diligent and…
Read More

→
Runnin for Research virtually and recovering with ice and care.
Read More

→
Allay Lamp- Green Light Therapy