Are Allergies and Headaches Triggering Your Migraine Attacks?
Allergies and headaches go hand in hand with me. Several years ago, I had sinus surgery.  I get a lot of headaches from allergies. I have suffered from sinus issues and infections my whole life (just like migraine).  After many sinus infections, this year I decided to look for more answers on why I'm still suffering so much from allergies and headaches. Remember that what I live through is not medical advice. I live My Migraine Life in hopes that you will find your own path. I am not giving medical advice, just searching for answers in my own life. My migraine is more than a headache, but the headache is a main and persistent symptom that I live with. Allergies are often a trigger for my headaches while lead to triggering my migraine disease. It's a complicated process that requires constant assessment.
The first doctor I went to I had seen as a child with the same issues.  He dismissed me after speaking at length because I was "too knowledgeable" about my migraine attacks and triggers stating that allergy testing wouldn't teach me anything.
I wasn't surprised, so I moved on to an immunologist that a friend and fellow migraine sufferer had suggested. He stated that allergy sufferers are 33% more likely to suffer from frequent migraine attacks  I was pricked with lots of allergens and waited in his office wanting to scratch my arm off.
Once the results came in I received a lot of feedback that I found helpful.
Allergy and Headaches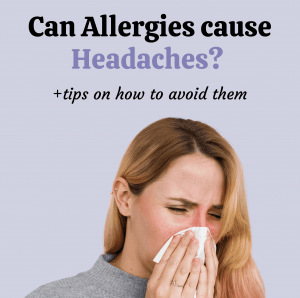 Food Allergies
I found out that I was allergic to corn.  For those of you that don't know, corn is in EVERYTHING processed.  I asked "how allergic" I was and how careful I needed to be.  As always, it depends, and he suggested experimenting with foods, how I felt, and migraine symptoms that arise after eating.   This was an "ah-ha moment" for me being I feel sick 95% of the time I eat.  Why do I get a headache after eating? I have never known why but corn is a good clue.
Indoor Allergies
I found out I'm allergic to dust and mold.  I like to think I keep a clean house but with a Golden Retriever, 2 small children, and busy life, a dust-free home is not possible (is it for anyone?). The dust is irritating my allergies and headaches which then triggers my migraine attacks. I constantly am cleaning to help avoid this.
Sinus Infection
This year I have suffered from endless sinus infections.  My doctor told me that I had not been receiving the correct treatment.  I had been going to a "Minute Clinic" when I had a sinus infection and couldn't stand it anymore.  The medication that was given was, according to my doctor, was not strong enough or for a long enough time to rid the sinusitis.  Therefore, my sinus infections just kept cycling because they were never really gone. What is the difference between migraine and sinus infection?
1.  Food allergies  – Reading food labels more carefully.  Looking at them, it seems corn is in everything so I'm trying to eliminate foods that have it as the first 5 ingredients listed.
2.       I got allergy pillowcases, mattress covers, and installed a new air filter in my house.
3.       I took the medication to rid myself of my sinusitis and now have preventative medication to take at night to hopefully help with the migraine I am waking with each morning.
4.       I now have an appointment for my son to be allergy tested for his chronic breathing and upper respiratory issues.  He is currently on preventative medication and breathing treatments.
5.       After playing outside, we shower my son and change his clothes before nap, and play in the house.  We were told that the allergens stick to his hair, therefore, leaving the allergens around the house.  We have always washed hands upon entering, don't wear shoes in the house, vacuum a lot, and dust.
Allergy Testing and Help
1.       I will now be going to my immunologist for my sinus infections.
2.       I will be learning more from my son's allergy testing and be able to accommodate both better once the results are back.
3.       I have a review of my new air filter and breathe easy spray
Do you suffer from allergies and headaches?
What are you allergic to and how do you treat them?
Sign up for our newsletter
Your migraine diagnosis may be new, but the disease is not. Millions of people are diagnosed with migraine and every case is different.  So what's your diagnosis?  What's my diagnosis?  What does it mean to be diagnosed with migraine and how does that help?  Here's my non-medical opinion. See a doctor for medical advice. Migraine…
Read More

→
Sleep and migraine, makes me crazy. I have such fatigue yet get insomnia, wake up with a migraine and never fully feel rested. Sleep is so important for so many reasons to help treat, prevent and balance My Migraine Life. Pain is Exhausting My body is constantly fighting pain.  As you can imagine, that makes…
Read More

→
I have been going to the same neurologist for over 10 years. Therefore, I love my doctor, my nurse, and the front office. My nurse was the first person to know I was pregnant. There were hugs, excitement, and nervousness, of course, but they were with me all the way. They were the first to…
Read More

→
Allay Lamp- Green Light Therapy