Barre3 Review: Is it a Good Workout for Migraine?
Barre3 Review
Barre3 online workouts have given me migraine relief. Many people ask me what I do for exercise while living with chronic migraine. The real answer is that if my migraine is above a 7, I can barely do anything. I do, however, try to move my body and work out preventatively to provide faster recovery and better overall health when I can. As a teenager, I was a three-sport athlete.  Although I learned countless lessons from being on a team, as an adult I am not serving a volleyball, running bases, or shooting a 3-pointer in my everyday life. My reason for working out was to win and now it's to be healthier.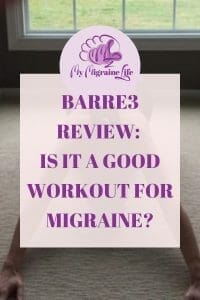 Barre3 Review Online Workouts
I found a new way of looking at fitness and my body.  Barre3 is a combination of Pilates, yoga, and ballet.  It focuses on functional movement.  They say that your workout should carry you throughout the day making you taller and brighter.  It is a one-hour (or less) workout that prepares you for the other 23 hours of your day.  It encourages you to honor your body and is non-competitive.
Some days, I feel great and push myself while other days I'm sick and go as a distraction and way to loosen up.  I once had an instructor say, "Even if you come and sit in a child's pose the whole time, you showed up and are doing what feels good to you." Exercise can trigger or make me feel better so having the mindset to listen to my body is good.  I am honoring my mind and body and if pushing myself hurts I stop.  If it feels good, I push harder.
The Barre 3 movements have helped my migraine.  I know stretches and barre3 yoga help but I have not been in the habit of doing so until now.  The neck stretches are priceless to my muscle tension.  We also do twists that provide detoxification and gently massage the organs.  When I first started going I was shocked at how inflexible I was and how I saw an improvement in my mobility.
Barre3 Ohio
The Barre3 studio near me is Legacy Village. They are celebrating its anniversary of opening.  I started the week it opened and never looked back. The instructors and owners are amazing!  They are strong, inspiring, kind, mothers and women who love to spread the message of Barre 3. My son loves their child care and asks when he can go back which motivates me. It is a clean place filled with positivity. The studio is bright and I have found my spot in the front away from the windows and glare. They also turn off the lights while doing floor work and have fans that help me from overheating. Most of the instructors know I suffer from intense migraines and ask at the beginning of class about issues they need to be aware of to make accommodations for each client.
In January, a challenge was made to do 4 Barre 3 1-hour classes, one recipe, and one at-home 10-minute workout a week. I was unable to do all of it, but once again made it my own. As a studio member, I hadn't looked much at the online workouts or recipes. When I did, I loved the nutritional approach of the team which aligns with how I eat to help with my migraine. It is clean real food that doesn't lack flavor and I feel good about serving my family.  
Barre3 Review
My Barre3 review is that I loved the 10-minute yoga workouts. My daughter walked in when I was doing one and Sadie Lincoln (the founder) said that the workout was to "feel good in your own skin." A smile spread across my face as she said it because THAT is the lesson I want my daughter to hear. I don't want her to hear skinny and fat. I want her to hear words about health and feel good about herself without comparison to others.
Teaching her about how food and exercise make her feel instead of how she looks will set her up for a positive lifelong vision of herself. I am just now learning these lessons and it's hard to change my mentality growing up in a skinny, low-carb/fat/calorie everything world. I hope that by teaching her these lessons now she will not face the self-criticism that most girls grow up with and see her strengths as beauty and wellness. If only every girl could see themselves through their mother's eyes!
Barre3 Review: Online
Along with the 10-minute barre3 online workouts, there are various workout times and focuses that I can do at home. I plan on doing more at home when I'm feeling too sick to go to the studio. The challenge opened my eyes to the recipes and at-home workouts which I know will be helpful on difficult days.
Migraine is SO difficult to live with and weight issues arise with medication, being sedentary, and craving sugary food. They dictate my life and everything in it. I try to focus on finding what makes me feel better and dropping the guilt about not being the athlete I used to be and a competitor that has faded. Doing the best I can, when I can is how I look at it now. I fail at my diet daily. I have days I can't move and that's ok.  I'm just trying to better myself and that's all I can do.
*My Barre3 Review is not sponsored or endorsed by Barre3 in any way.
Sign up for our newsletter
Do you have coworkers and a boss who don't understand migraine?  Are they judgmental about missed days?  Do they know how to accommodate your needs and do you know how to ask for them? Here's how to inform other...
Read More

→
Does meditation help migraine? As always, I'm on the hunt for something to make me feel better. So I joined a 21-day meditation challenge. I have a friend who decided to try it too.  So with power in numbers, I thought we'd be Zen by the end of the week. Well……not as easy, as I…
Read More

→
Wego Health awards endorsements are open, and I need your help! WEGO Health is a mission-driven company connecting healthcare with patient leaders' experience, skills, and insights. They are the world's largest network of patient leaders. They are working across virtually all health conditions and topics. WEGO celebrates those who tirelessly support the mission to empower…
Read More

→
Allay Lamp- Green Light Therapy