20 Migraine Gifts for People you Love
The best migraine gifts are listed below! For the last few years, I have been putting together lists of my favorite holiday and year-round gifts for people living with migraine. Every year, I find new migraine relief products and add them to my toolbox. Below you'll find my favorite migraine relief gifts with discount codes, reviews, and links. I often list my review for additional guidance on how I use it. I get asked frequently, "What is the best migraine gift?" And here it is…
The links are affiliate links that reward me for my recommendation. I only talk about products I use and love. Some are Amazon links and some are links directly to their website. I recommend buying from the website if possible to support the company more directly. But if Amazon is better for you, go for it! I will be compensated if you click and buy from my links. Thank you, your money helps support my blog and migraine advocacy.
Best Migraine Gifts
Before I begin my list, I'd like to remind you of some sensitivities your loved one with migraine may have. Sensitivity to smell is a huge factor in making your gift choices. Some oils or bathroom products may contain a scent that is triggering. Everyone experiences triggers differently but I don't advise candles, perfumed lotions, or fragrances without knowing the person's reactions. Gifts for people with migraine is a very personal choice and I hope to guide you in finding something you or your loved one will benefit from.
Green Light Therapy for Migraine
Allay Lamp
MOST RECOMMENDED PRODUCT!
The green light has been well received in the migraine world. Studies have been shown to help migraine sensitivity to light and the results have been pretty convincing. After trying Allay, I find that I react really well to the green light. This is a pricey gift but my most recommended gift for someone living with migraine if they experience light sensitivity. The Allay lamp is my favorite because I can move it around anywhere (and I do!). The nice thing is that you can flip the lamp to be a white light if that is what you prefer. It also comes with a shade that helps deflect the light in a direction that won't be irritating to you. It is lightweight, offers a dimmer for adjustment, and can go anywhere.
Discount code: $25 off  Allay Lamp
Weighted Products
SensaCalm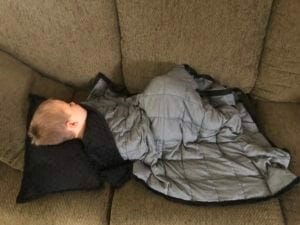 This remains one of my all-time favorite migraine relief gifts. I have both the weighted cuddle fabric and the travel blanket adored by my son. The large blanket lives on my couch and everyone uses it. The fabric is so soft and comfortable. But the weight is what makes it comforting. After having a relationship with Sensa Calm for many years, the founder has now invested in the migraine world and donated to Retreat Migraine, and gives back. If you are looking for a weighted blanket, look no further.
SensaCalm Weighted Blanket Review
Cuddle Fabric Weighted Blanket Review
Discount code MYMIGRAINELIFE for 10% off
Migraine Glasses
Avulux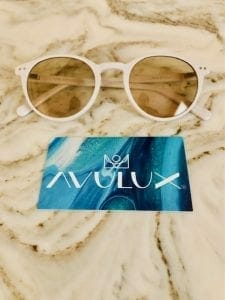 These migraine glasses are not your typical glasses. Avulux has more of a grey tint than rose-colored alternatives. Avulux offers one tint for both outdoor and indoor use. Although I need really dark sunglasses on sunny days, I love these glasses for indoor use, cloudy days, and dusk strolls. "Avulux is a patented precision lens technology that filters up to 97% of the most painful migraine-triggering light in the blue, red, and amber spectrum while allowing in over 70% of soothing green light, which can relieve light sensitivity and its associated pain."
Coupon Code: MYMIGRAINELIFE $25 off
Axon Optics
The innovative technology found in Avulux® Migraine & Light Sensitivity Lenses is also found in the Axon Optics glasses. They are the only clinically proven lens that blocks the harmful light waves linked to migraine attacks and light sensitivity.
Coupon Code: MYMIGRAINELIFE $25 off
Ice
Headache Hat
Headache Hat is my first review ever and still one of my top gifts for migraine relief! I have an entire freezer full of headache hats (all sizes) and use them daily. DAILY! My children use the halo single hat for bumps, headaches, and fevers. It is light and smaller for their little heads. I use the big ones for full coverage and freeze my pain away. Ice is my best natural remedy and Headache Hat has supported migraine events for years.  The owner is touched by the migraine stories she hears and is passionate about helping them. This is one of the best gifts for people with migraine that I have ever given!
KoldTec
The original KoldTec Halo
Heat
Bed Buddy
I use the Bed Buddy to warm my cold hands and feet. During a migraine attack, I have trouble regulating my temperature and during a migraine attack my nose, fingers, and toes get frigid. I have had the Bed Buddy for many years and love to wrap it around my hands, feet, and sit with it on my lap to warm my aching body. It is one of my go-to migraine relief products.
Food and Drink
Pure Wine
Discount Code: mymigrainelife for 15%off
Cheers, Happy Holidays! The problem is, drinking can be a migraine trigger. For me, using the Pure Wine wands, I have been able to drink a glass of wine without getting a migraine hangover which hasn't happened in years. This is a great stocking stuffer and can be used by anyone who gets congested when drinking. It's a thoughtful gift for migraine relief.
Food delivery is a great idea now more than ever! Remember that food sensitivity and triggers are individual and finding out your loved one's diet is important. Having food delivered to her door is a way of sending comfort and convenience. Sprinly is vegan and local in Ohio. They drop off my meals at my door in a cooler bag and all I have to do is open it and eat. It is such a convenience to have already-made food in my refrigerator that is healthy and available. Cooking and dishes are a struggle for me and I think many people would love the gift of meal service. These are good gifts for people living with migraine or without. Everyone can enjoy this present!
Sprinly
Where to purchase What a Crock
Migraine Relief Books
The Dizzy Cook is two spoons up! Not only have I enjoyed many recipes that Alicia created but I have become friends with this fierce advocate this year. Alicia experiences what is called Vestibular Migraine. Her book helps navigate vestibular migraine, triggers, and shares lots of knowledge. She is involved with migraine awareness.
Oil Roller
Migrastil
Essential oil rollers are my favorite relief that I throw in my purse. Once again, be cautious of smell. I have a roller I love and a coworker was triggered by it.
Migrastil Migraine Roller and Travel Kit Review
Migraine Gift Donation
Donating to a loved one's favorite migraine charity or to their cause is very generous. My favorite migraine non-profit is Miles for Migraine. Please consider donating!
Acupressure Mat
Aculief
This is a new one for me this year. Last year, I had the mat listed below. I somehow lost it?! So this year I tried the Aculief mat and pillow and love it. It is more padded but larger in storage compared to my last one. And the pillow is extra relieving on my neck and upper shoulder tension. Looking for acupressure relief but something smaller? Try their Aculief Clip. It is an award-winning, doctor-approved, Wearable Acupressure™ device. It works by applying pressure to the LI4 pressure point, which has been used for thousands of years to treat headaches and provide tension relief.
Where to buy Aculief coupon code MIGRAINELIFE10 for 10%off
Bed of Nails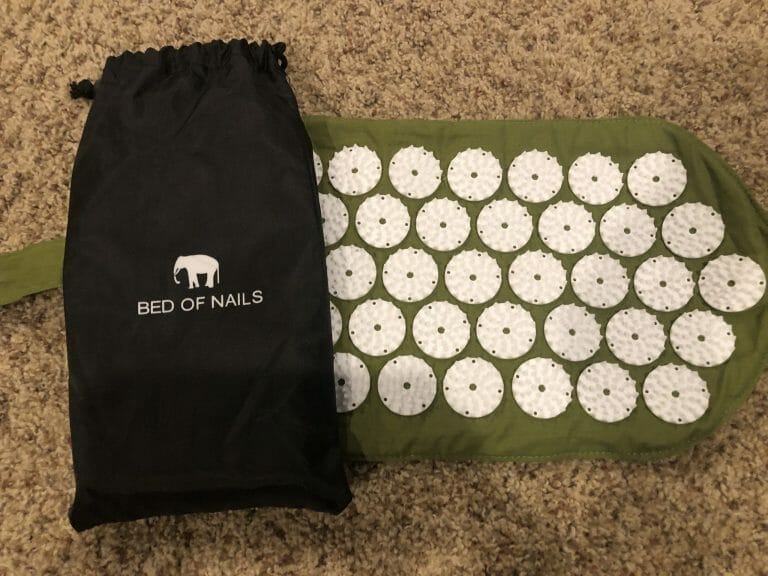 I've had this mat for a few years now. I have to admit, I don't use it ALL the time. But I do occasionally use it to relieve pressure and feel relief. It's a very strange feeling but something in my toolbox that I pull out every now and again.
Acupressure mat Coupon Code: BON15SARAH
Migraine Awareness Apparel
Achy Smile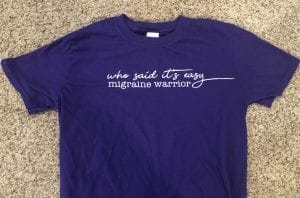 What better gift for migraine relief than supporting a business owned by a person living with migraine? Achy Smile is run by my friend Erica who is a warrior in the migraine world and brings awareness through her apparel. It's a great way for to you care by buying gifts for people with migraine made by a person with migraine.
Comfort Items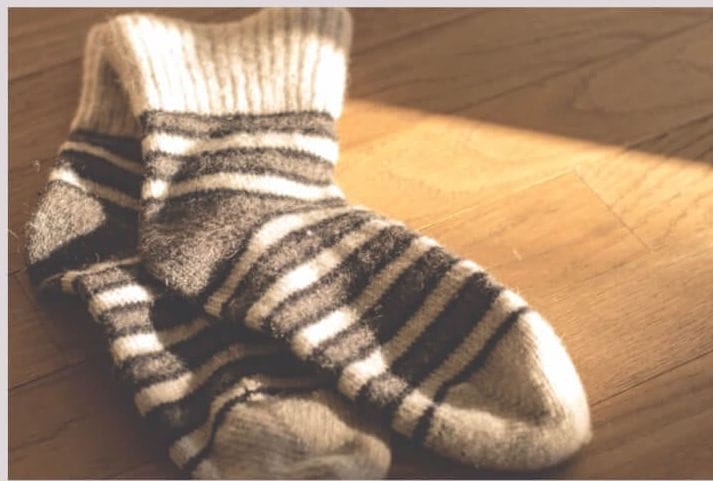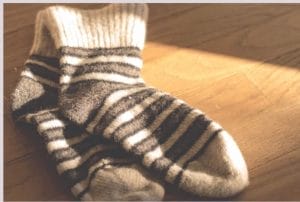 Crafts
This year, I have embraced art therapy at home. With my children at home, we enjoy coloring, crafting, creating, and being creative. I find that art therapy is a wonderful distraction for migraine pain and calms my body and mind. A basket for migraine relief filled with adult coloring books, colored pencils, markers, pens, and more can spark some creativity for your loved one. A migraine gift box filled with crafts is a great choice.
Salt Lamp
My Himalayan salt lamp is not exactly a migaine relief product but an item I love. The soft gentle glow of the salt is relaxing but doesn't change my migraine symptoms. I do, however, feel that it helped with my son's congestion and breathing issues at night. Plus, it's pretty. This isn't a usual recommendation for migraine relief gifts, but I think a pretty and soothing one.
Black Out Curtains
As you can tell by now, light is a huge factor in My Migraine Life. I like a green light, light filtering/blocking glasses and I like zero light in my bedroom. Blackout shades are on most of the windows in my house. I enjoy a dark cave-like experience in my room and blackout curtains are a necessity.
Apps
HeadSpace
Insight Timer
Calm
Kindle or Audible Subscription
Both offer 30-day trials. Paperwhite does not emit blue light. It should not affect migraine and should not interfere with sleep.
iRobot Vacuum
My iRobot vacuum is such a time and energy saver for me! With a hairy dog and messy children, I need to vacuum my house a lot. Unfortunately, I am not always able to do so. With my cordless and automatic vacuum, now I can run it and save my spoons for a more worthwhile activity.
At-home Yoga or Workout kit
Working out is extremely difficult with migraine. It can be a trigger or a migraine relief. While many of us are at home, a home workout or yoga kit may be a nice way to encourage self-care and stretching. Proceed with caution when giving workout gifts. One year, I was given a set of weights and I just felt like my boyfriend was telling me I needed them. Instead, remember to add a card explaining how yoga may be a gift for migraine relief and how starting slow can lead to improved health.
Gift Cards
When in doubt, a gift card is always nice. As a teacher, I am given lots of gift cards. This always feels like such a treat to me and something I use to 'treat' myself with. I don't love spending money on myself, but a gift card is a reminder that someone else wants me to enjoy it.
Air Purifier
Enviroklenz
This is a pricey one but WELL WORTH IT! I can tell you that I have relied on my air purifier a ton! House projects, dog smells, pollutants. This quiet air filter has helped clean my air and my breathing for a long time. I absolutely love it and if you have the funds, think it's an incredible investment for the home.
Why are Migraine Gifts Important?
As someone who lives with daily migraine, I use these migraine relief gifts every day. Yes, I use medications and alternative therapy, but I'm mostly at home using products. Everywhere you look, there are products geared toward migraine or headache relief. It's hard to know what works and what is another waste of money.  I try a lot of migraine relief products and report them to you. It is up to the reader to decide what may work for himself or his loved one. Gifts for people living with migraine are seen as gifts of love.
Regardless of the gift, just showing you are caring and trying to help is nice. Be careful to not make it sound like you have a cure or a simple fix.  Because the internet has a lot of "cures" that just don't exist.  I can't tell you if any of these products will work for you or not. My wish is that these gifts for people living with migraine provide relief to a loved one.
If you have read this far, THANK YOU! And Happy Shopping for your favorite migraine gifts 🙂
Allay Lamp- Green Light Therapy
Sarah tells stories of My Migraine Life. Living life through Migraine consists of advocacy, treatment, prevention, and searching for health and happiness in a positive honest way. Her kids, husband, dog, family and friends motivate her to make a difference in the Migraine World.
Migraine in 2019, Happy New Year!. I woke up on January 1, 2019, with a migraine. I felt ...
Read More

→
Universal Studios and motion sickness went hand in hand with me on my most recent vacation. As someone ...
Read More

→
I'm always searching for a way to relieve pain, nausea, anxiety, and the host of symptoms that plague ...
Read More

→