Best Free Migraine App: Healthline Bezzy Migraine
I'm excited to announce the launch of Healthline's new migraine app, Bezzy Migraine! I am sponsored by my partner, Healthline, to kick start the migraine app and share how it benefits me and possibly you. I will host live chats, post information, and give support. My opinions are my own, and I look forward to connecting with you! To begin with, I'm already having fun connecting with others in the app.
This app isn't about tracking your symptoms or migraines. It's about connecting, learning, engaging, and looking for a migraine community. Download the app for privacy, connection, and knowledge now.
Bezzy Migraine is a great place to find people who match with someone who may understand what you are going through. When you create your profile, you will state your age, general location, year of diagnosis, and other information that can guide you in connection.
I have been using the app for a few weeks now. I have found it a great resource to meet friends going through similar issues with Migraine, along with information and a sense of privacy and belonging. It's a knowledgeable and compassionate group.
Migraine App Groups
Through the discussion boards within the migraine app, I ask for advice, discuss specific topics and learn from others on different types of migraine-related topics. Posts can be made in specific groups or in general.
My favourite part is the groups and categories that break down migraine life. I often have questions about prodrome and postdrome, medication and treatments, lifestyle, triggers, and mental health. Navigating healthcare, finding alternative therapies, and inspiration are topics I'm constantly searching for.
At the beginning of the year, I had a lot of healthcare frustration due to the new year and new insurance. I was so mad and found that my friends not only related but had words of advice and comfort that I did not get in my "real life." Migraine puts us through so much and having people who understand and a place to search and find help is comforting. Healthcare is overwhelming, expensive, and requires a lot of paperwork and phone calls. I came home from a doctor's appointment crushed by the price and refusal to give me my medication. Then I confided in the app and was told things my doctor's office didn't explain. I was able to navigate my problem better and get it solved quickly. Thanks to the Migraine Healthline app and participants!
Members and Messages
Members are given recommendations of potential matches that share something in common and think you may make connections with. Messages are sent, and chats are held privately. You can receive notifications for messages, groups, and the latest news and lifestyle (tips relevant to you) or opt-out in settings.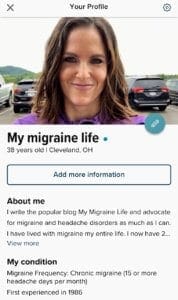 Live Migraine Chats
On February 17, I discussed exercise and its effects on my migraines. What I found interesting was that I'm not alone in having a love/hate, help/hurt relationship with movement. I like to work out, but it has changed drastically as my disease has progressed. The live chat gave me good ideas on stretches to try and reminders about self-care. I was reminded about why I work out and how it makes me feel each time differently. I no longer work out to look good and focus on how it makes me feel. After the hour-long live chat, I felt motivated.
The next live chat I will be an influencer on will be on March 10, discussing how migraine has impacted your social life. I've got a lifetime of experience with this topic, as migraines have touched every phase of my life. Are you interested in the topic? Download the FREE app and join me!
Are you worried about laying in bed chatting and the phone being triggering? Try the new Dark Mode! Healthline constantly listens to feedback and improves the app for the best experience.
You can join live chats in the app throughout the week. A daily question and conversation topic begins things set, but the chats are open to going anywhere. It's a great time to ask questions, find others who relate, learn and feel less alone. Additionally, the discover feature will have related articles, studies, and research to explore and learn from.
Discover Bezzy Migraine App
The discover sections allow you to find reputable information about migraine. It ranges from personal stories to research, living with migraines, and alternative therapies. Along with the discover section, ambassadors post relatable posts to questions in the group sections to give ideas on how to navigate your journey.
Each week provides knowledgeable ambassadors to be there to welcome you and help guide you through your Bezzy Migraine app experience. This group is a powerhouse of information and support. They are all women I follow daily and rely on as part of my migraine community. Every one of us provides a different perspective while having lifetimes of experiences. I'll be an ambassador this week, so now is the time to join! I will be popping in to welcome you, help and support you. I would love to meet you there, so download now and talk to you soon!
The Migraine Healthline app provides various content about migraine and headache disorders. Alternative therapies, diet and nutrition, living well, personal stories, living with migraine, and considerable research are all topics.
Bezzy Migraine app has everything you need to discuss, educate and connect about migraine if you have migraine or need migraine support and knowledge.
Healthline also has me on their Best Migraine Blogs of 2019
Looking for a migraine tracking app? Try Migraine Buddy App for another option.
Sign up for our newsletter
While visiting NYC for3 days, we explored the city and found our 10 favorite things to do and eat.
Read More

→
I am thankful and grateful despite migraine. My chronic illness has made me a thankful person in general.  I'm thankful when I'm not in my dark quiet room.  It doesn't mean that I'm not in pain, but if I'm good enough to be out of bed, I'm thankful. Thankful with Migraine I'm thankful for many,…
Read More

→
To Kanye West and all the Media Reporting, "It's Just a Headache" Please stop saying "just" when referring to Kanye West's hospitalization for allegedly having a migraine. Since when does Kanye "just" do anything? He doesn't "just" make music, "just" have an opinion, or "just" get married. So why is his migraine "just" that? You…
Read More

→
Allay Lamp- Green Light Therapy