Calming Music for Migraine is a Great Distraction
I use calming music for migraine distraction. I had two days of low pain this week. The first day, I noticed myself singing loudly with my daughter on the way to school. Mornings aren't good for me and by the time I get both of my kids ready for school and get yelled at by everyone in my household for various things, I'm usually not in the singing mood by drop off time. But I noticed that, on that day, I was singing loudly. I'm not allowed to sing Frozen because my daughter believes she is Elsa. No one else is allowed to sing her part. BUT, I am allowed to harmonize with her. I always love to sing and am good enough to sing alto to her tiny soprano voice.
Calming Music for Migraine
There aren't many sounds I love more than my kids singing in the back seat and being part of it is a small joy I have in life. The second day, I had already planned a fun play date with my friends and was thrilled that I did not have to cancel and would actually be able to enjoy it. The drive out was gorgeous!  It was 80 degrees, blue skies, sun shining, and a drive through huge trees of changing Fall leaves.
Is there any better time to sing than cruising in your car with the windows down on a low pain day? We listened to music that all of us could sing to and be whatever part we wanted.   It may sound small but it's the small things in life. For someone who loves singing with her kids, enjoying the sun and a nice breeze plus the stunning change of seasons, it was one of those moments that Migraine didn't dictate my life.  Let's be grateful for small things and low pain days.
Do you listen to calming music for migraine?
Check out how Migraine Music Therapy can be helpful
Other migraine distractions I use are:
Sign up for our newsletter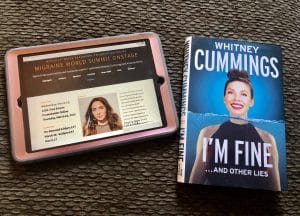 Whitney Cummings and migraine were not things I connected with until March. I've laughed at Whitney's stand-ups and roasts. I've watched her produce, write, direct, and act. But after this Emmy-nominated comedian spoke at the 5th Migraine World Summit, I now see her as another migraine teammate. It's a weird thing when you relate to someone…
Read More

→
Do you have coworkers and a boss who don't understand migraine?  Are they judgmental about missed days?  Do they know how to accommodate your needs and do you know how to ask for them? Here's how to inform other...
Read More

→
I have to say, I have not been happy with Excedrin Migraine commercials and advertising over the years.  Once I discovered over the counter medication was giving me rebound headaches and causing my migraines to cycle, I stopped.  It never worked as an effect treatment for the intensity of my migraines anyway, so it was…
Read More

→
Allay Lamp- Green Light Therapy