Can Ginger Help Migraine Nausea? Ginger People to the Rescue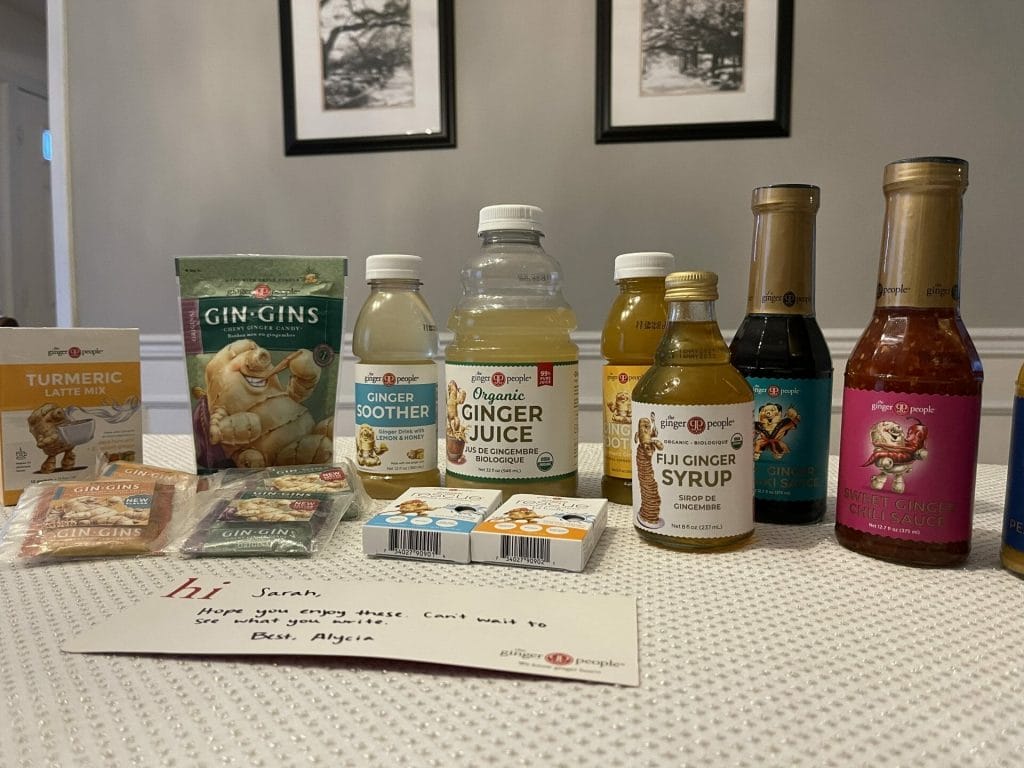 I often get asked, "Can ginger help migraine nausea?" After finding Ginger People, I have used many ways to ease migraine symptoms like stomachaches, nausea, headaches, pain, and more. I was first introduced to Ginger People at Retreat Migraine and have had their ginger chews in my purse ever since.
Recently, I was allowed to try many of their products, and my whole family has enjoyed the many ways of incorporating ginger into our diets. Questions like, "How much ginger should I take for migraine?" should be discussed with your doctor. I am not a medical doctor and only tell about my experiences. Yours may be different. I was gifted these products and gave my honest opinion.
Ginger for Migraine Nausea Relief
I use ginger for migraine prevention and rescue. The health benefits of ginger are rooted in science. Benefits of ginger include fatigue relief, anti-nausea aids in digestion (stomach pain), and circulation is an anti-inflammatory, antioxidant, and revs metabolism.
A study published in Psychotherapy Research showed ginger to be equally as effective as prescription drug Sumatriptan at preventing the onset of migraine and reducing their severity.-Source
How to Use Ginger for Migraine Nausea?
Ginger Chews
Ginger People chews are the best ginger for nausea and dizziness relief because they are made of 10% fresh ginger. I travel with the ginger chews everywhere I go. My kids love them because they are candy. I love them because they are sweetened with cane sugar and nothing artificial. Fun fact, the ginger is locally grown near the candy factory; how fresh is that?! Flavors include original, spicy apple, peanut, spicy turmeric, double strength, super strength, and sweet ginger.
Ginger Rescue Chewable Ginger Tablets (kid-friendly)
I now rarely go anywhere without ginger chews in with me. After packing the chews in my purse, I pack chewable ginger tablets too. These were new to me, and I'll always have them in my migraine tool kit! I rely on a lot of natural products so that I can travel with migraine.
During our last trip, I gave my daughter ginger tablets both on the plane and in the car. On our last trip, she got carsick, and this time we were prepared. When we arrived home, she told her grandma first, "The trip was awesome; I didn't even get car sick!"
I, however, was not lucky enough to go through the trip without vomiting and diarrhea. While traveling, I never escape migraine attacks, and most of the time throw up and experience severe nausea. On my last vacation, I forgot my prescription medication for nausea and took the tablets to relieve my stomach. It was a lifesaver or trip saver since I could stop throwing up and recover later that day!
Organic Ginger Juice
The organic ginger juice surprised me with its strength. It is 99% ginger juice, not concentrate, with no sugar or water added. I mostly take a juice shot for gut health or workout recovery. I have added it to smoothies, make ginger tea, and cocktails for added health benefits and flavor. A little goes a long way with this juice. It has a variety of benefits and uses.
Fiji Ginger Syrup
Yum! What a delicious substitute for our regular maple syrup. The Fiji ginger syrup is very subtle and gives a different flavor to our regular morning pancakes. It is a simple switch to get a bit extra ginger into our morning.
Ginger Soother
The soothers didn't last long in my house. I received the Tumeric gingerade and lemon and honey gingerade. The week I got my Ginger People package, my daughter got the flu. I'll admit I never tried it because she drank it so fast! The small bottle provided her with enough to make two warm glasses of the soother with turmeric, and she loved it. I did, however, try the Tumeric gingerade and 'soothing' is the perfect word for it. I plan to keep these in my kitchen during cold and flu season.
Turmeric Latte Mix
I've read about Golden Milk's benefits and was excited to try Ginger People's Tumeric latte mix. I use the mix with milk and sometimes a bit of black pepper to boost bioavailability. Tumeric and ginger are good for migraines because they are anti-inflammatory, increase immune function, and detoxify the liver. I love to drink a glass before bed because it is caffeine-free and a relaxed, healthy way to end my evening and avoid migraine nausea.
Ginger Sauce
The ginger sauces surprised me the most in the best way. The flavors I tried were ginger peanut sauce, spicy ginger teriyaki sauce, and sweet ginger chili sauce. I thought they would be too hot for my family, but the flavors had a perfect balance of spicy and flavor. To remind you, my children are 9 and 11. One night, we did a taste test with all three sauces marinated on chicken. 
I was sure the peanut sauce would be a winner, but there was a clear split between them. Because I heard comments like, "Wow, they all are good!" and "I can't decide; I like them for different reasons." I recommend buying a variety and doing your competition. I even had them dipping their veggies in the sauces, and it was a fun night of cooking together and tasting it all.
Does Ginger Help with Migraine Nausea?
Benefits of ginger may aid as a cold and flu remedy, anti-cancer, aphrodisiac, anti-flatulence, and migraine symptom reliever.
Yes, my migraine nausea is relieved when using ginger. The frequent use of ginger and Tumeric has helped my stomach and soothed my symptoms, making it a new natural migraine treatment option to add to my integrative approach. My whole family has benefited from increasing our use of ginger naturally.
Sign up for our newsletter
Move against Migraine is a new initiative started by American Migraine Foundation. About The American Migraine Foundation The American Migraine Foundation (AMF) is a non-profit organization dedicated to advancing research and awareness surrounding Migraine. This disabling disease impacts 36 million men, women and children in the United States. The AMF was founded in 2010 to…
Read More

→
Axon CBD Oil For migraine is the last giveaway for 'Thankful November'. I am so thankful to you all for reading and supporting My Migraine Life. The giveaways are a way of giving back a smile. I am an affiliate for Axon, and if you check out their website and buy through my link, I will be…
Read More

→
When medication doesn't work anymore, I take a medication vacation. Several times a year, my medication stops working. To begin with, preventative medications give me terrible side effects. It took me YEARS to find the right medication for me. I have been on and off Botox for years, with different results each time. I've also found good…
Read More

→
Allay Lamp- Green Light Therapy