Chronic Pain: Migraine and having Fun in My Own Way
Today I am having a higher pain day, but I am happy I can participate in the U.S. Pain Foundation's month of empowerment post.
The picture I am posting is of me at my son's 3rd birthday party. I have a migraine on almost all birthdays and holidays. His birthday was a Paw Patrol party, and I was suffering while setting up for guests to arrive. We were all wearing masks, so I decided to ice my head while staying in the spirit. While I looked like I was having fun, I was treating my pain and trying to lower my migraine so I could stay at the party. Although I was not able to fully enjoy the day, I was able to celebrate with loved ones and look cute and festive. Although I could not forget about my chronic pain and "just have fun," I was able to sing happy birthday, watch my baby open his presents, and enjoy loved ones.
Share a day that you were able to have fun. Even if you couldn't entirely forget about your chronic pain, maybe you were happy about a time you weren't taken away from an event. I am grateful for small things. I may not have been pain-free, but I was able to watch my sweet boy blow out his candles. No matter the pain, seeing him enjoy the day I had planned was fun in my way!
*Love my ice headband?  It's a Headache Hat Ice Halo.  Use code MYML for a discount and click here to purchase one now.
Sign up for our newsletter
The thing about migraines is that there is no cure and there is no medication process that works for everyone. The even crazier thing is, that there is not a medicine that works every time even if you are lucky enough to find something that works for you. It's constantly a guess and check and…
Read More

→
Thank to all of my readers and products. Giveaways are a fun way to say thank you and share migraine and self care related products.
Read More

→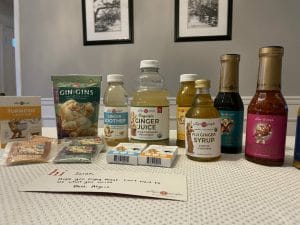 I often get asked, "Can ginger help migraine nausea?" After finding Ginger People, I have used many ways to ease migraine symptoms like stomachaches, nausea, headaches, pain, and more. I was first introduced to Ginger People at Retreat Migraine and have had their ginger chews in my purse ever since. Recently, I was allowed to try many of their products,…
Read More

→
Allay Lamp- Green Light Therapy