Cleveland Miles for Migraine 2022 was Fundraising Fun
Cleveland Miles for Migraine 2022 took place on July 16. It was the 5th year and the best weather we have had. That doesn't mean it didn't rain, I'm just saying it was better. Living in Cleveland, we know how to dress for the weather and go. And Cleveland showed up this year! Here are some highlights from the walk/run/relax Cleveland event.
What is the Cleveland Miles for Migraine 2022 Event?
The event takes place every year in one of Cleveland's lovely Metroparks. The tents and race start at the South Mastick Picnic Area (Fairview Park, OH 44126). I always enjoy walking around the different tents learning about migraine medication, information, and ways to get involved in awareness. I stopped by the BioHaven tent, creators of Nurtec ODT, to tell them how happy I am to have found a medication like theirs and to see them supporting the event.
Speakers at Cleveland Miles for Migraine 2022
The event kicks off with speeches. This year, a future ACT Now fellows and advocacy training participant gave her patient perspective. She fundraised, told her story, had a team, and looked adorable in her purple.
Additionally to the patient perspective, providers from both the Cleveland Clinic and University Hospitals spoke. These providers are not just talking the talk…they are walking the walk both physically and metaphorically. The Cleveland Clinic fellows spoke, with a stroller in tow, about the importance of funding and the need for migraine advocacy. They both will be joining the Miles for Migraine advocacy training program and I'm excited to see how they use our fundraising money and where the inspiration takes them.
Dr. George spoke on behalf of University Hospitals and he is another person I'm so impressed with. The first time I met him, we were speaking to congress, along with a Cleveland Clinic fellow and other advocates about migraine and headache disparities. We all met virtually for Headache on the Hill and now here we were all three together for Cleveland Miles for Migraine 2022.
Fundraising for Migraine and Headache Disorders
Team My Migraine Life was recognized as the largest fundraising team. As of right now, I am the largest fundraiser across the country.  My total this year for the Cleveland Miles for Migraine 2022 event was $8,205.92. Over the last 5 years, our team has raised over $20,000 for the fellowship programs in Cleveland. Overall, Cleveland Miles for Migraine 2022 raised: $14,813.69.
Team My Migraine Life
In-person, team My Migraine Life consisted of my kids, husband, mom, sister, brother-in-law, nieces, and teacher friend. As for my family, I have cheered on my kids and nieces in lots of activities and it was nice to have the event about my cause. It is SO special that they support me. I am very close with my family and they have seen me miss out on many things in life because of migraine. It feels good that they show up and support Cleveland Miles for Migraine 2022 because they know I fight every day for myself and have watched me fight for others through my advocacy work. Their support means the world to me on both "race days" and every day in My Migraine Life.
My friend that came is a true testament to how migraine at work and migraine at school really affect relationships. I taught with my friend in a multi-handicapped elementary classroom. She and I instantly bonded over living with migraine, the ways we experience migraine symptoms, and triggers. We worked in a classroom with various physical and cognitive disabilities while having our own medical needs. I bonded with my classroom assistants and nurses so quickly that year. Having people that understood me was not something I had experienced in my young professional life.  The support, as adults, is what allowed us to give the very best care to our students. One year of teaching together has led to over a decade of friendship and migraine support with this friend.  Jodie has participated virtually with Team My Migraine Life before, but it was awesome to have her in person this year!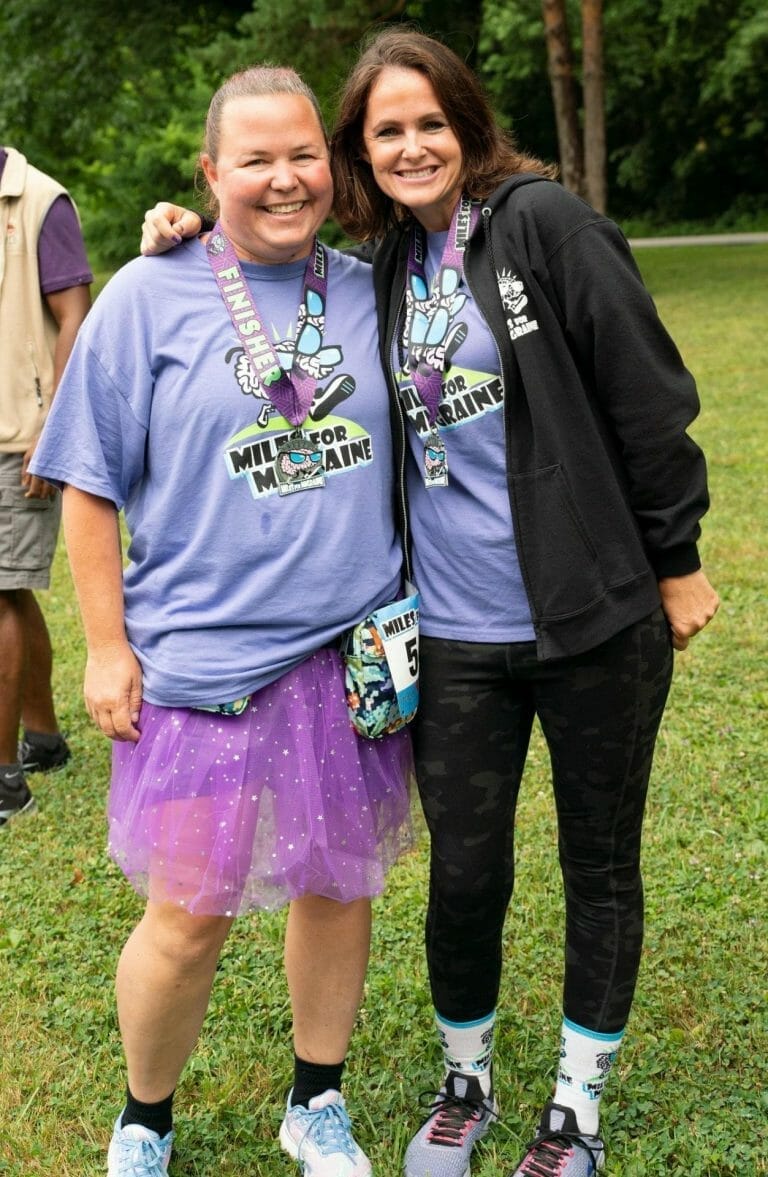 Where Does the Money Go for the Cleveland Miles for Migraine 2022 Event?
The money donated at the Cleveland Miles for Migraine 2022 is given to fellowship programs at the Cleveland Clinic and University Hospitals. The reason that this is so important is that headache specialists are few and far between statistically. By encouraging and fundraising for programs that are creating and nurturing headache specialists, we are helping more people in Cleveland to have a chance at seeing a more qualified doctor. Additionally, these fellows are asked to participate in the ACT Now advocacy training program which teaches them about migraine and headache disorder advocacy.
Wouldn't it be great if we had doctors that understood stigma, suggested support groups, and connected patients with more than medication? A well-rounded approach and understanding of migraine and headache disorders are encouraged.
Cleveland Clinic
Cleveland Clinic neurology showed up with a big group this year that made me smile. Two of their fellows spoke, one with a stroller. When I looked around and saw doctors who are busy, with young families and showing up on a Saturday morning, I felt so proud. Seeing doctors show up for their patients and our community is something that is so important.
As I looked around, I saw a lot of doctors with children there of all ages. Showing their children the cause they are working for and hearing stories of people that their parents are helping is so cool to me. They put faces to the job their parent does. I see future advocates when I see them. Their parents are modeling giving back, being charitable, and teaching them that they work such long hours to help people like me. I look forward to watching them grow and hope they come back every year to make memories as I have done with my kids for so many years.
University Hospitals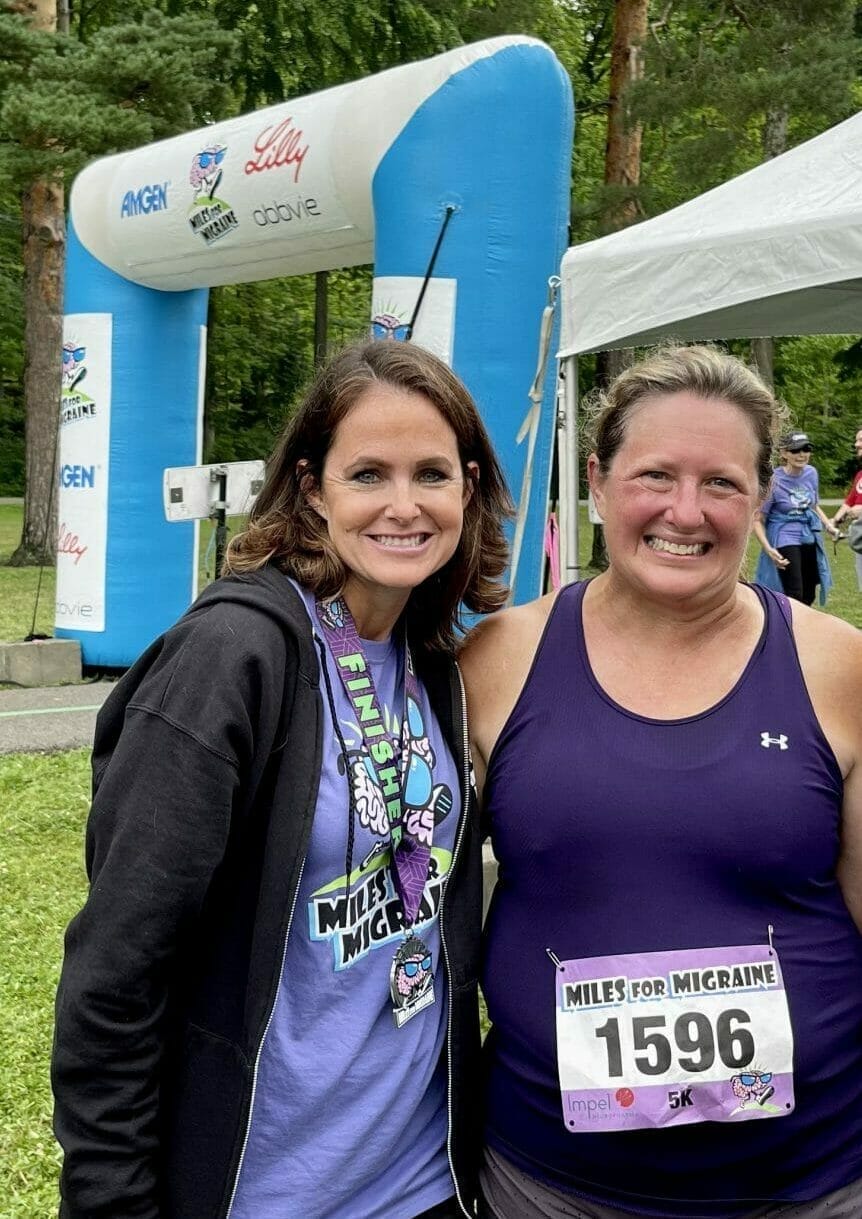 University Hospitals is a very personal group to me because my headache specialist works there. Finding a doctor that understands you and building a relationship is not easy. I am lucky enough to have one I trust.  Not only do I trust her for myself, but I see how other doctors follow her lead. She is a huge supporter of not only me but our entire migraine community including Miles for Migraine Cleveland. She constantly asks me how it's going personally and how she can assist in my advocacy.
Overall
In conclusion, it was a great day of fundraising for local headache centers, supporting each other as a community, and making connections that will last and grow each year.
Check out my past years of walking and fundraising for Miles for Migraine:
Allay Lamp- Green Light Therapy
Sarah tells stories of My Migraine Life. Living life through Migraine consists of advocacy, treatment, prevention, and searching for health and happiness in a positive honest way. Her kids, husband, dog, family and friends motivate her to make a difference in the Migraine World.
Migraine Buddy App is a migraine and headache tracking app.  They already have a version for Android and ...
Read More

→
2022 Migraine life is another year in the books. I had ups and downs, as always, but got ...
Read More

→
I often get asked, "Can ginger help migraine nausea?" After finding Ginger People, I have used many ways ...
Read More

→