Dear Migraine Book Project with Miles for Migraine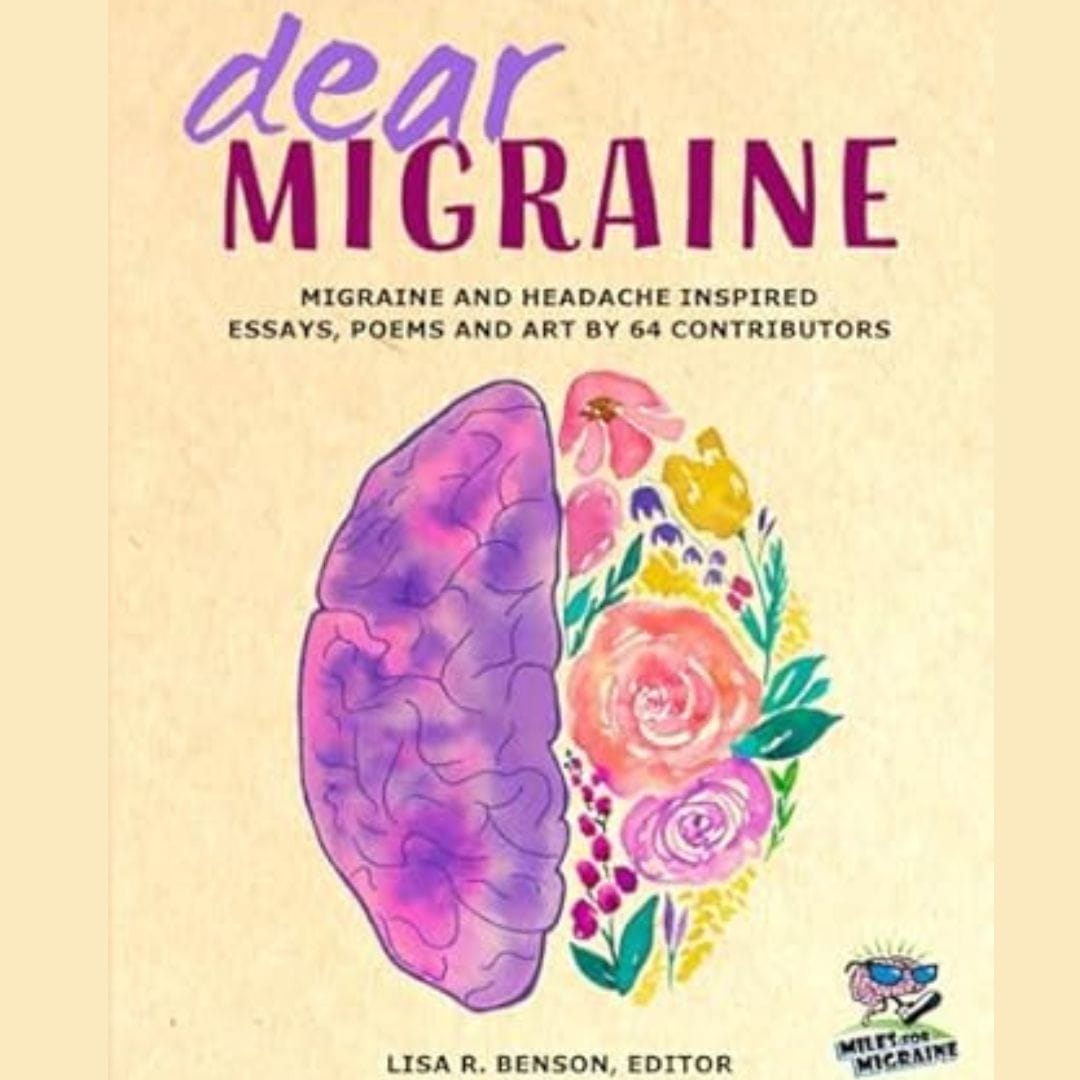 The Dear Migraine Book project has been a labor of love created by the volunteers of Miles for Migraine. Oftentimes, people living with migraine have trouble expressing what it feels like to live with migraine and this book aims to do so in a creative way. I'm so extremely excited to announce The Dear Migraine Book is ready for purchase. I was involved in this process from conception and now can't wait to have it in my hands and others.
I am an Amazon associate and will earn with qualifying purchases. Miles for Migraine will recieve the sales.
My Contribution to Dear Migraine Book Project
I am a migraine advocate in My Migraine Life (Sarah) but also in the larger community Miles for Migraine. I currently work there as the director of the ACT Now program and director of family programs. It's a big job, but very rewarding. The ACT Now program aims to educate patients and doctors on how advocacy should be part of every person's treatment plan and should be prescribed. At the end of this training, we ask for our participants to do "acts of advocacy." It was through this that the idea of Dear Migraine came to one of our patients. Lisa Benson came to Miles for Migraine with a dream of making a book that showed people living with migraine expressing their emotions through art, creative writing, and poems. This skyrocketed the book idea of "Dear Migraine."
ACT Now
The Miles for Migraine ACT Now: Advocacy Connection Team is an advocacy training program for both patients and fellows of headache medicine. It's an incredible program and I encourage you to check it out! In my first cohort, an incredible idea came out of it!
Migraine Book Project Submissions
The submissions were offered in both writing and art form. Written stories were encouraged to be in essay, letter, or poem form. The art prompts suggested pictures, drawings, or other expressions of choice with a short description of the work. Many prompts were provided for each choice to get the creative mind flowing. Look for my submission inside!
Mindfulness Series
Miles for Migraine mindfulness series was incorporated to help inspire and kickstart the submissions. They have ongoing sessions throughout the year to bring mindfulness to your home, and once again, I encourage you to check it out.
Editing Team
Once the Dear Migraine Book submissions started coming in, the editing team got to work. The editing team consists of volunteers who are passionate about migraine language, perceptions, stigma, and diversity of representation. They are a priceless hard-working group behind the project!
Finally, the book is ready for purchase!
What is the Dear Migraine Book?
Inside these 140 pages you will find works that illustrate pain and struggle, but also laughter, insights, and inspiration. The words and visuals in this book are by 64 contributors who have all been affected by migraine and headache diseases. This compilation is an advocacy project led by Lisa R. Benson as part of "ACT Now: The Advocacy Connection Team Training Program for Fellows and Patients." This initiative was started in 2021 by Miles for Migraine, a 501(c)(3) nonprofit organization. All proceeds benefit Miles for Migraine.
Where Can You Buy the Dear Migraine Book?
Good news!!! The Dear Migraine Book is ready for purchase! 
Who Should Read Dear Migraine Book?
Everyone! Everyone should be reading this book! And everyone should be passing them out to everyone they know! Let's increase awareness and decrease stigma in our everyday lives by discussing this book.
Family
Friends
Doctors Offices
Praise for the Dear Migraine
"You will dive into  an amazing transformation through the darkness to hope and strenght…it felt healing."

"Dear Migraine gives yoou a raw look into the lives of patient advocates. These are stories only we can tell." -Alicia Wolf/ The Dizzy Cook

"An increadible arrangement of deeply personal and touching reflections on the impact of migraine…reminds us of the imporance of empethetic care…"
Thank You for Dear Migraine Book
I'd like to conclude by saying that this book could not have been possible without a vision, passion, and a team who is willing to work towards a better understanding. Thank you, Lisa, Miles for Migraine, and the many volunteers who worked to make this possible. People living with migraine created this powerful book and I'm so incredibly proud to have been a small part.
Allay Lamp- Green Light Therapy
Sarah tells stories of My Migraine Life. Living life through Migraine consists of advocacy, treatment, prevention, and searching for health and happiness in a positive honest way. Her kids, husband, dog, family and friends motivate her to make a difference in the Migraine World.
This morning I woke up in a migraine pose. No, I'm not a model in Elle magazine; I'm a ...
Read More

→
I live with chronic daily headaches. For the last 3 weeks I have been in a migraine cycle ...
Read More

→
Introducing my Healthline Migraine Video. Meet me at the Walk with Migraine was filmed by Healthline, a partner ...
Read More

→