Do Migraine Attacks Give You Nightmares?
Do migraine attacks give you nightmares? I have had a reoccurring dream about screaming and no sound coming out. It has happened a few times, each time in a different way. Once, I was on a roller coaster and tried to scream like I did as a child going down the hill and nothing came out. Another time I dreamt of someone attacking me, and I couldn't scream for help. Over the years, I have talked quieter and quieter. It hurts to speak because the sound is too loud inside my head. I'm unsure if not being able to scream is a metaphor for how this monster makes me want to scream in pain and anger or how it has taken my volume away.
Migraine Nightmares
Since these dreams, I have learned that I can scream. I woke up one night screaming into my pillow. When I was crying, I didn't know a sound like that could come out of my mouth, yelling. I was fortunate to do it face down into my pillow and mattress without waking my children and neighbors. When I came out of my screaming sleeping state and realized where I was, I reached for the phone to call my mom. My husband was out of town, and I needed my mom to help. It was a migraine nightmare, and I was awake.
At that point, I realized that I could not speak. I could squeak a "maaaw" sound, and my mom instantly told me she was on her way. I won't go into the days of sheer mind-bending pain I lived in afterward. My children and I moved in with my parents because I slipped in and out of consciousness until my Migraine finally broke. I have had hundreds of migraine attacks, if not thousands, and a few of them are life-changing. This was one of them. Since then, I have not had a dream about not being able to scream. It was better when I didn't know because now the sound of my screams haunts me, and so does the migraine monster inside me.
Migraine Dreams
Dream Symbol
I Dreamed a Dream by Susan Boyle
Reoccurring dreams and Migraine
A Dream you dream Alone is Only a Dream
Sign up for our newsletter
This weekend was Miles for Migraine's inaugural walk/run in Cleveland. It was a great success due to all of the generous donations!!! Thank you for all of your support! The Donations At the time of post… Total donations: $3,831 My Migraine Life Team: $1,519 Due to everyone's support, my team was the top fundraiser, and…
Read More

→
It's National Puppy Day 2017 Two weeks ago, my dog spent 10 hours in bed with me while I was violently sick with a migraine. She heard my kids snacking and playing downstairs & my husband in and out. She never moved. She never leaves my side when I'm sick. That's love!!!!❤ How My Dog…
Read More

→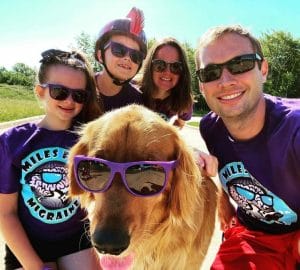 Shades for Migraine is a campaign by the Association of Migraine Disorders (AMD). It is an annual event. I have participated in Shades for Migraine since its launch in 2017 and have won in both the pets and funniest photo categories. Over the years, the campaign has hit the streets of New York City, passing out…
Read More

→
Allay Lamp- Green Light Therapy