Austin Skincare: Eleve Cosmetics
I was allowed to try Austin skincare and Eleve Cosmetics for a review. I am so excited to receive it as a gift and share my experience with you. Eleve Cosmetics is a non-toxic, vegan, and cruelty-free skincare and makeup. They are super ingredient-conscious, which has led me to be an affiliate!
Recently, I was a judge for clean beauty awards and fell in love with some products. I judged the eyeliner category, and my winner was a fantastic gel liner by Eleve Cosmetics.
Eleve Cosmetics
I was given the custom face trio and lash after-party mascara to complete my 5-minute face. Like the owners of Eleve Cosmetics, I am a busy mom trying to do it all. I typically don't spend more than 10 minutes on my skincare and make-up routine in the mornings. With these few products, it only takes a few steps to a face that makes me feel more alive.
My goal is to cover up my blemishes, look more awake (while drinking coffee and trying to feel more awake), and use products that make me feel better while looking better. I have a lot of excuses about looking like a mess, but I've learned that putting on toxic products doesn't have reasons. Because of this, I use their beautiful eye shadow palette and sunscreen year-round. Simple switches of bathroom products like Eleve are easy. As a result, I reap the benefits of nontoxic beauty, which continue to add up beyond my investment.
Austin Skincare
I love supporting unique brands like Eleve Cosmetics. Notably, It is a group of strong women (and family) striving to make a more beautiful and nontoxic life. Small businesses appreciate your patronage and treat their clients like friends.
Don't live close?  Neither do I!  That's the glory of technology.
Order online and use
Eleve Coupon code: MML15 for 15% off
[UPDATE]
Sign up for our newsletter
My experience with the first Retreat Migraine event held in San Antonio, Texas
Read More

→
This week, Yolanda told her Lyme Disease story. I love to watch The Real Housewives BH. I watch it because it is so unreal and allows me to escape the thoughts of my real life by watching these extravagant, overdramatized women. So when I watched the Beverly Hills premiere, I was shocked at the natural…
Read More

→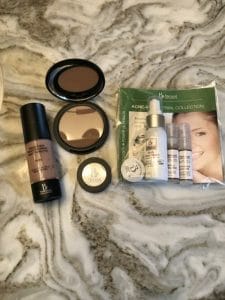 My Be Natural Organics Reviews are here. I have been extremely-low maintenance since the pandemic arrived. I looked in the mirror the other day and was shocked at how my skin has changed. So, I refreshed my makeup collection and decided to do something about my stress acne. Be Natural Organics was given to me…
Read More

→
Allay Lamp- Green Light Therapy