Emotional Triggers: Can Stress and Anxiety Trigger Migraine?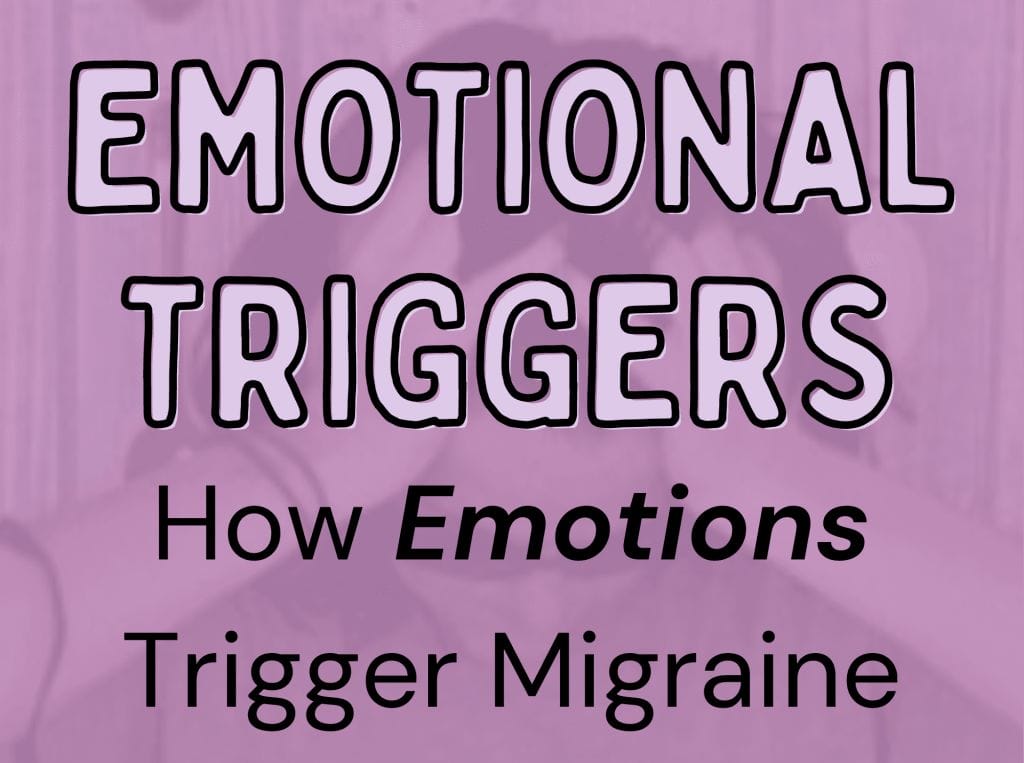 What are your emotional triggers? Are your emotions triggering migraine? Emotional triggers are all around me these days.
This summer was fun, fast, and filled with migraine attacks.  In the last few weeks, my emotions have been building for the fall excitement.  My first child is entering Kindergarten.  For some that may not be a big deal, but for a stay-at-home mom, it's momentous.
Emotional Triggers
Anxiety Triggering Migraine
On top of this momentous moment, I am also starting a job after 6 years.  Over the last 6 years, my only focus has been on my babies, family, dog, and home that we make.  It's the biggest and hardest job to stay home and I'm so lucky to have had the opportunity.   One of the luxuries of staying home is that I can deal with my migraine attacks on my own.  With a job, my migraine life is public and open to scrutiny.   Absences require subs and placing responsibilities on others.  The stress of missing work, throwing off schedules, and not being a good employee is huge!  I love the position I was hired for and really want everyone to grow and thrive.
Stress Triggering Migraine
So between the stress of starting a new job, the devastation of my baby leaving me all day, and a change in our whole dynamic, I've been walking on needles to avoid a migraine attack.  Here's the thing with migraine, it doesn't care who, what, where, when, or why you don't want it, it comes!  In fact, sometimes it feels like my migraine disease knows the worst time and hits me right then.
Depression
There is a relationship between anxiety, depression, emotional triggers and migraine. I am not an expert in this issue but feel that mental health should always be part of the migraine treatment plan.
Emotions Triggers
Emotional triggers happen for many events. I get a migraine spike anticipating, during, or after the event.  I have had one on most holidays, many weddings, baby showers, birthdays, concerts, sporting events, and more.  Events bring migraine attacks because change triggers my migraine brain.
So with all these events and changes, I have tried to numb my emotions.  I remind myself of Scarlett O'Hara saying "I'll think about that tomorrow."  I haven't allowed myself to fully feel the change because I just can't.  I cried a bit when I dropped my daughter off but had a staff meeting and needed to pull it together.  I didn't sleep the night before and lack of sleep is another trigger I was trying to deal with.
Excitement Triggering Migraine
With my new job, come more emotional triggers.   It's all wonderful and fun but those things can also be a trigger. So I sit here thinking to myself, how do I fully feel these emotions without being sick?  I can't.  I can't sit and cry about how yesterday I was holding my baby in the hospital and now she's waving goodbye to me for the day.  I have been with her, planned every event, and known exactly where she is for the past 6 years.  Now I just wave and don't hear from her for almost 7 hours!  The worry just sends me through a tailspin.
Next, I throw myself into a new job and I don't have time to be in my darkroom.  The heat, the lights, cleaning, and the reorganization takes a lot. I need to be planning.  Once I've planned, I need to be well enough to fulfill those plans.  I have such high hopes and my ambition scares me in that I will not be able to live up to it.  
I can't imagine being able to feel how I feel and not worry about it.  As if emotions aren't complicated enough, controlling them is imperative.  So I'll just worry about that tomorrow, shake off those tears, numb the fears and just keep swimming.
How do emotions trigger your migraine attacks?
Sign up for our newsletter
Sponsored: Life after COVID-19 stay home orders lift seems different yet the same with migraine. With COVID-19 restrictions lifting, I find that my migraine is not. As more people become vaccinated and the number of confirmed COVID-19 cases go down, the world once again shifts. I find myself signing my kids up for activities again…
Read More

→
Your migraine diagnosis may be new, but the disease is not. Millions of people are diagnosed with migraine and every case is different.  So what's your diagnosis?  What's my diagnosis?  What does it mean to be diagnosed with migraine and how does that help?  Here's my non-medical opinion. See a doctor for medical advice. Migraine…
Read More

→
5 year anniversary of blogging. Join My Migraine Life team
Read More

→
Allay Lamp- Green Light Therapy