Epsom Salt Bath Benefits for Migraine Relief
Epsom salt bath benefits provide migraine symptom relief for me. Epsom salt benefits are plentiful. Taking a bath has become part of my self-care routine.  I typically make the time on Sundays to soak my week away and treat my letdown migraine attacks.  When I take a bath, I love to create a relaxing and individualized experience.  I fill my bath, light a candle, grab some water and turn on music (some days I love the quiet). In this post, I provide my favorite and simple Epsom salt bath recipe and some ideas for migraine relief with baths.
Epsom Salt Bath Benefits for Migraine Relief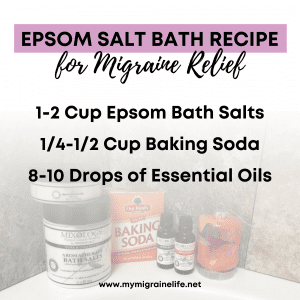 Epsom Salt Bath Recipe
Benefits of Epsom Salt Baths
Increase relaxation
Boost Magnesium levels (many Migraine sufferers are known to be insufficient)
Reduce stress
Reduce pain and inflammation
Relieve constipation
Increase energy or mental vibrancy
Soothe sore muscles
Eliminate toxins
Sleep better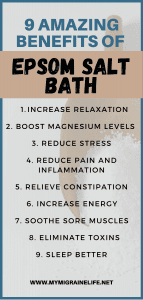 Can Baths Help Migraine?
The simple answer is….possibly yes, possibly no. There are many benefits to baths although I sometimes feel weak after. Some days, a bath is all I need to soak away my migraine symptoms. Other days, a hot bath makes my migraine symptoms worse. It is so individual and changes from day to day as does my preference for the smell. I have found that incorporating baths into my routine has provided me comfort and a natural relief. If full baths aren't available, try a foot bath detox. therapeutic.
Natural Ways to Relax
I try to relax in so many different ways. Relaxing mostly revolves around muscles and tension. Massage, baths, stretching, and physical help naturally relieve my tension. Beyond salt in my baths, I also have tried a salt cave and Himalayan salt lamp.
Do you use Epsom Salts in your Bath?
Consult a physician before you begin a bath routine. Do not take a bath if you are allergic to sulfur, pregnant, diabetic, or live with hemiplegic migraine or vestibular migraine. 
*This post contains affiliate links.  If you buy a product from the link I will be rewarded for my purchase.  Thank you!  I hope you love it as much as I do 🙂
Don't forget to check out the self-care giveaway
Sign up for our newsletter
Happy National Puppy Day! Every year I post a picture of my dog. She is my nurse, my therapy, my medicine and my first child. As I was locked in my room with a 3 day Migraine from hell, guess who slept beside me? Guess who kept me company in the middle of the night while the pain was raging? My dog. She'll always be my puppy! My almost 13 year old puppy!
Read More

→
Migraine Magick provides relief and is kind enough to giveaway a spray and roller to try. Discount code provided also for you to experience the magick yourself.
Read More

→
Please Watch this Youtube Video. I am proud of this girl for spreading awareness for Migraines and the heartbreak she needs to. You see, I am that little girl. The pain is the same at different times, in other generations, and on various pills. I had my first migraine attack when I was 5, and…
Read More

→
Allay Lamp- Green Light Therapy