Extract Wellness Hemp Oil Review
I'm always searching for a way to relieve pain, nausea, anxiety, and the host of symptoms that plague me with migraine.  Lately, hemp and CBD extract products seem to be everywhere and have piqued my interest.  Extract Wellness contacted me to do a product review hoping it would help.  But I had some questions…..
Do your products make you feel high?
More often customers share that they feel relaxed/calm, in addition to relief from many other symptoms/ailments.
How do I know the quality or where it's coming from?
Testing and quality are very important to Extract Wellness.  Their long-term, direct relationship with one of the nation's largest hemp processors allows us to leverage pharmaceutical-grade equipment for accurate testing of all of our products.  This also ensures our products are testing cannabinoid profiles correctly.
The pharmaceutical-grade testing standards utilized are from Cerilliant, a company with full accreditation for all the standards that they manufacture and distribute. Our standards are purchased monthly to ensure calibration is always correct and within acceptable tolerances.
How is CBD and hemp-related to marijuana?
As for CBD/Hemp vs marijuana, there are loads of information.  We do offer both full-spectrum and 100% THC Free hemp extract/CBD products.  THC Free products are great for anyone who has any hesitation using a product that may contain a fraction of a percentage of THC.
Here is a link to one article that helps explain the difference, highlights the farm bill passed in 2018, and CBD products which meet the farm bill requirements, which our products do.
How do you think it will help me?
Customers have told us that our oil lessens the frequency and intensity of their migraines with a daily dose.  They also mentioned alleviation from nausea and vomiting related to migraines.  I'm hopeful that you will be able to see some positive results as well.
I was given a few products to try and give my honest opinion.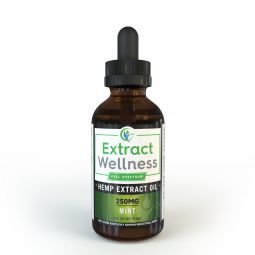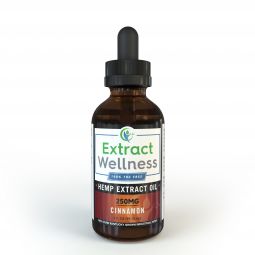 My overall impression
Hemp oil is a good tool to have in my migraine relief kit.  As they said, I do not feel high when using them.  I think that the full spectrum oil makes me more relaxed and gives me more relief than the THC free.  The THC free does, however, provide relief from nausea and all of the products are gentle on my system.  The taste is not bad at all and is easy to take.  The instructions are clear and both flavors are palatable.
The isolate is tasteless and boosts the effects.  I use the isolate mixed with a juice on the go.  I take the hemp oil before I leave the house and drink my drink to lengthen the time of relief I have while I was out for the day.  Being that I am constantly fighting a migraine, raising with symptoms, or recovering, I found that adding Extract Wellness to my battle has made things better.
After researching
After researching, I am discovering that my journey with hemp oil is similar to my journey with essential oils.  I have tried a variety of essential oils and found that certain brands far exceed other generic versions.  After reading about all the quality control and testing that Extract Wellness products go through, I am lucky to try a brand that openly posts its quality control.  They pride themselves on integrity, quality, knowledge, and community.  It has been a great experience because of all these aspects.
Because of their passion to help more, Extract Wellness has generously offered to giveaway 1 bottle of hemp oil to 2 lucky winners!!!!!!!  This is a great opportunity to try and experience yourself.  If you don't win, don't fret, there will be a coupon code at the end of the week to purchase.
Enter now by commenting
Have you tried Hemp Oil before?
What symptoms do you hope to ease?
Then enter here:
Giveaway runs: 6/24/19-7/1/19

This giveaway is not endorsed or supported by Instagram, Twitter, or Facebook. Must be 18 or older to win. U.S. residents only. The winner is chosen and will be contacted within 48 hours. A response is required 48 hours before another winner is chosen. 2 winners will be chosen.
Extract Wellness
Hemp Oil Giveaway: Extract Wellness
Does Hemp Oil Work for Migraines?
[UPDATE] The Extract Wellness Hemp Oil giveaway winners have been chosen…..Congratulations to  Aimee and Deborah!  You are both loyal followers and I am thrilled to be giving back to you!!
If you are interested in trying, a 20% off coupon is now active for my followers.
 Extract Wellness Coupon code: MyMigraineLife
Allay Lamp- Green Light Therapy
Sarah tells stories of My Migraine Life. Living life through Migraine consists of advocacy, treatment, prevention, and searching for health and happiness in a positive honest way. Her kids, husband, dog, family and friends motivate her to make a difference in the Migraine World.
I was given Migrastil migraine stick and travel kit to review. The links in this post are affiliate ...
Read More

→
Chronic Migraine Awareness Day is an important observance dedicated to raising awareness about chronic migraine, a neurological condition. ...
Read More

→
I live with chronic daily headaches. For the last 3 weeks I have been in a migraine cycle ...
Read More

→