Golden Retriever's Personality: Best Family Dog for Migraine
A Golden Retriever's personality is that of a heart of gold. I talk about my love for my Golden Retrievers (past and present) because they are the best family dogs! I'm not the only one…
I've gathered some stories about Golden Retrievers' personalities and hearts of gold to explain how they are helping some women with migraine. So many of us benefit from our pets, especially when living with a chronic illness. They give us support and love in ways others can't. I want to highlight a few of these amazing dogs and the powerful migraine advocates they support. I asked my migraine friends to tell me how their Golden Retriever's personality helped them through living with migraine.
Golden Retriever Migraine Helpers
Eileen and I connected through the Healthline app this year, and I think she's fantastic! She is a migraine educator, Healthline guide, and writer/moderator for Migraine Strong. Here are Eileen's thoughts on her Golden Retriever Crash.
Crashing Migraine
"Furry snuggles, wiggly body, tail, and unconditional love. Those are smiling, happy looks whenever a ball is brought into the picture or I walk in the door. That's what comes to mind when I think about my Golden Retriever, Crash. He helps me manage my chronic migraine in so many different ways. Additionally, He provides comfort with his nearness, distraction and motivation…and he's awful cute too!! He is such an amazingly gentle and intelligent boy. The crash is super gentle with kids, 'encourages' me when it is time for exercise (even when I don't want to go) and reminds me that there are things that require attention outside of chronic migraine. He is equally happy to sit and snuggle on the couch or lay on my feet when I feel too rotten to do much else.
Dogs are AH-MAZ-ing. They have an unending supply of love and energy and seem to know which one we need at any moment. As I write this, he lies at my feet, off in puppy la la land. He's not much on the chit-chat, but he makes up for it with loyal support. Could there be a better officemate?
This is the third Golden in which I have been blessed. All of them have, in some way or another, helped me manage chronic migraine through the years. I know Crash is in tune with me when he comes over, flops his head in my lap, and looks up at me with those big brown eyes. He will lift an eyebrow at me, and it's like he's saying he's here for me and will always have my back. What more could I ask for?"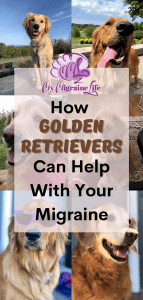 Best Family Dogs
"Our Goldens have been the best family dogs too. We brought the first two home when our kids were just 5 and 2. It used to fill my heart with joy to see the dogs lying beside my son or daughter when they were sick. Or gently dropping the ball for the kids to throw, retrieving it (from all of 6 feet away), and bringing it back. Their wrestling antics were hilarious…unless they rolled over my brand new azalea and split it in two. Our dogs are funny, polite, loving, and family members. I love hearing from others about how their furry friends help with migraine management. They are one of our few available 'treatments' that won't let us down!!"
Characteristics of Golden Retrievers
Katie MacDonald and I connected through Miles for Migraine. Soon after meeting Katie, my beloved Golden passed away. Katie's response was not out of pity but of knowing the extreme loss and emptiness I felt. She validated my grief that many did not understand, and I'll always be thankful for her support. She is the Director of Operations at Miles for Migraine and Director for Alliance of Headache Disorders Advocacy. Here are Katie's thoughts on her Golden Retrievers past and present.
Therapy Dog
"I have a long list of tools in my migraine toolkit. Medications, supplements, devices, green lights, rose-coloured glasses, essential oils, podcasts, ice packs, and…. a Golden Retriever. Gose (pronounced Gose-ah) is our 2.5-year-old wild child. She is the second Golden I have raised and could not be more different than our first, Maddie. Gose still has the spirit of a 10-week-old puppy. She pushes boundaries and tries my patience with regularity. Most importantly, though, she has an innate sense of when I'm struggling with migraine and it's time to be my therapy dog.
My first dog, Maddie, was certified as a Therapy Dog with Therapy Dogs of Vermont. She was gentle all day, every day. Less comfortable joining me in bed, she was always quick to back up for a back scratch as her way of offering assistance during my pain. She would lay on the floor next to me, whether I was on the couch, the floor, or in bed. I felt her much-needed presence. Gose is not quite official Therapy Dog material (at least not yet), but she excels at providing me much-needed comfort."
Emotional Support
"Technically, she's not allowed on the furniture or in our bed. I make an exception when I am down with a bad migraine attack. She's welcome to join me anywhere I am, most likely in bed. When I head into the bedroom, draw the blinds, and turn on my Allay green light lamp, she is often flying through the air to claim a spot on the bed before I can settle in myself. Depending on how long I'm down, she has been known to leave and return to bed with her favourite stuffed dinosaur or a tennis ball. It always makes me smile – like she is trying to offer a gift to help ease the pain.
This dog bounces around like a Mexican jumping bean with 4 paws off the ground more often than I'd like, yet can settle down and be perfectly still for hours with me. Having someone warm and soft to pet or cuddle with is so helpful. My husband is great, too, of course, but there's something unique about the love of a dog. Tears, moans, head packed in pillows or ice – none of this bothers her. It's not uncommon for her to put a paw on my arm or rest her nose on me somewhere as if she's offering a hug."
Golden Retriever Traits
Jeannette is a Mental Health Therapist with Love Life Counseling Volunteer and Acting Executive Director at CMA. She works tirelessly to help people in need while living with migraines and comorbid conditions.
"Golden Retrievers are a breed that are dogs of service and care. They find joy and discovery in life and can help us see it. They are very intuned to their people and offer so much love! Golden's give with their whole heart. They are companion dogs, so they also require the same close love and affection back.
We have been blessed to have two Golden Retrievers… Our first was Cubby. She entered our lives 3 years before my journey with chronic migraine and comorbid conditions began. Cubby acted like a fuzzy care partner and was there to soothe, dry my tears, and keep me company in isolation. She lived 10 years; her health declined as my treatments improved my pain levels and function.
Next, we welcomed Kodiak (Kodi). Kodi is 7 years old now, just becoming a senior dog. Her mission is slightly different. After being told for years that I could not carry a child, we had a baby boy a year after Kodi joined the family. Kodi has taken on the mission of watching out for me and our son, DJ. On my most difficult and high-pain days, she plays with him and gives us both smiles. Sometimes it seems DJ is her puppy.
Our Goldens brought laughs, cuddles, love, and service, but they both seem to have their unique purpose." Golden's are the best family dogs.
Golden Retriever's Personality
Over my life, I have lived with and owned many Golden Retrievers. I keep going back to the breed because of their personalities. They are the best family pets! While most of them can be described as outgoing, trustworthy, eager-to-please family dogs, they each bring their uniqueness.
My dog Lucia was what I call my dynamic equalizer. She knew how to calm me down, get me up, move me forward, and always had my back (while asking me to rub hers). She, without a doubt, was the greatest therapist I ever did or will receive. Lucia came into my life when I was episodic. She slowly watched me turn chronic and eventually helped me welcome home 2 children (she thought they were hers). She was a self-taught therapy dog for me with an insane intuition of my needs and health.
There were many times she slept on the bathroom floor with me (to get sick, even to make it to my bed), keeping me warm and comforted. I didn't realize that, like finding a human soul mate, you can find a dog soul mate. And she was my one. I was losing her remains a hole in my heart and a therapy I can't replace.
Golden Retriever Puppy
Then came Charlie, the red and calmest Golden Retriever I've ever met. Charlie is a sweet laid back family dog. He's basically my third child and added so much love to our family. When he was just a year old, he came to my school and represented as Clifford the Big Red Dog during our Vet unit. Charlie just laid there while my preschool class petted, hugged him, and doctored him up. He was a very good patient. He is the best playmate for my kids and has been a huge distraction during Covid-19 restrictions. We took him to Florida this year and he lived his best beach life! Charlie is this warm, sweet sweet dude that adds so much love to our home.
The Temperament of Golden Retriever
Our Golden Retrievers seem to have a trend of loyal, loving, sweet, supportive, and fun temperament. After reading these stories, I realized that this is not the first Golden for us. While the love of our past Goldens still shines on us, we have brought new light to our homes with these loving dogs. As women living and advocating for migraine, our loyal dogs have stood next to us, tails wagging and supporting us along the way.
Being loyal to people is not something unique to our dogs. Every dog is different, as are its owners. The breed of dog and where they came from are less important than the connection they make with each person. Animals can be such healers, and so many of us benefit. They motivate us, inspire us, and above all, support and love us.
Thank you to the migraine warriors that provided their stories and adorable pictures. I needed a happy subject to focus on, and your dogs again delivered.
In What Way Does Your Pet Make Your Life Better?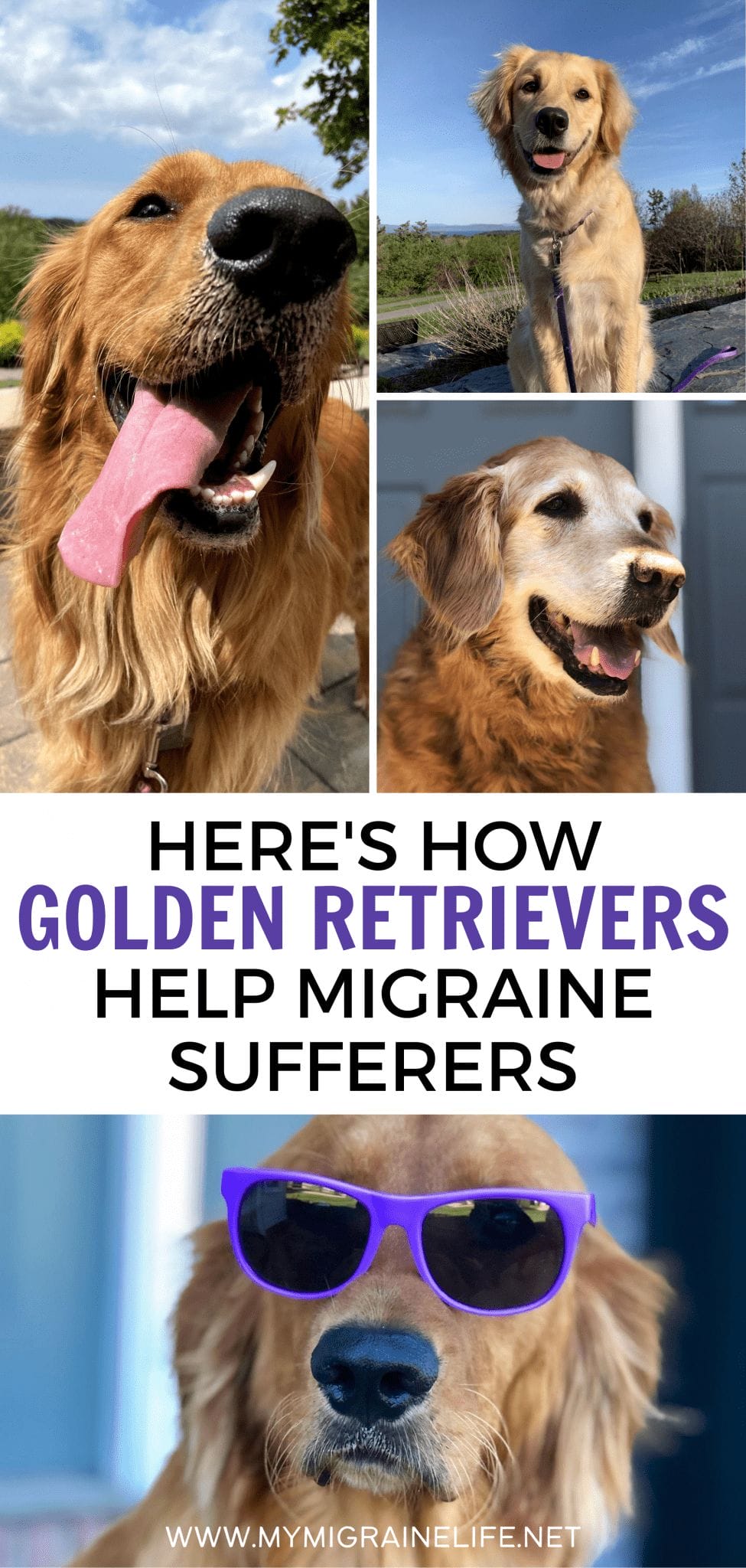 Check out the shampoo I use for my dog
Allay Lamp- Green Light Therapy
Sarah tells stories of My Migraine Life. Living life through Migraine consists of advocacy, treatment, prevention, and searching for health and happiness in a positive honest way. Her kids, husband, dog, family and friends motivate her to make a difference in the Migraine World.
I love to travel! I always have. Unfortunately, it has never been easy with migraine. The preparation, stress, ...
Read More

→
An integrative approach to migraine may include diet, sleep, environment, vitamins, mindfulness, stress management, yoga and walking, acupuncture, ...
Read More

→
Is Hot or Ice Therapy Better for Migraine? Ice therapy and heating are common practices in treating migraine ...
Read More

→