Allay Lamp Review: Allay Lamp for Migraine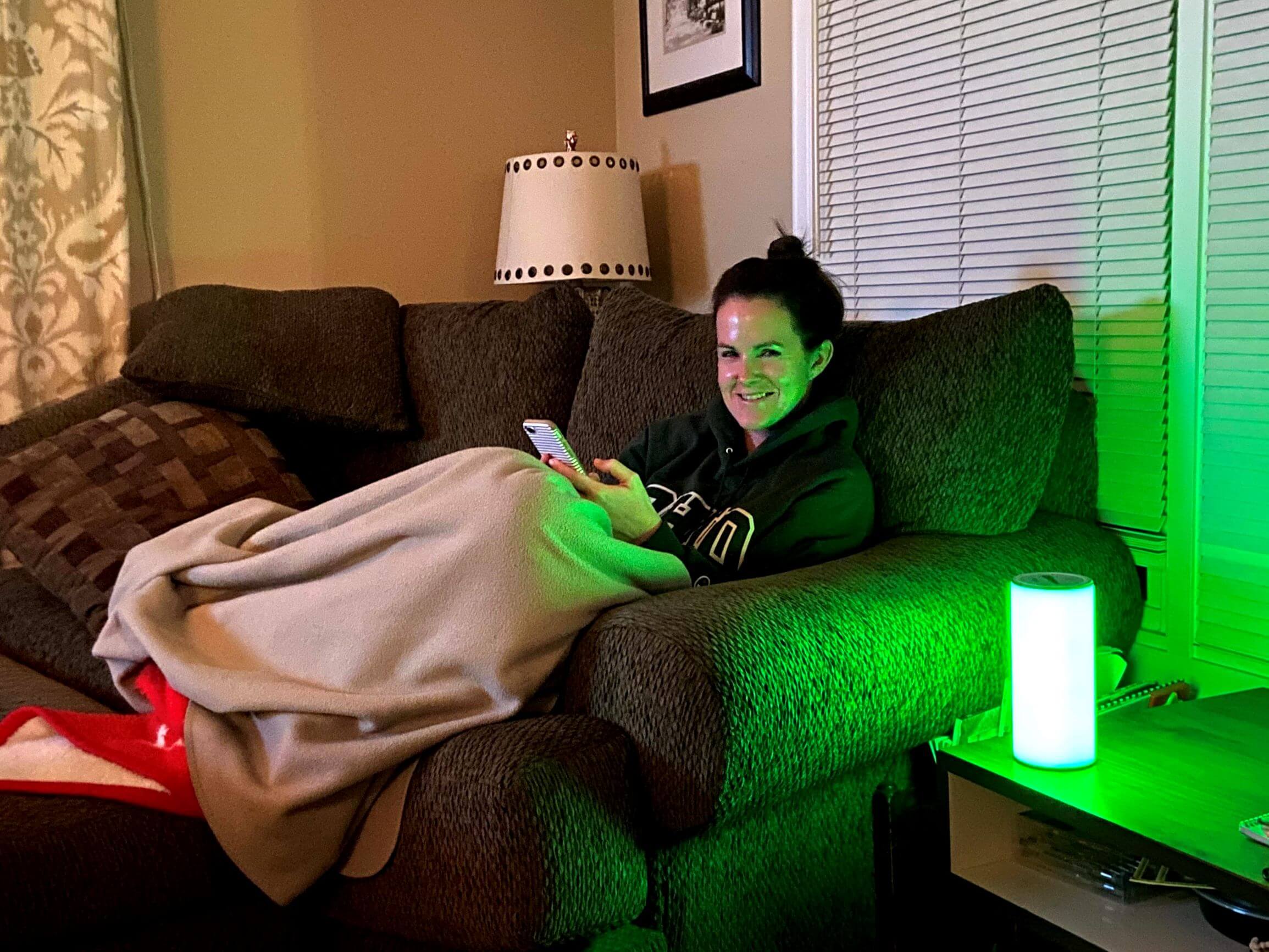 Have you heard about the green light for migraine relief, Allay lamp? I am lucky enough to give my opinion for an Allay lamp review. Recently, I read about a study on green light and migraine.  The Allay lamp was intriguing to me and I wanted to review it. I suffer from photophobia causing all light to feel uncomfortable. My eyes are sensitive to fluorescent lights, sunlight, and incandescent light. I'm always looking for ways to ease my eye strain from light and how to accommodate it. The thing I found interesting was, the research was thought of after patients were saying cloudy days were the worsts and it's the same for me.  "Light on a cloudy day has different color characteristics than light on a sunny day."
Dr. Rami Burnstein studies how people's perceptions of pain change according to the color of light around them. Red, blue, and yellow lights generate much larger electrical signals in the eyes and the brain. Greenlight minimizes irritation and keeps the brain calm according to Bursteins' studies. This prompted Brunstein to gather a team of migraine researchers and entrepreneurs to create Allay lamp.
*If you purchase from the link below, I will be paid for my recommendation. That payment helps fund my blog, THANK YOU! I hope you love it!
Allay Lamp for Migraine
What is green light therapy? Allay recommends 30 minutes with it as your only light source. The green light is said to reduce photophobia, migraine severity and improve headache and pain.
Allay Lamp Review
The low-intensity green light is my favorite! To begin with, I love the simple design, low to high brightness, and shade. All of these features allow me to customize my light according to my light sensitivity and activity at the time. I use the green light as a lamp on my nightstand. It easily charges and allows me to bring it around the house which is convenient. The lamp is light and easy for me to use it as a nightlight in the middle of the night to get ice or medication without flicking on painful lights. I use the shade to shoot the light off the wall when I need indirect light. I suggest allowing your eyes to adjust if you have been in a dark room with the green light only. Don't just throw on the overhead lights and open the shades. Ease into it!
*I was given an Allay lamp to review and am compensated if you use my referral link.
Around the house, I use it as green light in the evenings. I use it when I'm on devices or watching TV which helps with flickering lights. It is sometimes not possible to have no other lights like technology or natural light but when I turn on a light I like the green light to ease my migraine symptoms and reduce triggering light.
Green Light Therapy
One evening I had a pretty high migraine attack. It was one of those nights that I knew I should have been in bed. I was really sick but had promised to play a game with my kids after dinner. The guilt and motivation to not miss another thing had me pushing just a few more minutes. So we turned off all of the lights and used the green lamp to light our game. It turned out better than I had expected!
I chose a quiet game that involved dice (and carpet!) and a game of chance. Games of skill often end in meltdowns.  It was a game I didn't need to think about and could be slow with.  We played several times so there are many winners. The best part was, the dice looked really cool in the green light and my kids loved it!
Green Light for Migraine Relief
After playing for about half an hour, the Allay light was our only light and I felt better. When we got up from the game to head to bed, my migraine pain had decreased. It didn't get rid of my migraine and I still went to bed immediately after but I did feel a difference. I also think it slightly calmed my kids and bedtime seemed easier but I have no proof and it could have been luck. In conclusion, I really like the Allay green lamp for My Migraine Life. It's another great natural therapy in my migraine toolbox and I use it daily in a variety of ways.
*This is an affiliate link. If you purchase through my link I will be paid. This money goes toward running My Migraine Life. Thank you for supporting me!
Try a different style and check out the differences between the two.
Have you tried Green Light Therapy?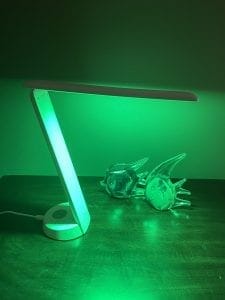 The Allay team is focused on one simple mission: to help people with light sensitivity emerge from the darkness and get back to doing what they love.
How Do You Protect Your Eyes from Fluorescent Lights?
Migraine light sensitivity glasses: Axon Optics
Allay Lamp- Green Light Therapy
Sarah tells stories of My Migraine Life. Living life through Migraine consists of advocacy, treatment, prevention, and searching for health and happiness in a positive honest way. Her kids, husband, dog, family and friends motivate her to make a difference in the Migraine World.
Whitney Cummings and migraine were not things I connected with until March. I've laughed at Whitney's stand-ups and ...
Read More

→
I live with chronic daily headaches. For the last 3 weeks I have been in a migraine cycle ...
Read More

→
Cleveland Miles for Migraine 2022 took place on July 16. It was the 5th year and the best ...
Read More

→