Headache on the Hill: Alliance for Headache Disorders Advocacy
Headache on the Hill (HOH) is an annual advocacy event organized by the Alliance for Headache Disorders Advocacy (AHDA). Headache on the Hill asks are typically focused on improving awareness about headache disorders, and the need for greater equity in care and research funding.
Alliance for Headache Disorders Advocacy (AHDA)
Alliance for Headache Disorders Advocacy is the leading voice in headache policy.  The AHDA fights against discriminatory practices, policies, or laws by drafting legislation and making comments to regulatory agencies.  The ongoing mission is to make life better for millions of Americans living with headache disorders in our country. Members include organizations, medical providers, researchers, caregivers, and people living with headache disorders.
[UPDATED FEB 2023]
Headache on the Hill 2023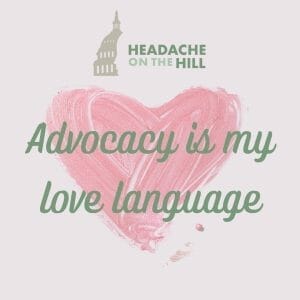 Headache on the Hill 2023 was in February and offered, this year, both in person and virtually. After the last two years of being virtual, I opted for that option again. Traveling to Headache on the Hill in Washington D.C. would add extra stress on me which was best handled at home. Traveling, walking, speaking, and participating in person would put me at a higher risk for a migraine attack and I wanted to lessen my triggers as much as possible.
AHDA Congressional Asks 2023
There were three asks this year.
Co-sponsor the CARE for Long COVID Act when it is reintroduced in this year's Congress and ensure the legislation specifically prioritizes research on migraine and other headache disorders caused or exacerbated by Long COVID
Approximately 1 in 5 people who expereicne Long COVID report headache.
Create a House Headache Caucus
A House Headache Causus is an important step in increasing awareness about the prevelance and seriousness of headache disorderws, ending strigma around these condtions and addressing the myriad of iequalities exisiting under federal law for those impacted by migraine and headache disorders in the United States.
Lead and/or co-sign a letter to the Department of Education requesting the Office of Special Education and Rehabilitative Servies issue a formal guidance memorandum affirming the potential eligibility of children with migraine and other server headache disorders under the "Other Health Impairments" category of the IDEA Act statues and regulations should their health conditions adversely impact their educational performance in school.
School districts have an obligation to look at the way in which a chronic or acute health condition, such as chronic migraine or other severe headache disorder, impact the child's educational performance.
My Migraine Life Affected
This year, my story revolved around the ask referring to the department of education. As you may know, I was a child with migraine who grew up into a teacher with migraine, and helping schools is a passion of mine. This is why I am an ambassador for Migraine at School and have shared my story about the importance of equity to ALL kids in school.
Team Ohio 2023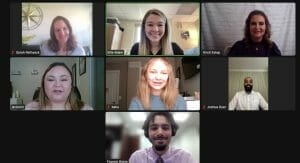 This was the first year I did not have a doctor with me in the room. I felt a bit insecure about this until I met my team. The asks this year were very straightforward and our group had a handle on what to ask, how to relate it to our stories, and where to follow up.
The new part was, we had a 13-year-old in our group. The impact of watching a middle schooler talk about the deep impact migraine has had on her life since 2nd grade was profound.  She told her story and the importance of eligibility for an IEP and even though I had just met her on screen, I was so proud of this fierce young advocate!
Headache on the Hill 2022
The fifteenth annual Headache on the Hill event took place on February 15, 2022.  There were two asks.
Indian Health Service Headache Disorders Centers of Excellence
US American Indian / Alaskan Native (AI/AN) communities have the highest prevalence of disabling headaches. Over 560,000 people (22.1% of 2.56 million) under Indian Health Service care have migraine or severe headaches. We are proposing a new Headache Disorders Centers of Excellence program to include direct care, telehealth, consultation, education, training, and research.
General Accountability Office (GAO) report on NIH funding relative to disease burden, especially for headache disorders.
Congress has directed National Insitutes of Health (NIH) to consider disease burden in funding decisions, and NIH has committed to doing so. The Appropriations Committee "expects NIH to consider the burden of a disease when setting priorities". The NIH HEAL Initiative statutory authority [42 USC § 284q–1] mandates disease burden as a funding priority. The NIH-Wide Strategic Plan cites disease burden as "a crucial, but not the only, consideration". Yet some diseases languish, year after year, with chronic under-funding of NIH research relative to their burdens. Migraine is the least-funded research area relative to its very high burden – 14-fold disparity in 2017
Headache on the Hill 2021
I participated in the 2021 Headache on the Hill with Alliance for Headache Disorders Advocacy in March. This year is year 14 for Headache on the Hill. I have been following AHDA for years and supported it virtually through a fundraising walk. But this year, I applied to be an Ohio representative. After 2020, I feel like all our voices need to be heard in an organized fashion and that politicians need to listen. So, I applied, was accepted, and instantly had a pit in my stomach. I was motivated that it was virtual and less threatening.
Why would it be threatening? The reason I am going to Capitol Hill is the same reason I am held back from it. Migraine. Living with migraine is unpredictable, and I constantly worry about canceling plans. My attacks hit me hard and quickly left me unable to speak, understand, sit, or be in the light and around sound. This does not make talking to an elected official easy. The nerves to convince my representative are intimidating, but I also have a brain that is a ticking time bomb inside my head. But I told myself that I could do it.
Politics
You see, I'm not a political person. When politics are mentioned at work, I'm known to walk away and not come back. I have never heard a political conversation end with someone saying, "Oh, good point, you've changed my mind." It always ends with who can raise their voice louder, come up with more abstract examples, and mentally stand there and preach their point longer. But I have never seen much change.
That's not me. I feel way more comfortable interviewing Khloe Kardashian or hanging out with Karamo from Netflix than speaking to one of my Senators. But this year has me stepping outside my box and ready for the challenge. I trusted that Alliance for Headache Disorders Advocacy would prepare me and set me up with a team that could support me and gets our point across. This felt like such a weight on my shoulders to be representing Ohio. I am proud to push for change in significant ways that will benefit millions for years. The thought that I could speak to someone that could help with migraine funding is exciting.
Headache

on the Hill Preparation
The most comforting thing this year is that it is virtual. Taking the stress away of walking from building to building in D.C. was a relief. I had my schedule and knew that I could manage my spoons throughout the day. Ready for the irony? I was on spring break during our Headache on the Hill day. Traveling is incredibly triggering for me. Although it added a complication, it also brought in reality that migraine and triggers will exist virtual or in person.
Emails
Then came the emails. The Director of Federal Policy is a friend of mine and one of the hardest migraine workers I know (and I know a lot!). We had emails with videos to prepare and understand our roles. I binge-watched/listened to the videos, not so ironically, while having a migraine day. I lay in my darkroom, at times present and staring at the computer, at other times passively listening. Having the ability to watch and review on my own time was convenient. The organization of emails, videos, and information seemed a lot but was crucial to answering all questions.
Study

Material
Before Headache on the Hill, we had a live session explaining the 'asks' along with the history of the Alliance for Headache Disorders Advocacy and the push for change. I was hoping it would make me feel better, but in reality, I freaked out a bit more. Many of the questions were well-educated, and I didn't even know what to ask. As I said, I'm not political and felt a bit over my head.
But once again, AHDA was there for me. After our meeting, I printed out all of the materials and decided to go to the next meeting for a review. I did so and felt better. I'd find more relief once I met with my team.
Headache

on

the Hill Roles/Teams
My team consists of 2 patients and 2 doctors. I was already friends with my fellow Ohio advocate, meeting her at a previous Cleveland Miles for Migraine event. She was our 'alumni' and the last year had been with the president of the executive board, so she was in good hands. The three others of us were newbies. I was thrilled to meet one of the fellows that are part of the ACT NOW fellowship and advocacy training program that I work on. Our program matches and trains future headache specialists and neurologists along with migraine advocates to expose the importance of advocacy. This was a perfect example of how we came together! Our second fellow had worked at Cleveland's VA and gave us tremendous insight. It felt super powerful to be working with these brilliant and passionate people.
My

Story
Once we met, we decided on our roles in the Headache on the Hill meeting. We decided who did the introductions, told their story, and did the asks. My role was to tell my migraine story directly related to our asks. Being I've been an advocate for many years on my blog, I feel comfortable telling my story but always consider what to include. As someone who has lived with migraine since age 5, I struggled with what to include.
While thinking about my story, I wanted to explain its impact on my life. My parents and I have been financially heavily affected by my neurological disease. Beyond money, I have had the quality of my life hugely dampened. Every relationship I have had has been impacted, every job, every event, all changed by migraine. Above all, I want to explain the longevity of migraine. I'm the third generation of women in my family to live with migraine. (And let's be honest, it probably goes back further but just wasn't diagnosed.)
Relating

my

story to Asks
With the discussion of how long I have lived with migraine and the impact on my daily life comes the help I have received. The number of doctors I have seen and the medication I have been prescribed is lengthy. I explained how I have been a guinea pig with guess and check therapies. Until the last few years, migraine medication hasn't existed, and I have been forced to try medication after medication for conditions that are not my own. The need for more educated physicians, research, and funding is gigantic, and I wanted to get that point across.
All of this, in just a few minutes of speech. I chattered and needed to remind myself to slow down. I wanted to pack so much into what I was saying, but I just wanted to be precise.
Headache on the Hill Schedule
This was organized on a website that gave us information and schedules. Most schedules were packed. Ours was missing a couple of times and had a reschedule. With Covid restrictions and being virtual, we ended up having a meeting a few days later, which altered my group a bit. The rest of my group had to work during our rescheduled time, and I had the opportunity to meet with Dr. Robert Shapiro (Founding President) and Katie MacDonald (director of Federal Policy). Seeing how they responded to questions and watching our AHDA experts at work felt exciting.
The thing I found interesting was the feedback we got. We met a very young lady who related to us at one meeting and would pass the message along. Another meeting was a phone call, and we barely got a response. In our last meeting, we had the most questions, which was nice since I was in a meeting with seasoned, knowledgeable advocates.
Alliance for Headache Disorders Advocacy Asks
Suppose you'd like to review the full 'asks' you need to learn more about go here. Remember, I'm not an expert, and just summarizing. We are asking for 2 things. Well, one thing…appropriations, but for 2 reasons.
We are asking the National Institutes of Health to devote more funding toward researching and treating migraine. More funding is needed to develop new treatments, build data on new approaches, and help incentivize more providers to obtain neurology-related medical degrees. I love that our team had two fellows pursuing neurology because of a severe shortage and the need for more headache specialists. They are already changing lives, but we need funding to inspire more of them.
They are asking for funding to double the number of specialized VA treatment sites for veterans with headache disorders. Hundreds of thousands of our military veterans suffer from traumatic brain injuries and cluster headaches from exposure to explosions and toxic open burn pits. If you don't know what cluster headaches are, they are reputed as "the most pain a human can endure." After studying people who experienced cluster headaches and gunshot wounds, they concluded that the "headache" was worse.
My teammate had worked at Cleveland's VA TBI unit and is a VA Headache Disorders Centers of Excellence. While he said the program was successful, many of our veterans were traveling several hours to the center and waiting months to be seen. Our ask to expand these centers to allow access and to be treated by neurology vs. pain is imperative. It is disgraceful that we are asking people who serve and protect our county not to receive adequate treatment. Remember when I talked about longevity? These men and women should not be asked to live like this forever.

Policy Panel Discussion
On our lunch break, we were given the opportunity to hear a policy panel discussion. It was so well done and powerful! This discussion related to our VA ask and drove home the fact that our first responders need help.
Post Headache

on

the Hill Day
Headache on the Hill was invigorating! Alliance for Headache Disorders Advocacy has worked hard, and I'm proud to say I could be a part of this year's event. After the meeting, we had a call to review our hard work. I went from nervous to filled with endorphins to exhausted after our hill day. I didn't get any response from my follow-up emails which is disappointing, but I am reminded that it doesn't mean I didn't make a difference. Advocacy is not linear, and neither are the results, but that's why we keep trying.
Days following, even though we were virtual, I had a massive migraine attack. Here's the thing about migraine, I have an endless list of triggers. So by the time I drove 10 hours home and returned to my house 2 days later, I had a migraine attack that shook my world. I thought, "If Congress sees me screaming in my room, would they believe me then?" I have an invisible disease, and when it is visible, I'm locked in my room, so it doesn't allow people to "see" what I live with. On my hill day, I described how it impacts my life but explaining a level 10 attack is impossible. For me, the complicated world of migraine ranges from daily headaches to nausea to all-out attacks that would have most hospitalized. I live on a spectrum of migraine attacks that isn't very clear to people.
Alliance for

Headache

Disorders Advocacy (AHDA)
Was it ironic that I had my hill day and a monster attack? No! It was probable. And that's the reality of My Migraine Life! So to all of you who are afraid of Headache on the Hill or want to advocate more, I urge you to do what you can. Do what you can; the rest of us will do the same. It takes a group effort, and that group needs a mix of patients, doctors, and support teams. Everyone has a role, and it's so important. Change can't be made without pushing forward, and asking to reduce stigma, increase funding, and give migraine the respect and treatment it needs is a significant undertaking.
Thank you to those who organized this event, Alliance for Headache Disorders Advocacy. I hope to do it in person someday. I'll still be scared, still be triggered, and above all, still, be inspired!
Allay Lamp- Green Light Therapy
Sarah tells stories of My Migraine Life. Living life through Migraine consists of advocacy, treatment, prevention, and searching for health and happiness in a positive honest way. Her kids, husband, dog, family and friends motivate her to make a difference in the Migraine World.
Amgen sponsors this post. Please consult your doctor for medical advice. My opinions and experiences are my own. ...
Read More

→
I use migraine music therapy to help calm my migraine symptoms. I have experience teaching children with severe ...
Read More

→
The best natural toners and mists have been tested. I have judged and found my favorite organic toners ...
Read More

→