Can Using a Himalayan Salt Lamp for Migraine Help or just a Gimmick?
Is there a relationship between a Himalayan salt lamp and migraine? I know it sounds crazy, but I'm interested in trying anything natural, so I thought I'd try. I know it's ridiculous to rid the symptoms of my neurological disease, but it's pretty so why not?
*Links in this post may be Amazon affiliate links which means I will be rewarded for my recommendations. My opinions are my own.
Himalayan Salt Lamp and Migraine
Several months ago I bought* a Himalayan salt lamp.  I read about them and the possible benefits.  From what I read, it could possibly purify the air, reduce allergens, increase mood, and more.  My hope with the Himalayan salt lamp and migraine is to help decrease symptoms, triggers, or allergies. 
I placed my lamp on my nightstand and left it on all the time.  With it next to my bed, theoretically, I would be sleeping in better air and would wake in less migraine pain.  I almost always fall asleep with a migraine and wake up with one.  My lamp has the ability to brighten and soften with a dimmer which is nice since I'm very sensitive to light.  The color is beautiful and calming!  
Does Salt Therapy Help Migraine?
I did not feel a difference in the way I felt waking up after sleeping next to the salt lamp. I gave it a chance for a while and never felt different. Then moved it into my son's room.  I noticed a difference with my son's allergies fairly quickly after using the Himalayan salt lamp.  I placed it in his room and a few days later I noticed his cough had decreased.  He coughs and has allergies through different parts of the year and I saw a difference in his breathing.  It's a nice natural night light in his room.  Yes, it is real salt, so I remind him to keep his hands off and no licking!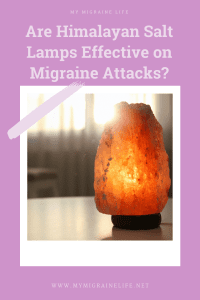 Are Himalayan Salt Lamps a Gimmick?
The jury is still out on this, but I do believe it holds benefits. Did it help my migraine symptoms or allow me to feel a difference when rising in the morning? No. But I do think it's pretty and loved it as a nightstand lamp that is dimmable with a gentle soft glow. As far as benefits, I did see my son's breathing and coughing at night get better. There are always a lot of factors that come into health so I can't be sure that the Himalayan salt lamp healed him.  Overall, it's worth a try. I love trying natural ways to increase my health and this was a simple and pretty switch. It's worth a try but I wouldn't expect a cure to whatever ails you.
Interested in learning more about the benefits of salt therapy?
I have also tried salt caves!
Sign up for our newsletter
Good Greens Wellness Bars Giveaway is about to begin! This week is about treating yourself well and fighting migraines with food and fitness. During the week, I will be posting about how eating Good! Makes you feel better and find what makes your body feel better physically. With migraines, it's hard to eat well, work out,…
Read More

→
I have been lucky enough to review the Deluxe Om Community Box- "Pioneer."  Let me begin by saying that this is more than a product review.  It is a great website and resource for migraine sufferers and people looking to get in touch with their mind, body, and soul.   There is a lot of inspiration along…
Read More

→
My Migraine Life Highlights 2019 is A Lot. The year seemed to slip by and looking back, I did a whole lot! I came into this year as a "year of yes" mentality with migraine advocacy and it really paid off! I'm so proud of what I accomplished and couldn't be able to do it…
Read More

→
Allay Lamp- Green Light Therapy