10 Ways to Survive the Holiday Season with Migraine Attacks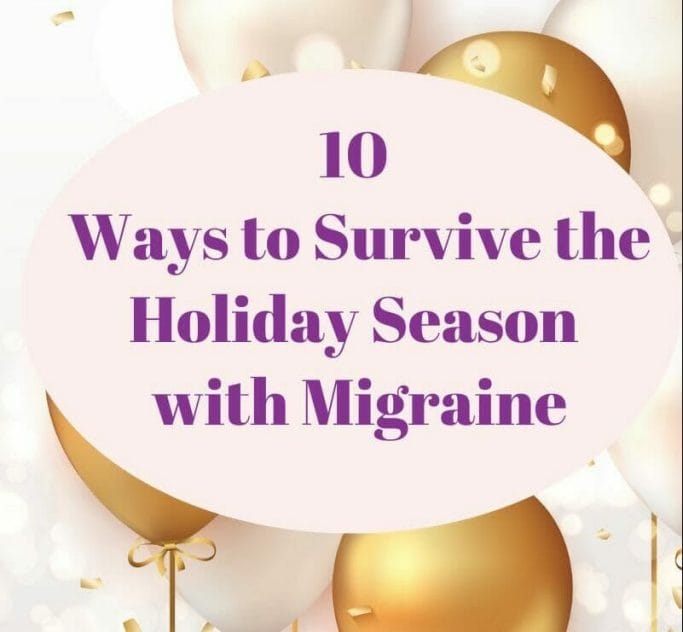 The holiday season with migraine attacks is miserable but inevitable for me. Every year, I get a spike in attacks due to stress, excitement, change of environment, and routine. Although I know I'll be faced with lots of migraine triggers, I have learned over the years that there are ways to help ease the holiday season with migraine. I've put together 10 ways to survive the holiday season with migraine attacks and hope it helps.
1. Stay Hydrated during the Holiday Season
Dehydration is a common trigger for migraine.  When I start to get that dull afternoon headache, I'm always reminded that I didn't drink enough water. There tend to be a lot more drink options, alcoholic and non, during the holiday season and I forget to drink water. When I do have that occasional glass of wine, I use Pure Wine and drink extra water with alcohol.  When I am traveling, I bring a large water bottle, especially when flying. 
2. Be Prepared with Migraine Medication
It never fails that it is harder to reach my headache specialist during the holiday season and those are some of the most triggered days. So, I make sure to have enough refills of my medication and get any unanswered questions ahead of time. I remember one year, my office stayed open late on the day before Christmas Eve because I needed medication. We all knew I would not have made it to Christmas without it. I have planned ever since. And may I give an extra shout-out to providers who genuinely care about their patients' lives? 
3. Don't Skip Meals
Skipping a meal is a trigger for me. During the holiday season, meals tend to be large and lengthier than the rest of the year. I find that I look forward to these meals and want to be hungry for them but not starving. When I go too long between a meal and a snack, my migraine is triggered. I try to be cognizant of this and avoid crashing by keeping my eating as consistent as possible while still enjoying it.
Eat Migraine Friendly Foods
Everyone's migraine-friendly foods are different. There is NO 'diet' to cure migraine. But during the holiday season, I focus on anti-inflammatory foods, cook a lot from the Dizzy Cook cookbook, and avoid my known migraine-trigger foods. If I am local, I bring my own migraine-friendly appetizer or side that I know will be safe to eat.  When I am traveling during the holiday season, I always bring snacks with me. In the car, on a plane, and heading anywhere I pack foods I know I tolerate well. 
4. Complementary Therapies and Self-Care
I take the holiday season as a time for a little extra self-care. I do not feel guilty about getting a massage and hate that I feel like it is a gift to treat myself to complementary therapy. But unfortunately, not all migraine therapies are covered by my insurance and out-of-pocket costs add up. 
A cheaper way I like to unwind my muscles and aching migraine head is to take a bath. With the weather so cold around the holiday season, I spend extra time soaking and warming up in the tub. The holiday season tends to be an extra stress-filled time so I try to practice as many relaxations, mindfulness, and exercises as I can.  I rely on a lot of migraine products in my toolbox.  
5. Keep a Regular Sleep Schedule
My sleep schedule is especially important during the holiday season. I cannot get too little and cannot get too much. A nap, although I am exhausted, may throw things off more. But during the holiday season, it is not that simple. But I choose my late nights wisely and my early wake-ups to a minimum.  
Along with keeping my sleep consistent, I keep my caffeine consistent also. I drink the same amount in the morning as always. I sometimes reach for an extra cup while shopping and traveling but regret it if I have too much. Once again, I consider everything I do and how it may affect my sleep and brain health. 
6. Make a Migraine Attack Action Plan
Creating a migraine action plan helps get me through the holiday season. For me, this takes some of the worries out of, "What do I do if I get a migraine attack?" My plan includes: bringing my medication and migraine tool kit, finding a dark room or exit strategy, and having a ride home to name a few. I constantly weigh where I'm going, how I will treat a migraine attack, and how I will get to a safe place where I can battle. 
7. Avoid Migraine Attack Triggers: Smells, Lights, Sounds
When I encounter situations that are full of potential migraine triggers, such as loud music or bright lights during the holiday season I need to pivot. It seems that everywhere I go, something is draped in flashing lights, ringing a bell, or perfuming the room. It's something I need to get away from! 
Avoid Cigarettes, Candles, and Scented Rooms
Inhaling secondhand smoke brings on a migraine attack for me. And those fake scented candles, yuck! I avoid it at all costs. 
Avoid Bright and Blinking Lights
Especially during the holiday season, everything seems to be brighter and more lit than usual. Bright fluorescent lights, flickering lights, and even very bright natural light can all trigger a migraine attack for me. I try to avoid LED Christmas lights and flashing ones. I think the lights are so pretty, but the intensity of the brightness can ruin my night. 
Be Aware of the Volume
Loud music and background noise are very common during the holiday season. As the party noise increases, I often feel a swirl of dizziness and chaos for me internally. This is a migraine trigger that can either hit me hard and fast or slow and steady. If it's a loud banging, the noise bothers me. But if it's a raise in background noise, I sometimes don't notice until it's too late. Once again, I rely on my exit strategy.
8. Create Reminders
around the Holiday Season
The holiday season can be hectic, to the point that I forget more than usual. This, added to my brain fog, and I need reminders.  Basic needs like hydration, eating, relaxation and sleeping are all on a regular schedule. Even a reminder to breathe is helpful. Putting a reminder on my phone helps keep me on track.
9. Check in with Yourself or a Loved One
With an increase in migraine attacks, it is common for people with depression to have their condition worsen during the holiday season. I find that trying to connect with other people, can help alleviate depression while being stressful at the same time. It is especially difficult when missing out on the holiday season when experiencing migraine attacks. I can't see myself objectively and I check in with friends and family to give me perspective. People with migraine are more likely to have anxiety or depression than people who do not have migraine and the holiday season can be a callous time. It's important to seek professional help and be diagnosed and treated if mood changes occur. 
10. Be a Migraine Advocate
If all else fails, remember that you are your own expert.  Be a migraine advocate for yourself and trust your instincts. Rely on your own personal experiences about what works for you and let your friends and family know what you need. Being honest alleviates pressure and questions from well-meaning friends and family. It is everyone's goal to enjoy the holiday season and living with migraine has boundaries. Respecting those boundaries enables me to survive the holiday season with migraine attacks.
Sign up for our newsletter
The thing about migraines is that there is no cure and there is no medication process that works for everyone. The even crazier thing is, that there is not a medicine that works every time even if you are lucky enough to find something that works for you. It's constantly a guess and check and…
Read More

→
I typically talk about the big things that give me hope. My children, husband, family, and friends just to name a few. But we all know it's the little things that count too. The little things that give me hope are the people who are advocating for Migraines and Headache Disorders. When I first started…
Read More

→
Teacher mom's work-life balance is tricky. Is being a teacher and a mom a benefit or a drawback to teaching? I've seen it both ways, and they both have advantages and disadvantages. After many years of staying home with my children, I returned to teaching. While returning to education, the question, "Is having children a…
Read More

→
Allay Lamp- Green Light Therapy