Cyclic Migraine: How do you Break a Migraine Cycle?
How do you break a Migraine cycle? Several times a year, I get trapped with cyclic migraine attacks that won't break (see when everything stops working). I was at this point last week.
Cyclic Migraine
Can a migraine last a week? Yes, It had been 3 weeks of a 6 pain level but spiking often. Finally, I saw my doctor to get shots to knock out the migraine cycle and hopefully regain some less painful days. I was headed for a long road trip and needed to feel as good as possible to survive and enjoy myself. So the shots worked, and follow-up meds allowed me to enjoy my getaway.
On the last day, however, it all caught up to me. We had moved from location to location, bed to bed, been scheduled from minute to minute and eating was far from ordinary. Due to driving for long distances every day, I drank less water and had less physical activity than usual. On the last two nights of our trip, we also stayed in a house with a cat to which I am allergic. We had spent the previous day in the sun and a highly humid climate. So as you can imagine, on the last day, I woke up with my eyes swollen, red, watery, and hurt. My throat was closed, and my entire body ached. We then loaded ourselves into the car for a 12-hour drive home.
What is a Migraine Cycle?
We left at 7:30 am and arrived in our driveway at 8:15 pm. I slept, iced, and prayed myself to better health for the first 5 hours. The migraine pain was like a 7, and my entire body felt like an unfunctional rag doll because of the allergies and combined triggers. Once we got home, I had hoped to recover, but no luck; I got back to where I was before I got the shots and was in constant pain again. So I took one step forward to enjoy my vacation and two steps back to negate my meds that had worked and to be back in my migraine cycle.
Migraine Cycle
Long gone are the days of not considering everything I do due to migraine cycles. Now are the days of weighing my options. So why travel? The answer for me is simple; life goes on. I can't stop my life knowing I will suffer. Why stay home? Maybe I'd still be at a lower pain level if I had not gone on the trip. But I would have missed out. I miss out on a lot, and I am willing to get sicker for some events.
If I didn't go, I wouldn't have the memories. I sometimes look back at pictures and can often remember how I felt that day. The best thing is that I was there. I experienced life, created memories, and wasn't perfect, but who is? I was able to have a fabulous time due to seeing my doctor before the trip and that's all that matters to me.
Am I focused on the two steps back that I took? No way. It sucks, and I'm mad and frustrated, but I'm focused on everything I gained from my trip, not what I lost. I would have loved to come home and resume my life, but that's not the reality I live. With my cyclic migraine and added knowledge, I'm focused on taking that one step forward. I know, from experience, that I'll take those two steps back sooner rather than later. But I took that step and I'll take another.
Life is about baby steps. Looking back, I have the pictures and memories of that baby step, and I know that it will never be a regret.
Sign up for our newsletter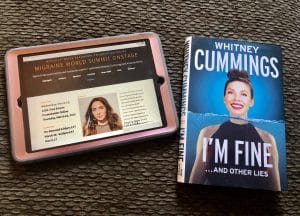 Whitney Cummings and migraine were not things I connected with until March. I've laughed at Whitney's stand-ups and roasts. I've watched her produce, write, direct, and act. But after this Emmy-nominated comedian spoke at the 5th Migraine World Summit, I now see her as another migraine teammate. It's a weird thing when you relate to someone…
Read More

→
To the dog who helped me raise my kids and watched my illness grow. Loosing a dog is more than a death. It is a loss of support, unconditional love and migraine and illness support. The love is unequal to any other relationship
Read More

→
Migraine Pose in NOT "Damn Flattering" Please change the conversation and educate yourself on what migraine and headache disorders really are #migrainepose #truemigrainepose #reclaimmigraine #headachepose #mymigrainelife
Read More

→
Allay Lamp- Green Light Therapy