How to Avoid Motion Sickness At Universal Studios Orlando
Universal Studios and motion sickness went hand in hand with me on my most recent vacation. As someone living with migraine, I experience vestibular issues often but that doesn't stop me from traveling. It does, however, alter the way I live and how I feel dramatically! My motion sickness symptoms are dizziness, lightheaded,  nauseous, vertigo, trouble controlling my temperature, general discomfort, and vomiting. The intensity of these symptoms intensifies with a stack of triggers. A stack of triggers could consist of lights, sounds, smells, spinning, flashing, or jerking, among other things. I'm here to tell you about some of the worst rides for motion sickness and some other better options.
"Migraine is linked with various co-morbid conditions, the most prominent being motion sickness. Symptoms such as nausea, dizziness and headache are common to motion sickness and migraine; moreover, migraine sufferers have a heightened vulnerability to motion sickness. 1."
So that means everything is off-limits at Universal Studios Orlando, right? Not exactly but not without sacrifice, I'll admit.
What to Take for Motion Sickness
To begin with, I always am prepared when traveling with migraine. Here are some products I've tried for motion sickness.
Motion sickness medication
Dramamine
Bonin
Meclizine
Motion sickness remedies
Ways to Prepare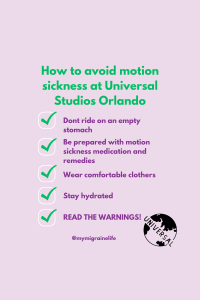 Do not ride on an empty or full stomach
I realize with all the incredible food options at Universal Studios Orlando this will be a tough balance. However, this recommendation could make a ride thrilling without sickness later. My family personally likes to eat and share throughout the day, but breakfast is important.  If you are interested in something sweet, we love donuts and tried both Simpson Donuts and Voodoo Donuts.
But that's a lot of sugar! So I went hunting for something healthier and I found Today Cafe! We had the best avocado toast and breakfast sandwiches while feeling surrounded by the Today Show crew. It was great to sit down and get inside for a bit while loving our food.
Be prepared
Although you have to pack light when visiting Universal Studios Orlando, be sure to pack motion sickness medication and remedies in your bag. My son got motion sick on a ride and I wish we would have packed it. By the time we walked back to the room, he took a ginger chew and rested for 20 minutes, he was back at it. By being more prepared with motion sickness medication or remedies, we may have avoided leaving the part altogether.
Wear comfortable clothes
This may seem obvious, but some go for beauty and dress up when visiting Universal Studios Orlando, but I go for comfort. Especially around my stomach. As someone who gets queasy and nauseous with my motion sickness, I need to wear comfortable clothes meant for least a full 12-hour day!
Universal Studios Orlando in January is cold! We went on a rarely cold weekend and had a great time but needed many layers to stand outside in. On a side note, when I was all bundled up, I often forgot to peel a couple of layers off and ended up overheating on rides. I was wearing a Harry Potter scarf and items that keep me cozy outside but gave me heat flashes on the rides (especially the 3D ones!).
Stay hydrated
The Florida sunshine can cause anyone to feel weak even before potential motion sickness. Remember to drink even when it's cold. I suggest limiting your carbonated soft drinks to a normal daily amount as opposed to a theme park amount. I do however suggest trying a Butterbeer. Not for hydration, but for the experience. We tried all three ways to drink Butterbeer…frozen, cold, and hot. We loved the Moose Juice too!
Read the warnings on the app
For many reasons, I suggest following the app! Universal Studios Orlando has an app that describes the rides and any 3D or 4D rides I am cautious of.
What to Consider
You will want to consider what specifically causes your motion sickness. I found that I was fine on the wildest roller coaster,  can slightly handle a basic spinning ride and the 3D rides made me sickest. If you are like me, then the simulator attractions with screens may cause you to think twice.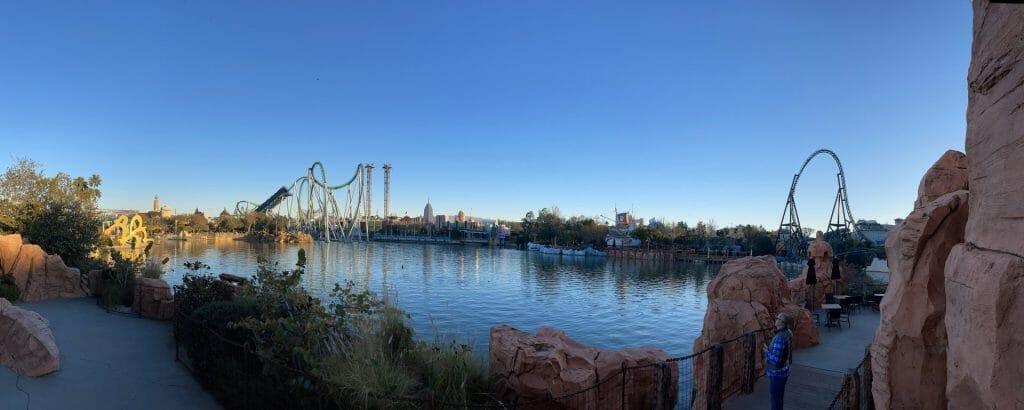 Worst Rides for Motion Sickness
I skipped Doctor Doom's Fearfall after my family rode it without me and said, "No way, for you mom." So I steered clear.
Hollywood Rip Ride Rockit was another no-go for me. I ended up walking around with my son in the shops and streets and had a good time while the others went.
Kang & Kodos' Twirl 'n' Hurl seemed to say it all with its name, so I said, "No, thank you."
The Incredible Hulk Coaster I was intimidated by but think I'll try it next time. My son was too short, this is the tallest requirement, so I was happy to skip this one and wait on this green coaster.
Fast & furious– long tram, rocking, visuals may cause motion sickness
Kong– similar to fast, directional rocking (doesn't require seatbelt or locker)
Revenge of the Mummy– this one was quick and thrilling but not long enough to make me feel super sick.
My favorites but NOT the most motion sickness friendly
Jurassic World VelociCoaster
Hagrid's Magical Creatures Motorbike Adventure
I did, however, try many rides and pushed myself on a few I wasn't sure of. The VelociCoaster gave me head and pressure pain after that lasted a while but did not give me motion sickness. (It's either one and/or the other with me. Darn migraine triggers!)
Universal Studios Motion Sickness Rides
3D motion rides seemed to be the biggest culprits of my motion sickness. Here are some rides I would reconsider if going and riding again…
Simpsons– If there is any ride that I WILL NOT RIDE AGAIN, it's this one. I had a major heat flash and almost threw up all over everyone on this ride.  I counted the seconds to get out of there and ended up throwing up at the nearest bathroom and was wrecked for the day. My suggestion is, to skip the ride and go for the donut!
Race Through New York with Jimmy Fallon
Amazing Adventure of SpiderMan– The ride vehicle also spins as you transition from screen to screen which made it difficult to adjust my eyes, making my motion sickness worse.

Transformers- 

I really just didn't like this ride. I felt motion sickness after about the third transition and found that it was super repetitive and nauseating.

Spider-Man– is similar to Transformers with multiple spins at the end.
Skull Island: Reign of Kong– is fairly mild considering it's a 3D motion simulator. For this ride, you're sitting in a large, bus-sized vehicle and I found it to be less immersive in the chaos while having so much to look at.
Harry Potter and the Escape from Gringotts– I love Harry Potter but I was ready to get off this ride. Some rides, though,  I am willing to do again just for the adventure.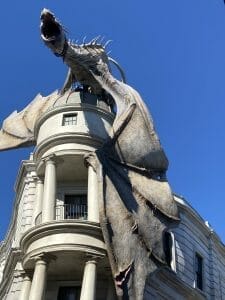 Which Rides at Universal Cause Motion Sickness
The two worst rides for motion sickness are the Simpsons attraction and the Forbidden Journey attraction, in my opinion.
Harry Potter and the Forbidden Journey is a world-class attraction but is known for the most incidents of guests getting sick. It is a mix of screen-based elements and sets. For me, the screens are the toughest part regarding motion sickness. It combines both a flight simulation and also moves you through a combination of sets and screens on a unique robotic arm system that brings you pretty close to the screens. Even if you decide not to ride this attraction, you may want to stand in line with the rest of your group since it takes you inside Hogwarts castle.
Rapid Spinning triggers Motion Sickness
There are some rides that spin, so obviously, beware!
Men in Black- shooting game starts tame and a lot of spinning
Cat in the Hat– This was a slower ride but the attraction upset my stomach
Storm Force Accelatron– This is basically Teacups from Disney which are always a family favorite. I laugh so hard on this ride but tend to feel the effects of motion sickness.
Slow Spin or Stroll
Looking for slower rides but still want to have fun? I suggest trying these couple of rides. They spin and move at a pace my body and mind can relax on.
Caro-Seuss-el
One fish, two fish, red fish, blue fish
The High in the Sky Seuss Trolley Train Ride!
Universal Studios Orlando Shows
Going to the shows is such a good way to acclimate and take a break between rides. They all are very different.
Bourne Stuntacular– This show may make you motion sick as it combines real life and screens. The screens may be dizzying but I found that by not wearing glasses (which are heavy on my nose and face) I was able to enjoy the show.
Animals– My family is big fans of animals. I love dogs but am terrified of birds. I closed my eyes during the flying parts but found the show to be entertaining and gave great respite from the rest of the day.
 Poseidon's Fury– This experience was like nothing else I've seen. It was a mystery as to what would happen next and I loved it.
Easiest Rides
Hogwarts express– slow-moving and a break from the outdoor elements
E.T.- slow-moving dark, mild drops, and mild speed increases
Flight of Hippogriff– easiest roller coaster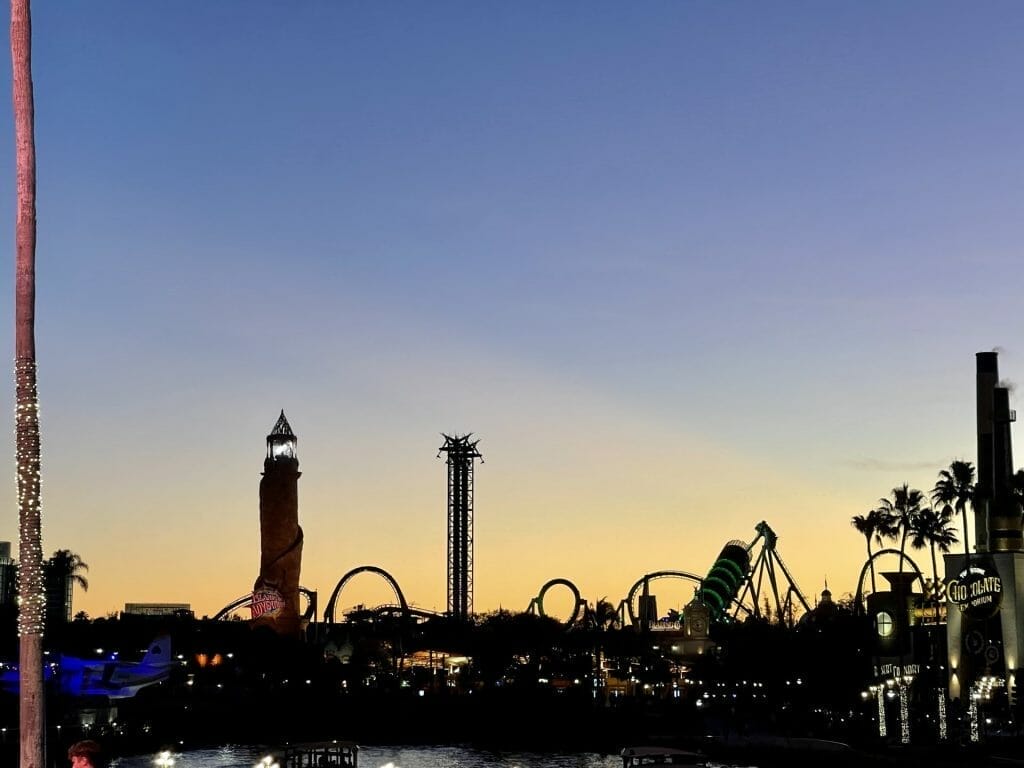 Like my travel posts: Here are some more adventures I've been on:
Cuomo-Granston A, Drummond PD. Migraine and motion sickness: what is the link? Prog Neurobiol. 2010 Aug;91(4):300-12. doi: 10.1016/j.pneurobio.2010.04.001. Epub 2010 Apr 21. PMID: 20416353.
Sign up for our newsletter
I just came home from vacation with 4 children under 9.  When we left for vacation I was reminded that school districts look poorly on unexcused absences.  My answer was, "My children learn endless lessons on vacation and I'm not apologizing for showing them the world." While on the cruise, I noticed lessons learned and…
Read More

→
This weekend was Miles for Migraine's inaugural walk/run in Cleveland. It was a great success due to all of the generous donations!!! Thank you for all of your support! The Donations At the time of post… Total donations: $3,831 My Migraine Life Team: $1,519 Due to everyone's support, my team was the top fundraiser, and…
Read More

→
Stomachaches and migraine, I have always had severe nausea and vomiting with higher-level migraine attacks.  The pain becomes too much and my body just heaves in pain.  This weekend was no exception.  Lately, I've had severe nausea with even my lighter daily migraine.  I knew it wasn't a virus and I knew it was related…
Read More

→
Allay Lamp- Green Light Therapy