Health Benefits of Using Weighted Lap Pads: Huggaroo Neck Wrap and Eye Compress Review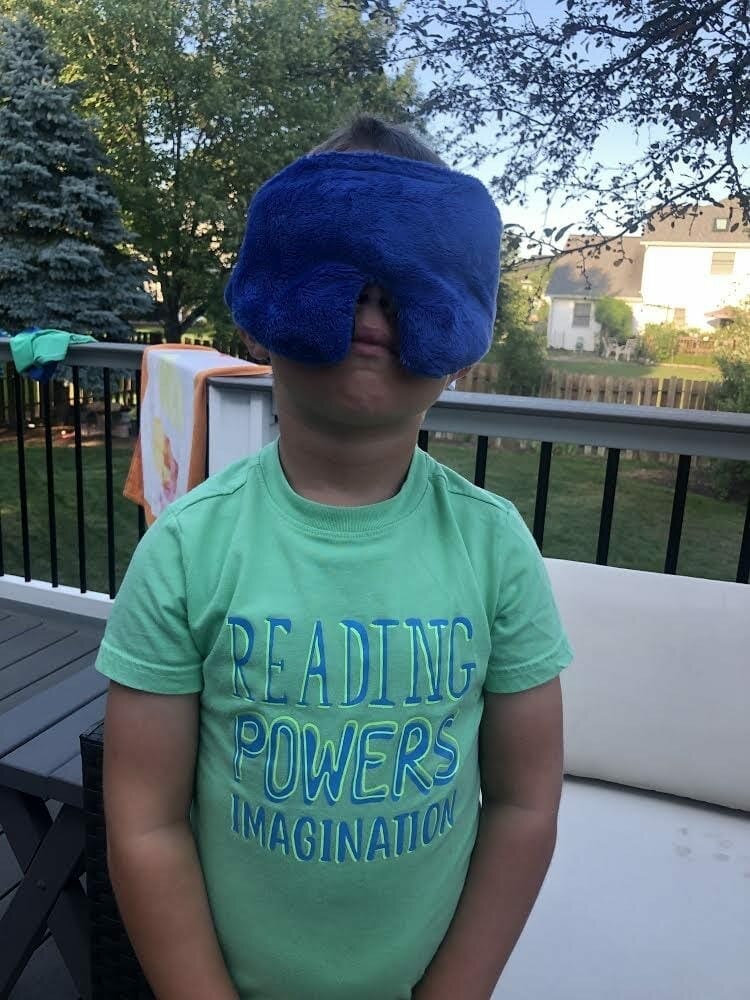 I was given a Huggaroo weighted lap pad, neck wrap, and eye compress to review. Let's just say, I was not the only reviewer in my house. Do any of you receive packages and somehow your child thinks it is theirs immediately?
Well, this is part of My Migraine Life. If it is cute, my daughter takes it. If it is comfy, my son takes it. Each product is all those things plus more. These products have been tested by a 10-year-old, 7-year-old, and migraine momma who are all learning at home and needing comfort in many ways. I tried to do an "unboxing" but that was my children wildly opening my boxes while my dog jumped on the couches with muddy paws.
So, I took pictures of us using them instead.
*Links in this post may be affiliate links and links to other posts. If you purchase, I will be rewarded, thank you.
Huggaroo Microwavable Heating Pad
Huggaroo weighted lap pad is a plush puppy that we named Bella. The lap pad is 3.6 pounds, washable, and an instant favorite. If you have been following me, you know that I am a long lover of weighted blankets and sensory items to calm the body and mind. I first discovered weighted items as an intervention specialist when a therapist recommended them for a student many years ago. Then, I implemented weighted items into my own migraine treatment plan. I find deep pressure stimulation helps relax and ground me.
I love the weighted lap pad because it helps calm and focuses us. To begin with, it is adorable, soft, and washable making it child and mom-approved. This is an item I would use in my classroom while traveling and at home. We currently use our travel weighted blanket during car rides but we will be using the weighted lap pad for airplane use in the future. It is lighter and a stuffed animal so it will minimize our carry-ons.
Benefits of Weighted Lap Pad
Bella, our weighted lap pad dog is used daily. As a family that is doing remote learning this year, the lap pad will be a study buddy to pet and provide comfort while working at home. Right now, it is mostly used as a sleep and calm buddy on difficult nights. Bedtime is often a time of meltdowns and not with just my children. Everyone is tired and at the end of their ropes. When bedtime tantrums rear their ugly heads, Huggaroo weighted lap pad is our new tool. Otherwise, we have been rotating Bella every few nights because they both love her. It has a 1-year warranty.
Gel Ice Pack & Warm Eye Compress
I received the unscented model because I am sensitive to smell, especially during a migraine attack. The eye compress is versatile and has both warm and cold inserts. Once again, it is washable. It comes with a patented hot pack insert that warms in seconds in the microwave.
It gives a soothing, moist heat to my sinuses which is a migraine trigger and pain. I often use heat and cold to combat migraine symptoms. I use ice and heat for different reasons and heat on my face is to treat sinus pressure.
The cold insert is a gel ice pack that lasts about 30 minutes and has a silky side and a plush side depending on comfort level. I am obsessed with ice hats and believe I can never have enough cold compresses in my freezer.
Huggaroo Neck Wrap
The Huggaroo neck wrap is something this migraine mom gets to keep all to herself (because it's too big for my kids ????). I use heat on my neck and shoulders for tension that triggers my migraine. Huggaroo is the best microwavable neck wrap that I have found. It is soft against my skin and delivers pressure that penetrates deep moist heat for 10-15 minutes. After the initial heat cools, the neck wrap stays warm for another 15 minutes or so giving 30 minutes of heat, pressure, and hopefully relief.
Being that the microwavable neck wrap is heavy, (4 lbs., 17 x 18 inches with a 4-inch-tall collar) I don't love wearing it and walking around. Typically, I use it on the couch while I am sitting and plan to use it on long car rides.  I love that it goes down the shoulders and lays over top. The collar gives additional occipital relief which is where most of my migraine attacks originate.
Bonus- I can chill it in the freezer for a cooling experience.
Huggaroo Review
I am so happy Huggaroo gave me the opportunity to try their products and add more products to my migraine tool kids and children's calm box. We have all benefited from their extra plush and soft fabrics. I use the neck wrap and eye compress for sinus relief, neck and shoulder tension. There is also an option for lavender to add aromatherapy. The weighted lap pad is a new friend and weighted stuffed animal that is loved and used by my children.
Whether you are a migraine mom or an emotional child (and everyone's child is emotional!) you will find something to love with Huggaroo. I only discuss products that I love and use at home frequently. There is no need to make false claims and I tell our story. If these products fit your story, I suggest looking into them and finding what's comfy and relaxing for you.
Sign up for our newsletter
My Migraine Life Highlights 2019 is A Lot. The year seemed to slip by and looking back, I did a whole lot! I came into this year as a "year of yes" mentality with migraine advocacy and it really paid off! I'm so proud of what I accomplished and couldn't be able to do it…
Read More

→
Here are a few of my best My Migraine Life posts of 2017  If it's cold where you are, it's a good time to cuddle up and catch up on some reading. Check out my social for updates between posts. Best My Migraine Life posts of 2017 Himalayan Salt Lamp for Migraines Chronic Pain is…
Read More

→
Acupuncture for migraine, does it work? I tried acupuncture treatment for my migraine and other issues.  For years, I have heard about acupuncture for migraine and acupuncture for headache relief but was hesitant.  I get on average 75-90 shots a year to treat my chronic migraine and don't love it.  The thought of trying another…
Read More

→