Immunize Labs Review: Breathe Easy Nasal Spray
Recently my immunologist advised doing a nasal spray versus pill when treating my sinuses and allergies. He explained how the majority of infection is coming through the nose and it is best absorbed at the source.  Since then, I've treated my sinuses with a nasal spray.  I also have migraine medication that is a nasal spray that works quickly and avoids me throwing up the pill.  Therefore, in my case, nasal sprays seem to be the best for treatment and prevention of both sinus related issues and migraine. Here is my Immunize labs review for Breathe Easy nasal spray
Breathe Easy Nasal Spray
Because of this advice, I have been trying Breathe Easy nasal spray.  I was given this product as part of a product review through the Chronic Illness Bloggers network. Although the product was a gift, all opinions in this review remain my own and I was in no way influenced by the company. It claims to provide relief for hives, Sinusitis, Migraine, Allergies and rash. 
What is Immunize Labs?
 "ImmunizeLABS is a new perspective on how to deal with chronic illnesses and help boost your natural immune defenses reducing the chances of getting sick….[Their] products are based on fairly straightforward ingredients that have been tested by the medical community over the last 50 years. The breakthrough has been in the delivery process that allows the supplements to be absorbed and not digested, thus dramatically raising the absorption rate, efficiency and reducing gastric distress."
Immunize Labs Review
What I like about Breathe easy is that I know the ingredients listed.  How many times do you look at a label and not understand what is?  I am happy I recognize the ingredients and ImmunizeLABS goes the next step to explain how each specifically treats and prevents cold, allergy, headache or other nasal and throat related issues.  Some ingredients include sea salt, cayenne pepper, horseradish, wintergreen, oregano, lemon oil, rosemary oil and more.  Although these statements have not been evaluated by the FDA, references have been provided for each ingredient supporting their claims.
Colloidal Silver
What I found interesting was the use of ionic and colloidal silver.  I have been reading about cleaning towels that have colloidal silver in them and how it naturally is antiviral, antibacterial and anti-fungal eliminating the need for harsh chemicals.  I'm looking to eliminate toxins in my cleaning and especially in my body.  It is also anti-inflammatory which is an element I look for when treating and preventing both my migraines and allergies.
Immunize Labs review is about healing.  It's about health and wellness without relying on medication and building the immune system.  Like many of us, it was made out of desperation of feeling and being better without flooding the body with toxins.  They made a supplement protocol and did extensive tests on themselves and found life changing results.  They now share their journey and have made their health solutions available.  They offer more than just nasal spray.  They sell a variety of products that can be found here.
Overall, I love the idea of switching my sinus nasal spray to a natural preventative nasal spray that can help sinus, allergy and migraine.  I do two sprays in each nostril at bedtime and when waking.  Both morning and evenings are my highest spikes in migraine and I have felt a difference with using Breathe Easy.  I will be bringing it with me when I travel as I always get sick from air plane travel and change of climate.  I look forward to feeling a difference in my immune system with continued use and am grateful that I found another nontoxic way to treat and prevent my symptoms.
Sign up for our newsletter
Haturday for Heads is created by a woman named Katherine (Katie) Janquart. She lives in Boise, Idaho and is a fellow migraine sufferer. Katie was first diagnosed with migraine disease in her teens and has had chronic migraine for the past 15 years. She decided early on in her migraine journey that she wanted to…
Read More

→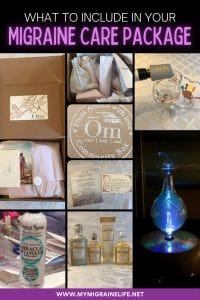 Thinking about sending a migraine care package? Sometimes it's so hard to find how to support a loved one, near or far away. How can I help someone with a migraine? I have come up with my favorite migraine and self-care products. I use these products to help avoid triggers and treat symptoms.  The migraine…
Read More

→
I typically talk about the big things that give me hope. My children, husband, family, and friends just to name a few. But we all know it's the little things that count too. The little things that give me hope are the people who are advocating for Migraines and Headache Disorders. When I first…
Read More

→