An Integrative Approach to Migraine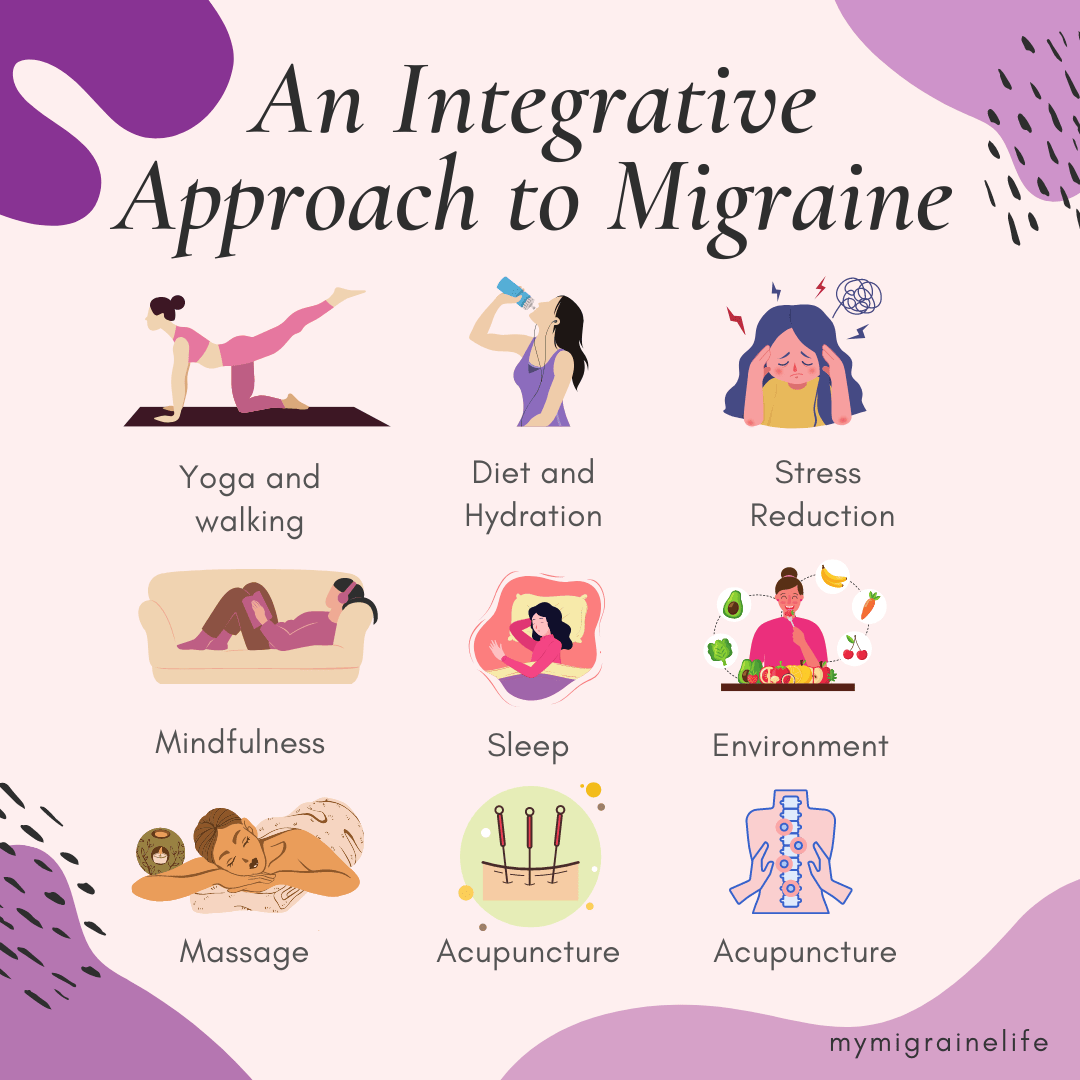 An integrative approach to migraine may include diet, sleep, environment, vitamins, mindfulness, stress management, yoga and walking, acupuncture, massage, and chiropractic care. Recently, an integrated approach to migraine was recommended to me by my doctor. I had a consultation and have been trying to focus on some things that are obvious and some that I need reminding of.
Integrative Approach
First, what is an integrative approach? An integrative approach is a type of therapy affecting, the behavioral, cognitive, physical, social, and spiritual aspects of an individual. It is a practice that focuses on the whole person and emphasizes the partnership between practitioner and patient to promote optimal health and healing. I currently feel like I have a handle on my migraine medication but have still been feeling miserable.  So, looking at the integrative approach feels like going back to the basics and treating my overall health.
Integrative Medicine for Migraine
Guess what? It's not medication at all, it's a lifestyle! It all starts at home with what I eat, how I sleep, and my home. These are all things that I know, but sometimes I just need to re-evaluate my life and look at what I can improve. So here are the things I'm tweaking.
Diet
Ugh! I dislike the word diet. It feels restrictive and sad. But looking at how I eat is important for my overall health. I will admit that diet and food choices have been a lifelong battle. My list of trigger foods is long! There are foods that I crave prior to a migraine attack. I have foods I eat when I'm nauseous. And I have foods that will help me be less dizzy?  It always seems too complicated. But being consciously aware of what I am eating and how it makes me feel is important.
Sleep
I never really feel like sleep is an issue, but the reality is, I wake up with migraine attacks several times a week. So I guess I'm not sleeping that well! Some suggestions the integrative approach gave me was to create a wind-down routine 30-60 minutes before bed and reduce light exposure in the evening. I've been doing this by using my Allay lamp.
Environment
A clean environment without a lot of toxic chemicals in my home was something that the integrative approach suggested. A source that was given to me was the CanHEAL Toolkit. I checked out the homemade less fume cleaning products and am happy I switched for the benefit of my family's overall health. Another way we already keep a clean environment is by using the Enviroklenz air filter. As someone living with chronic migraine, my sensitivity to smell is so large. Cleaning products and strong smells trigger me and I'm happy to switch to a cleaner less toxic home.
Taking an Integrative Approach to Migraine
Vitamins
Prior to my appointment with my integrative doctor, I had a physical and my blood drawn.  From my results, I was recommended to take magnesium, vitamin D, and B12. I am NO expert on vitamins and recommend checking with your doctor. A good resource that I have about magnesium and migraine is here.
Mindfulness
We discussed some mindfulness activities that make me happy. I tend to do a lot of mindfulness yet always feel like I need to be doing more. Some suggestions as to what I should focus on as an integrative approach to migraine is:
Spend 10 minutes in nature
Deep breathing
"Therapy in a Nutshell" YouTube
App for Migraine Tracking
Other mindfulness activities I've tried are
Stress Reduction
I'm constantly working on reducing my stress. One of my biggest migraine triggers is stress! The mindfulness part of the integrative approach treats much of my stress. Additional recommendations include:
Reduce screen time
Take frequent breaks from work
Audiobooks on self-acceptance and pain
Integrative Approach to Physical Activity
Yoga and Walking
Start slowly to avoid injury and triggering a migraine attack
Do a combination of cardio, strength building with stretching, and yoga
Walking my dogs is my favorite way to combine mindfulness with physical activity. It gets me out in nature, gets my blood flowing, and fills my heart watching my loved animals enjoy the day also.
Massage
Chiropractic
Taking an Integrative Approach to Migraine
Taking an integrative approach to migraine has taught me that an integrated approach is necessary. Reexamining my health with an integrated approach has been life-changing. As someone who focuses on migraine, I switched my focus a bit and truly focused on overall health. Without migraine, these approaches would be helpful and with them, it seems crucial.  I look forward to more results and long-term health while using an integrative approach to migraine.
It's not easy to start a new approach. Here are some ways to set smart goals with chronic illness.
Allay Lamp- Green Light Therapy
Sarah tells stories of My Migraine Life. Living life through Migraine consists of advocacy, treatment, prevention, and searching for health and happiness in a positive honest way. Her kids, husband, dog, family and friends motivate her to make a difference in the Migraine World.
I don't often write about medications. It's tricky and personal for me. Over the years, I have taken ...
Read More

→
I'm always searching for a way to relieve pain, nausea, anxiety, and the host of symptoms that plague ...
Read More

→
A Golden Retriever's personality is that of a heart of gold. I talk about my love for my ...
Read More

→