Lessons Your Children Learn or Miss on Vacation
I just came home from vacation with 4 children under 9.  When we left for vacation I was reminded that school districts look poorly on unexcused absences.  My answer was, "My children learn endless lessons on vacation and I'm not apologizing for showing them the world."
While on the cruise, I noticed lessons learned and missed everywhere.  Being a mom and teacher makes me see the world through different eyes.  I see my children and nieces as students of life.  I don't have them in a classroom but I take opportunities to teach them as often as possible.
Waiting in Lines
Traveling requires a lot of waiting.  I'm writing this from the airport with a canceled flight and 8 hours of airport sitting.  When we travel, we wait in line for security, baggage, departure, arrival, check-in, check out, and events that we attend.  Everyone waits in line but how they wait is crucial. 
As a teacher of three-year-olds, a line is a completely foreign concept.  We work on it all year long but it's up to adults to show them how.  Are you waiting in line complaining that it's not moving?  Do you push people?  Are you cutting and stepping in and out of line?  Patience my dear…..patience.
Eating
On a cruise, food is endless.  With this, are endless options.  We don't encourage our children to order mac n cheese every night (although my son would love it).  I will fully admit my son is an insanely tough eater.  He cries through most meals and only eats about three things by choice.  I have a picky eater who ruins most meals for me.  This does not mean he gets what he wants.  On vacation, we aren't shoving veggies down our kid's throats and we eat lots of desserts but it's a balance. 
We mainly focus on trying new foods.  What better time to try new things than an all-inclusive meal package?  They tried escargot (gross!), lobster, crab legs, fruit soups, and more.  If they don't like it, ok.  If they do, it gets added to their vast pallet.  We take "No thank you bites" which means they try it and say no thank you if they don't want more.  Try new foods.
Along with this comes table manners.  Even my three-year-old orders for himself and has for years.  Look at the waitress, order politely, and wait patiently.  We look at how a table is set, why there are so many forks, and put napkins in our laps.  At home my children set the table and having a beautifully set table is something they recognize.
Different cultures, languages, and social studies
Our children have classmates who are bi-lingual but only hear them speak English in school.  When we travel, we see adults and children speak in their first languages and it's a great learning experience.
 My son played with a little girl in the pool and neither one of them knew they were speaking different languages.  I sat and laughed watching them play in the water while joy and giggles spoke for them.
We saw different bathing suits, hair coverings, dress styles, jewelry choices, and more.  Talking about differences in cultures is different than seeing them.  Both on the boat and on the islands we saw every color of skin, eye, and hair color. 
They saw homes that look a lot different than ours.  Telling a child to appreciate their home and showing them a shack where children their age live is a lesson that lasts.  More is not always more and location dictates dwellings.  We don't have brightly colored houses like the Bahamas and they don't have snow barriers like Cleveland.  Location, location, location.
It was diversity at its best.  We rode in elevators with a swirl of languages around us.  We tried to identify where they may have been from and where in the world it was.  It was fun to problem solve and see social studies come to life.
Maps.  Maps can help teach scale (additional math lessons below).  It can teach location, direction, elevation, landmarks, and more.  Wherever we travel we get a map.
Math
Math surrounds us everywhere.  Money is always an easy lesson.  Change, dollars, prices, etc. are all opportunities for lessons.
We found lessons in walking the stairs when the elevators were too crowded.  How many floors till we get to where we need to go?  Addition, subtraction, counting stairs, and more.  Active math can be better than paper-pencil math.
At dinner we had my niece making patterns with the utensils.  Fork, spoon, fork, spoon, fork…  Now try spoon, spoon, fork, spoon, spoon, fork, spoon….
We had a ton of events to go to.  What time is it?  What numbers are on the clock?  How much more time till we need to go?  What time do we need to get up and what numbers will be on the clock?
Technology
HERE COMES THE JUDGEMENT…..
Get the iPad out of your kid's hands!!!!!  I was sickened by how much other children were missing life lessons.  If the schools are referring to those kids and missing school, I agree.  How you vacation with your children should dictate if you can miss school or not.  If your child is handed an iPad for a week, keep them in school!!!!!!  You aren't doing them any favors by "showing them the world" when they are missing the world around them.
I sat at dinner for an entire week next to a family who gave their son an iPad at dinner and I did not see them speak to him ONCE!  It actually distracted me from my own family by staring at this poor child holding a screen 1 foot from his face for an hour straight each night.  Literally……NOT ONE WORD WAS SPOKEN TO HIM!  A generation without being spoken to or speaking was screaming in my face.
Do people say to themselves, "Let's have a baby and not talk to him?"  I know this is super judgy but it's the truth.  It's easier to give technology than to speak to your babies, I get it (but I don't do it).   We talk to our children and they speak to us.  Language development is hugely lacking due to technology.  Children should not have difficulty in conversation, in fact, it should be difficult to stop from their inquisitive natures.
Conversation
We ask open-ended questions that provoke thought…What was your favorite part of the day?  What was your least favorite part and how did it make you feel?  Who made you laugh today?  How did you feel when (a situation) happened?
Our children colored, did actual homework, read menus, played with characters, and were aware of their surroundings.  Are my children perfect?  No child is.  Most nights we had multiple trips to the bathroom and walks around the halls while waiting for food. 
As I said, my son is a picky eater, and my husband and I battled him every night to cut his attitude and sit with us whether he was eating or not.  We left most dinners exhausted and frustrated but we didn't take the easy way out.  He'll thank us someday and onlookers thanked us as they left for the polite lovely children that we are raising.  I'm not kidding, we get complimented most places we go for their manners.
Technology is easy being a parent HARD.  If you got into being a parent thinking it would be easy, check the definition again….it's HARD and requires real work.  Technology is not working.
As we waited in those lesson teaching lines, I mentioned above, I saw dozens of children with ipads again.  These aren't educational games that my kids play at home on rainy days, they are manic, ADD producing, mind frying, delusion creating games (cue the negative feedback).  There is a time and a place for shows, movies, and games and it is NOT ALL THE TIME!
As I said, this is judged and I'm not perfect.  I typically try to be politically correct in my posts because I tend to lean towards: Everyone is different.  But in this case, if you want to battle me in saying that pads are good to be in children's hands at all moments I'll take that challenge.
A generation that can't self-entertain, don't speak, and are missing life lessons around them is frightening.   Children playing games sitting in diapers instead of playing in the pool is wrong!  Not talking to your son at dinner is not OK.  Waiting in a line and frantically searching through a purse to quickly soothe a toddler who needs to be swiping his finger while rewiring his small brain and is losing potential with each passing minute is tragic.  Kids who are only comfortable "talking" through their fingers saying things that they wouldn't have the nerve to say out loud is their "reality".
I can go on and on and on and on about this.  As a teacher, as a mother, as a human being watching my babies surrounded by robots is nothing short of terrifying!
 Conclusion
Circling back to the comment of schools not liking personal vacations, I ask you this…..Are your children learning and living lessons or missing them as a world passes them by?  Enjoy life and be present.  Being a parent is hard and a lot of my vacation consisted of cranky kids and not be easy.  We read books at bedtime, we talked, we grew together and we all had moments of tears and difficulty.
Life is hard and vacation should not consist of ipads and missing life.  Life is real, it's fun, it's different, it's people, it's tantrums, it's conversations, it's exhausting, it's living school.  They can look and speak to adults, entertain themselves, use their imaginations and be kids the ways kids should be (the old-fashioned way).
In conclusion, I'm not perfect, my kids aren't perfect and I know no one is.  But together we enjoyed the vacation and learned lessons that school or an iPad could not teach us………LIFE.
RANT and JUDGEMENT OVER…..
School
To see how you can raise awareness in schools check out Migraine At School
Sign up for our newsletter
Today is the official chronic migraine awareness day.  All month I have been supporting Migraine and Headache Awareness to advocate.  Even though today's the day and June's the month, the reality is it's every day, every month type of suffering.  Please continue to read, share, and pass along My Migraine Life's information and stories to…
Read More

→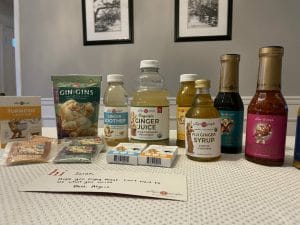 I often get asked, "Can ginger help migraine nausea?" After finding Ginger People, I have used many ways to ease migraine symptoms like stomachaches, nausea, headaches, pain, and more. I was first introduced to Ginger People at Retreat Migraine and have had their ginger chews in my purse ever since. Recently, I was allowed to try many of their products,…
Read More

→
New year, same migraine. How is the next day different? 2019 began angry and that anger will motivate my migraine advocacy even more
Read More

→
Allay Lamp- Green Light Therapy