Why do I get Migraine Attacks on the Weekend and Letdown Migraine?
A letdown migraine is triggered by stress, weekends, or events. I typically get a migraine at the end of the week and spend most of my weekend with a migraine.  The same goes for after big events or a stressful time.
Letdown Migraine Attacks
I have a schedule.  I run things like clockwork in order to keep my children and me on track Monday through Friday.  Being on a schedule is huge for children and good for my migraines.  We know what to expect and are able to prepare. During the week, I have a consistent sleep schedule am sure to hydrate often. I try to drink 20-30 ounces of water by lunch. If I'm off, I'm consistent and try to get back on track. I typically eat breakfast and lunch at the same time and foods I know make my body feel well.
After work, I let go of work stress by hanging out with my kids and although they are a lot of work, they are a great loving distraction to weekday anxiety. Although my children's interests can be hectic, I try to schedule only a few activities during the week and limit screen time.
Although I control my triggers during the week, I still get headaches, after school and in the evenings before bed. These weekday letdown migraines are from teaching, the letdown stress of the day, and using all my spoons hopefully not taking from the next day.  Believe it or not, this happens to me most days.
Weekend Migraine Attacks
Weekend headaches are bad but weekend migraines are the worst. Headaches are just a part of migraine. On the weekends I have freedom from my everyday tasks, yet I spend a lot of my weekend with a letdown migraine.  Most of the time, I have headaches on days off of work. My sleep schedule is off and I am triggered by too little sleep and too much.  I eat unhealthily and at different times than I do during the week.  I go to events with my family that often trigger me through light, sound, and activity.  Everything adds up to a migraine.
Migraine after Stressful Event
Along with a letdown migraine from the week, I get migraines from the letdown of stress.  This means, when I am stressed, I can get through the event relatively well but once it's over, my migraine spikes, and I'm bedridden.  Think holidays, vacations, work events, etc.
When my husband travels, I get a migraine both before and after his trip.  I get one in preparation of being on my own for a week with two small children and have one once he gets home for the same reason.  During the week, I go into what I call "turbo mode" and face life as it's thrown at me.  I am super scheduled and exhausted but typically can make it a few days before the migraine letdown of stress. Even if I'm not worried, had a typical week, and have no issues during the week of travel, a letdown migraine occurs.  Even when I think I have things handled, my body still punishes me for using too many spoons.
Letdown migraines come from life's many ups and downs.  A spike in life results in a spike of migraine pain. The organization of the week results in a weekend migraine when it all comes crashing down at the end of the week. It's all your body saying….too much, slow down, now stop! Migraine time.
Do you experience letdown migraine attacks?
Read more tips to end letdown headaches
Sign up for our newsletter
When it comes to migraine, smell-aura is one of the strangest symptoms I get. Last weekend, I went shopping. When I went to check out, I was overcome by the smell of gas.  I cautiously asked if anyone else smelled gas. I didn't want to induce chaos from people fleeing the store from a gas…
Read More

→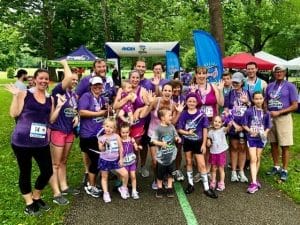 Miles for Migraine Cleveland 2019 Results. This year I increased my donations and participants putting together an amazing day of fun and funds!
Read More

→
I've heard of the spoonie theory or the spoon theory. But what is it? Actually, it's the spoon theory and spoonies are people with chronic illnesses. I've learned what it means when people refer to spoons and chronic illness and apply it in my life with migraine. What is the Spoon Theory?  The spoon theory…
Read More

→
Allay Lamp- Green Light Therapy