Axon Optics Review: Light Sensitivity Glasses for Migraine
I'm always wearing light sensitivity glasses for migraine relief. Photophobia is a migraine trigger. Because of this, I have been in search of the best sunglasses and eye protection for years.  I found my favorite with Axon Optics.
"Axon Optics eye wear features Axon's Spectrashield FL-41 lens block that filters out the harsh light and has been shown to block the light implicated in triggering and aggravating migraines and light sensitivity."
I have been a fan and affiliate (this post contains affiliate links) for Axon Optics for years. Because I am always impressed by their constant research and customer service that provide ongoing feedback and improvements.
Recently, I was given a new pair of indoor and outdoor glasses. Axon glasses are FL-41 coated which helps with migraine fluorescent lights.
I love them both!  Here are the ways I wore them last week.
Tinted Glasses for Light Sensitivity
Recently, I participated in the Autism Speaks walk.  Although I was outside, the clouds were giving off a terrible glare that day.  It was too cloudy to wear dark sunglasses and too bright to wear anything.  So I put on my Axon Optics indoor glasses and was able to enjoy my day.
Sunglasses for Light Sensitivity
I went to ALDS Indian's game.  We lost but it was a beautiful day.  With all the over-stimulation of noise, sun, excitement, and chaos, I needed my Axon Optics outdoor glasses.  I love that they don't look like "special glasses".  When wearing my glasses, I like that they feel light and fit nicely on my head.  I have always been able to find the correct glasses for my needs, face shape, and sensitivities. Read more about my day.
Axon Optics Review
In conclusion, I give them two thumbs up!! ????????  Most noteworthy, I don't talk about products I don't use and these glasses are in my purse at all times!  You'll see me advocating in glasses often. For outdoor and indoor light sensitivity needs, I reach for my Axons.
As a result, of Axon Optics' generosity, they offer a special discount for My Migraine Lifers!
 The code is only good through Monday, October 15, 2018
Light Sensitivity Help
Other Posts
Axon CBD Oil For Migraine Giveaway
Black Friday Sales for Migraine and Headache Sufferers 2018
Top 10 My Migraine Life posts of 2018
8 Best Gifts for Migraine Sufferers
Sign up for our newsletter
Axon Optics provides natural migraine relief glasses that help prevent light as a trigger
Read More

→
To eat healthier and make my life easier, I have partnered with Door to Door Organics, Ohio, to have my groceries delivered to my house. Yea!. I have been compensated, but all opinions remain my own, and the company in no way influenced me. The convenience of having a box of organic fruits and vegetables…
Read More

→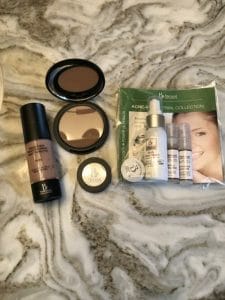 My Be Natural Organics Reviews are here. I have been extremely-low maintenance since the pandemic arrived. I looked in the mirror the other day and was shocked at how my skin has changed. So, I refreshed my makeup collection and decided to do something about my stress acne. Be Natural Organics was given to me…
Read More

→