Living with Chronic Migraine: Speech & Migraine Quotes
I was asked to tell my story about living with chronic migraine at the Miles for Migraine inaugural walk/run in Cleveland. In the speech, I named my support system "My Migraine Lifers." It's a migraine quote I think I'll use going forward. I feel honoured to be a voice for all who live our Migraine Lives and those who fight by our sides.
Thank you, Katie. And thank you, Miles, for Migraine, for putting on this event. It feels so good to be among such migraine fighters. Living with chronic migraine usually leaves me in the dark and in the quiet. Today we are stepping out and putting a face on what we often fight behind closed doors, and I'm so excited to be here.
I think it's amazing how all of our stories are so different, yet we have some things in common:
Migraine Quotes
I've thrown up 3 times on my way to work with a migraine and had my boss tells me he "had a headache too."
I've lost friendships and missed events, both big and small.
I've spent endless money on medications, products, therapies, and anything that promised the smallest amount of relief.
I'm not the only one looking for lifestyle changes and better 

treatment options

.
I've been judged by no one more than myself—the guilt, sadness, anxiety, and "what ifs" add up for us all.
But This is why we are here today. To break down the stigma, to help others, and to say thank you to all those who support us.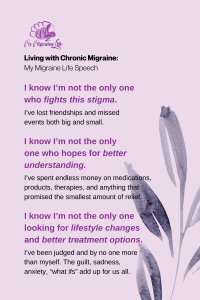 Living with Chronic Migraine
I have been living with migraine since I was 5. I don't have many stages of my life that I don't recall how they affected me. Both my grandmother and my mom suffered from migraine. We had an idea of what it may be but no idea of the difficult journey ahead.
After years of searching for why I felt so awful, Dr Reed was the first doctor to make me feel like I wasn't crazy. She didn't promise a cure because there wasn't one. But she promised to help and join my fight, and her whole office did.
After all these years, I have learned to be thankful daily. I have gained gratitude, and there is nothing I am more grateful for than "My Migraine Lifers."
I tell my stories, share information and bring together a community of My Migraine Lifers. With more than 36 million people suffering from migraine, everyone knows someone in their life who suffers.
My life feels like it is dictated by living with chronic migraines. But I live a happy, blessed life because of all these people.
It's the group I have gathered over all these years and those who suffer and fight right beside me. It's my babies, my husband, my parents, my sister and nieces, my friends, my coworkers, my doctors, and the migraine community. Therefore, They are here with me today, and if you look around, they are here with you.
My advocacy hasn't decreased my chronic migraines or made them better. I would love to tell you something different. It's a neurological disease… it isn't very easy. But what it has done is a clearer picture of how it affects my life and others and how we can work together to be happier and healthier.
We all struggle, we all need understanding, and we all need support.
Thank you all for being here today on this really cold morning.
It's not just about me or my fellow migraine warriors.
It's about ALL of us.
I appreciate you all for taking steps in YOUR Migraine Life and supporting Miles for Migraine.
What are some of your favorite migraine quotes? How would you describe living with migraine?
Check out My Migraine Life team at Miles for Migraine Events
Cleveland 2020, Cincinnati 2020
Miles for Migraine Cleveland 2019, Cleveland 2018
Miles for Migraine Cincinnati 2019, Cincinnati 2018
Miles for Migraine Phoenix 2019
Sign up for our newsletter
I have a lot of migraine triggers I can't control. Something I can control is my beauty products and routine. Some of my favorite clean beauty products are Aromatica. Aromatica focuses on the beauty that is vegan and eco-friendly. I was given products to review and am giving my experience and opinions only. The links…
Read More

→
I'd like to introduce you to the Dizzy Cook, Alicia Wolf. I'm lucky enough to call her my virtual friend and look to her for advice on a vestibular migraine diet. Alicia Wolf has worked so hard to help herself and shares her knowledge with many. In doing so, she created 2 cookbooks and continues…
Read More

→
Barre3 Review Barre3 online workouts have given me migraine relief. Many people ask me what I do for exercise while living with chronic migraine. The real answer is that if my migraine is above a 7, I can barely do anything. I do, however, try to move my body and work out preventatively to provide…
Read More

→
Allay Lamp- Green Light Therapy