Still I Rise Poem Maya Angelou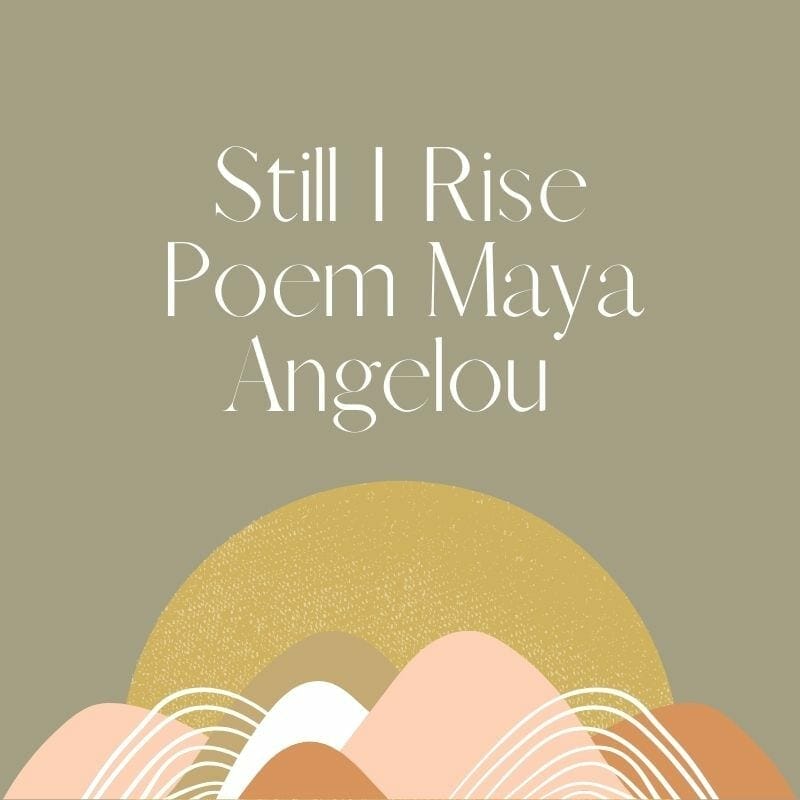 In Maya Angelou's "Still I Rise" poem, I believe she is speaking to everyone.  This poem is an example of how she was able to touch so many in so many ways.  How could her grace, confidence, determination, intelligence, and the quest for peace not touch you?  She speaks to all saying "still I rise."  Everyone has a time, or a thousand, in their life where she needs to rise.
Her words speak sadness without pity and hope without abandonment.  Instead of focusing on all of the difficult obstacles that are brought about by chronic migraine, I want to focus on the positive.  I believe it is the point that Maya was trying to bring home.  Beyond the "broken, lies, defeat, cries, shame, pain, and fear" that life throws at us, there is "pride, life, courage, hope, and a dream."
Ending with "naturally, there I go rising" is powerful.  The word "naturally" speaks to the human spirit.  I have been told countless times "I don't know how you do it" in reference to my pain.  Naturally, I rise.  I rise, to laugh and dance again, as she says.  I rise to kiss my children and husband.  I rise to be the person I want to be instead of the person I am forced to be.  I rise as a big F.You to my pain (although I'm not sure if Maya would agree with my wording).  My choice is to allow it to consume me or rise.
I may not always have a choice to raise out of bed or out into the world but in the cold dark room I live in, I remind myself, I too shall rise.  Thank you Maya for reminding us that it's ok to have dark times.  Only then will you truly rise.
I Dreamed a Dream by Susan Boyle
Reoccurring dream and Migraine
A Dream you Dream Alone is Only a Dream
Broken wings with Migraine and Illness
Sign up for our newsletter
Recently my immunologist advised doing a nasal spray versus pill when treating my sinuses and allergies. He explained how the majority of infection is coming through the nose and it is best absorbed at the source.  Since then, I've treated my sinuses with a nasal spray.  I also have migraine medication that is a nasal…
Read More

→
Recently, I've been trying the Allay Desk Light after loving their green lamp. I use green light therapy for migraine which reduces my light sensitivity and pain. The desk light offers the same benefits as the Allay lamp but in a thinner design made for workspaces. In this post, I'll tell you about the Allay…
Read More

→
Axon CBD Oil For migraine is the last giveaway for 'Thankful November'.  I am so thankful to you all for reading and supporting My Migraine Life. The giveaways are a way of giving back a smile. I am an affiliate for Axon and if you check out their website and buy through my link I…
Read More

→