Does Meditating Help Migraine?
Does meditation help migraine? As always, I'm on the hunt for something to make me feel better. So I joined a 21-day meditation challenge. I have a friend who decided to try it too.  So with power in numbers, I thought we'd be Zen by the end of the week. Well……not as easy, as I suspected. Each day there is an explanation for the day. A centering thought and mantra are provided that is to be chanted while music is played until the end of the meditation.  To begin with, we started a day late. Slackers! Day 2-5 were difficult to get into.
Here's why.
I have been in a cycle for about 3 weeks now ranging from 5-10 pain levels. I've been living my good days mostly at about a 6. This doesn't always bode well for concentrated thinking.
I had trouble chanting the phrases they provided when I didn't fully buy into them. It's all about gratitude.   One day the mantra was something like, "if you show gratitude, good things will come to you." Well, I found that very difficult to chant to myself. I am a person that finds gratitude in my life and as I'm radiating pain and doing everything I can to feel better, showing gratitude at that moment was not a priority. Feeling better was. It was almost insulting to me that I was being told that if I only showed gratitude things would be better.
Confusion. My migraine brain was fully set in and I heard the voice tell me to chant that I was "less." I thought to myself, there is no way I'm chanting "I'm less" in a language, I don't speak. I'm less than what? Less than who? Less how? Well, I opened my eyes to read the screen and it said "bliss." That made more sense! But the meditation was blown at that point.
The messages didn't make me feel powerful or motivated to do it again the next day. I deep breathe and chant to myself a lot when I'm alone and in pain. I have done this for years and feel that it made my labors somewhat easier to handle. No one knows my body and mind more than myself and I try to control them the best I can. It's not someone telling me what to think and chant, it's myself telling me what I specifically need to survive. Survival vs tranquility, I guess. I chant things like, "You can do this." "You are strong, you can beat this." "Calm down body, calm down brain, relax, and breathe." "You've survived this before." "Oh God, oh God, help me, God." I only talk to God at a 10. It's weird how it happens because the second my migraine peaks a higher power needs to be called. I've had many talks with God about the pain I go through and bliss has never been in the conversation.
I'm going to try again this week.
Once again, I missed Monday. Slacker! But I'll try again to meditate and see how it goes. Everything is a process and I'll continue my meditation journey.
I love to take an integrative approach to migraine
Sign up for our newsletter
I received the Radiance diffuser and Master Aromatherapist kit to review. It has been a gift that my whole family enjoys blends. The exciting thing about having chronic migraine is that smells are very personal and a constantly evolving sense. Some days I diffuse oils for an extended amount of time. On other days I can't…
Read More

→
Do migraine attacks give you nightmares? I have had a reoccurring dream about screaming and no sound coming out. It has happened a few times, each time in a different way. Once, I was on a roller coaster and tried to scream like I did as a child going down the hill and nothing came…
Read More

→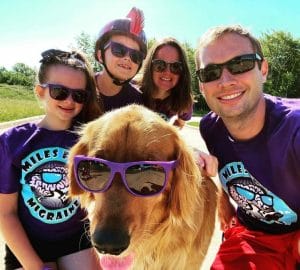 Shades for Migraine is a campaign by the Association of Migraine Disorders (AMD). It is an annual event. I have participated in Shades for Migraine since its launch in 2017 and have won in both the pets and funniest photo categories. Over the years, the campaign has hit the streets of New York City, passing out…
Read More

→
Allay Lamp- Green Light Therapy