Migraine and Headache Awareness Month MHAM
Migraine and Headache Awareness Month (MHAM) is June. Every year I participate in migraine awareness month, week, and days. I have been honoring National Migraine and Headache Awareness Month since 2015 and you can follow it back through the years. Migraine and Headache Awareness Month aims to decrease stigma,  increase awareness and make some virtual noise through advocacy.
Please follow and share my information during this time with your audience. You never know who is living with migraine or a headache disorder in silence and who you could be helping. Check for facts, fundraising, giveaways, and more 🙂
Follow on:
National Migraine and Headache Awareness Month 2023
This year's theme is "Educate yourself, educate others." To go along with this, I have a lot of ways that you can educate yourselves and others.
Follow all of the above social and share, comment, and like Migraine and Headache Awareness Month posts. #MHAM
Donate to my Migraine and Headache Disorder fundraiser.
Check the calendar below and see details below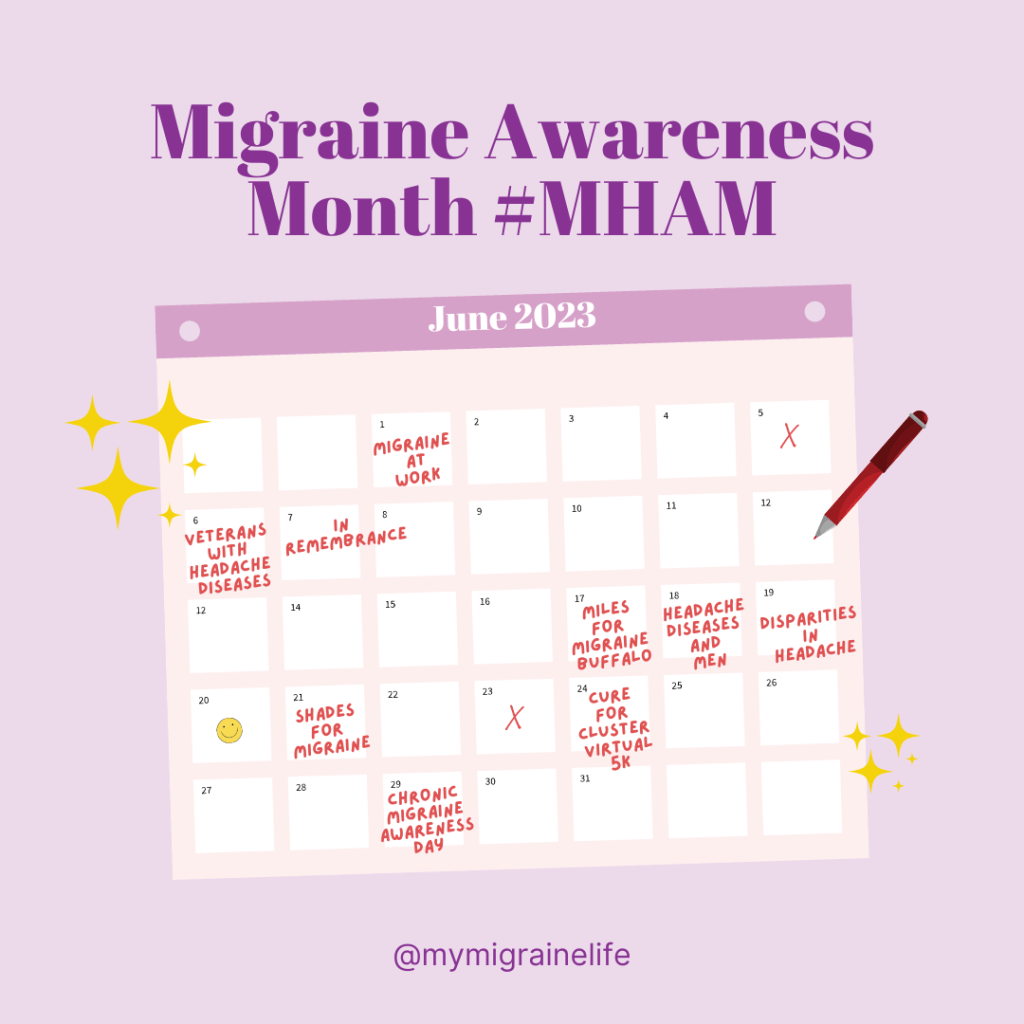 The giveaways below are expired but check out Instagram to see current ones 🙂
A New Era of Care: MHAM
National Migraine and Headache Awareness Month 2021 has begun! The 2021 MHAM theme is "A New Era of Care." I gave my subscribers a little sneak peek of the month and now I'll give some more details on ways to advocate, raise money and decrease stigma. By doing any of these actions, migraine disease is being "seen" and "heard" virtually. So, participate how you can, and help support MHAM 2021! #MHAM
ALL MONTH LONG…I'm fundraising to raise money for the Cleveland Clinic, where the proceeds for this event go to. It supports a fellowship program that encourages doctors to go into the migraine and headache disorder field. There are far too few qualified and knowledgeable doctors surrounding migraine and Miles for Migraine aims to close the gap in MANY ways. I have seen firsthand where some of this money is going and I am so proud to be yet again, participating and fundraising for this incredible organization!  After a year of virtual events, Cleveland will have a hybrid event where participants can walk locally or virtually by walking, running, or doing self-care.
Donate or Join the Cleveland Team NOW!*expired*
June 1

: Headache at Work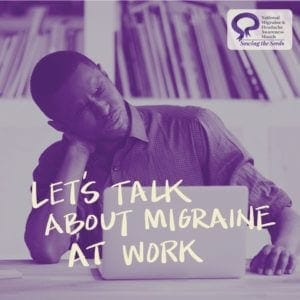 Let's start migraine at work. Wear purple to work in June to show support for people living with migraine or raise awareness of the disease. Whether you're working from home or at an office, you can start a conversation about migraine.  I have had a variety of experiences when it comes to migraine at work. I have had some support me, some shame and stigmatize me, and others who never knew. It's a range of emotions and needs when it comes to working with migraine and most places of employment could use some knowledge on accommodations and support.
Migraine at Work: 13 Ways to Survive
Migraine and Working at a Restaurant
Giveaway on IG: Migraine Shields
I love giving back to the migraine community! With this, I love giving products away that I love to someone else to enjoy. So, June 1-5 I'm doing a giveaway with Migraine Shields on Instagram so head over and enter now!
June 2-10: Alliance for Headache Disorders Advocacy annual Headache on the Hill event
As you may recall, I was a part of Headache on the Hill this year and it was a very powerful experience.  AHDA advocates for more equitable federal policies toward Americans with disabling headache disorders.  Register and during the week of the event, participants are encouraged to post pictures on social media of themselves walking, running, or doing the activity of their choice. #HOHVirtualWalkRunRelax.
June 6

: Veterans with Headache Diseases
Something that I learned in my AHDA training is that "New data show that 350,000 Global War on Terror (GWOT) veterans sustained TBIs. Nearly half of GWOT veterans with deployment-related TBI, reported headaches 15 or more days per month and 89% met the criteria for migraine." AHDA and The Headache and Migraine Policy Forum work hard to make changes.
June 7

: Remembrance Day

Remembrance Day honors Melissa Dwyer, who died by suicide at age 22 on this day in 2013, as well as others whose headache disorders, migraine, and cluster diseases have also led to tragedy. The Danielle Byron Henry Migraine Foundation is also a family that lost a beloved daughter to migraine and fights tirelessly so no family ever has to endure their pain again. This year they launched a migraine at-school campaign that I am proud to help with.  On June 7th, to remember those we've lost due to the disabling impact of migraine and headache disease, please light a candle or put a purple light bulb on your porch at 6:00 PM in remembrance. Then take a picture and share it on social media with #ShineALight.

Giveaway: Allay desk lamp
June 20

: Headache Diseases and Men (Father's Day)

Did you know that 6 to 8 percent of men live with migraine? It's often stigmatized as a woman's disease when migraine does not discriminate. Father's Day, serves as a reminder that dads, grandpas, uncles, and sons all live with migraine.
June 21

: Wear a Pair of Shades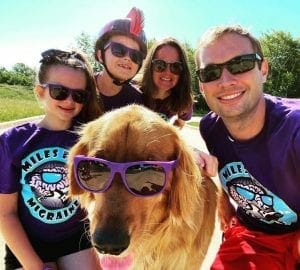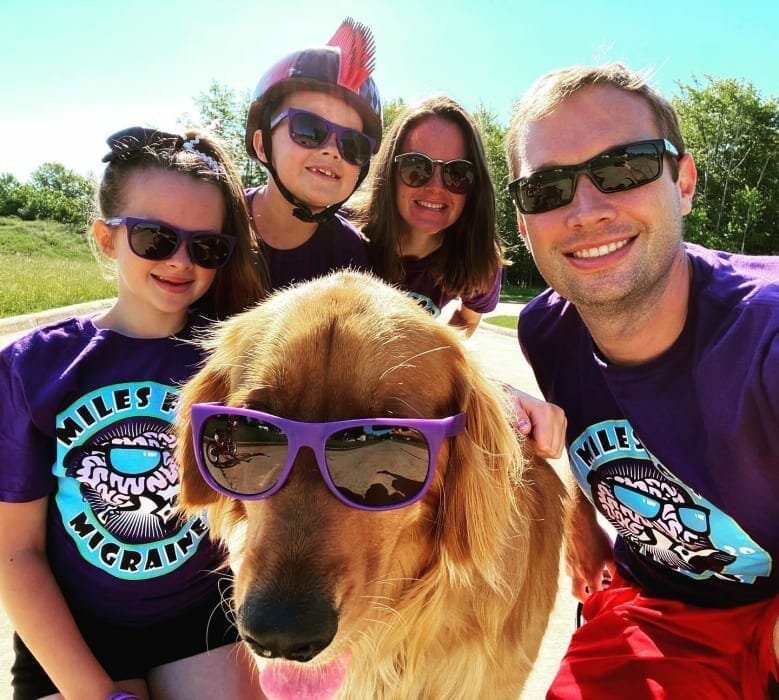 This is one of my favorite days of the month and is so simple to participate in. Started by the Association of Migraine Disorders, Shades for Migraine unites those who live with migraine by providing purple sunglasses and encouraging others to wear shades. Use #ShadesForMigraine. Their initiative is "Taking It to the Streets", which spreads awareness at popular locations. This year's location is a billboard in Times Square, New York City. Take a close look on June 21 and see if you recognize anyone. I'm excited to announce that my family has been chosen to represent this campaign and be featured on the billboard!!!!
Past Shades for Migraine events:
Shades for Migraine Pet Photo and Funniest Photo Winner
Wear Shades for Migraine on World Migraine Day
June 29

: Chronic Migraine Awareness Day

Red and purple are the colors for Chronic Migraine Awareness. #RallyAgainstChronicMigraine. While purple is the color for migraine, the red stripe differentiates Chronic Migraine.
You Need Community: MHAM 2020
Migraine awareness month 2020 begins June 1st. June 1st, wear purple to work or home day. To begin with, purple is migraine awareness color. Because of that, you can show solidarity for the 40 million people in America living with migraine disease and headache disorders by wearing purple. If you want to know how migraine awareness month got started, check out MHAM's history. This year, the theme of Migraine and headache awareness month theme is "You need community."
How do I Participate in Migraine Awareness Month 2020?
Donate or participate with a non-profit
Wear Migraine Gear

Wear purple on June 1st to work or at home
Achy Smile

Use code: MYMIGRAINE for 15%off through the end of the month

Follow and Share Content

Every day I'll be posting and sharing information and migraine facts. Pass it along!

Facebook

Invite friends to like My Migraine Life on Facebook.

Simply go to my page and click "Invite a friend"

Change your profile name frame

National Headache and Migraine Awareness Month #youneedcommunity

Hashtag #MHAM and #MHAM2020

Tag friends and family with migraine

The friends you have will know you are supporting them
If you do, you will find more friends who suffer in silence once you talk about it

Sign the petition
Light up your porch
Ways to Support National Migraine and Headache Awareness Month
Donate and Participate in Miles for Migraine Cincinnati. You can register for the event and join team My Migraine Life or donate to a team member (Sarah). Your donations go to UC Health Headache Center and Cincinnati Children's Hospital Headache Center. On Saturday, June 10th, 2020 I am lacing up my sneakers and participating in the second annual Miles for Migraine Walk/Run in Cincinnati, OH. From June 10-18, I will be tracking my miles to see how far we can move for migraine. Join my team, donate, post, and share my distancing journey this year with Miles for Migraine. Can't join now but want to be in the fun? I'll be doing another walk for Cleveland in July.
Show you care, wear a pair. The Shades for Migraine Challenge shows we care for the 1 billion people living with migraine worldwide. Join the movement, show you care, and wear a pair on June 21 during migraine awareness month 2020!
You can do your part to raise awareness for this disease by following three simple steps.
Wear a pair of shades on June 21
Post a photo with #ShadesForMigraine #MHAM
Challenge three others to take part, too!
Sign the Petition for National Migraine and headache awareness month
Join me as I partner with Shades for Migraine to urge insurers to provide better access to life-changing migraine treatments. The petition is urging healthcare payors to provide better access to migraine and headache treatment. They have tried to make it general enough to be appropriate for people in all countries to amplify and benefit from. Sign the petition to take a stand to eliminate healthcare barriers. Don't forget to share it with friends and family so they can show their support for this issue that is impacting you! Help us reach 50,000 signatures!
If you support improved access to the best and safest treatments, let your voice be heard.  Sign your name and ask family and friends to show their support, too. Help us reach 50,000 signatures by December 31, 2020. https://www.change.org/MigrainePetition
Identify Your Local Legislative Representatives*
Common Cause lists your federal, state, and local representatives
Go on your representative's personal website to identify their social media handles, including Twitter, Facebook, and Instagram
C-Span has a list of Representative and Senator Twitter handles
*(source via Miles for Migraine)
Chronic Migraine Awareness Day is June 29

To end the month #MHAM, June 29 is a day to#RallyAgainstChronicMigraine. People with Chronic Migraine Rally Against Chronic Migraine Disease every day! Join The CMAware Team, and help the world hear our rally cry, as we fight stigma, raise awareness for this disease, and come together as a united team. Rally is the CMAs mascot and is featured on migraine awareness tattoos and pennants. Since clapping and ringing bells are a trigger for people with migraine, their pennants, tattoos, and migraine awareness ribbon are the perfect solution!
Remembrance Day is June 7
You are encouraged to "Shine-a-light"' for those that we have lost to migraine. Light up your porch purple to honor these people and their families! In the month of June, turn on your purple light to show your community. Need a lightbulb? I got my purple light bulb here.
Migraine and Headache Awareness Month Theme 2019
The national migraine and headache awareness month theme for 2019 is "Sowing the Seeds."
Hashtags: #MHAM   #SowingTheSeeds
How you can Participate:
Share migraine facts, retweet, and comment on posts.
Enter giveaways
Donate to Miles for Migraine

My next walk/run/relax event is in Cincinnati. I will be fundraising/walking/speaking at the event. Please support my efforts by joining the team or donating.  $5, $10, $20, $50. Every penny counts!!!
Purple is Migraine Awareness Color
Purple is the official migraine and headache awareness color. CMA has also initiated "turn your porch light purple" to light up your house or building to show support. #shinealight Along with this, a purple and red ribbon are representative of chronic migraine awareness. #MHAM
Migraine Awareness Week and Month 2018
Today marks the first day of migraine awareness week and the month of 2018! I know a lot of you are thinking, "But how can I help?"  This month I will be sharing information and advocacy opportunities from a variety of migraine organizations that I am involved with and follow. I can't wait for you to get involved also.
The simplest way to participate is by sharing information, following on all social media, and virtually "making some noise."  Share with your followers how you live life with migraine and migraine facts to help break down the stigma. Use hashtag #MHAM
Donate during MHAM
To start the month out, I'd like to ask for your donation and participation with an organization that you've heard me talk about…..Miles for Migraine.
Miles for Migraine vision is "to create some big noise in the migraine community and raise awareness that migraine and headache disorders that it is more than "a headache". We are making great strides by growing our signature event, the Miles for Migraine 2-Mile walk, 5K/10K run; and by expanding our newer programs –  a day camp for adolescents who have  chronic migraine, and our adult seminar series" Shirley Kessel (executive director)
On June 10, the Cincinnati walk/run will be at Otto Armleder Memorial Park
Walk or run with My Migraine Life Team.  If you live close enough to walk/run, please join my team!
If you are local and want to participate but are unable to walk/run we'd love for you to come anyways!  Join my team and come to meet all the wonderful advocates and migraine supporters.  There will be a quiet tent to rest and you are not obligated to walk.  Your donation and presence are much appreciated!  We are all doing what we can do and any effort is spoons well spent.
Way to Participate in Migraine Awareness Week
Ask a friend, co-worker, or loved one to help you raise money. If you want to donate but don't have the funds.  I totally get it.  Between the price of medications and therapies and difficulty with keeping a job, it can be even harder to donate.  Remember that $10 makes a difference.  Each dollar goes a long way and any donation takes us a step closer to helping many! If none of these are an option, please share this post.  Sharing is caring and if you can't support maybe a friend can.  It's all about not being alone and spreading a message.  Everyone can share! Teaching your audience/social media followers how strong you are to be fighting migraine for yourself or for others will go really far.
Migraine Awareness Month 2017
Migraine Awareness Month 2017 begins today! Full disclosure, I'm a bit behind on posting due to a migraine cycle that will not go away! Each day, I will be participating and challenging myself to do some advocacy for migraine and headache awareness.
I think you will be shocked to see how many people live with migraine and headache disorders. Many people I have run into say, "I don't suffer like you, but I do get headaches or migraines in my own way……." We all experience migraine differently but can learn so much from each other. Through others, they can learn from my experiences, and I can learn from theirs. Supporters (parents, friends, co-workers, bosses, neighbors) will learn how to help a loved one and understand the depths of migraine and headache disorders. 
Migraine Awareness Bracelet
Ways to Participate in MHAM 2017
MHAM 2016 #MHAM
MHAM 2016 is here. June is National Migraine and Headache Awareness Month and I have a few things planned to raise awareness and have a little fun. I'm going to show you how I wear migraine awareness (and give away some things to wear yourself!). I'll mention some great causes you can donate to, give you other ways to support migraine awareness, and Giveaway some of the things I use! It'll be even better than last year! Remember to use #MHAM
The Theme for Migraine and Headache Awareness Month
The theme for migraine and headache awareness month 2016 is "Rule your Headache Disorder." To "rule" our headache disorders, we have to take charge of our health and health care and stay actively engaged in our own treatment. Each day I will be posting a prompt for you to learn and pass on through social media.  Please be sure to follow me and share this with your community to raise awareness.
Migraine and Headache Awareness Month Hashtags
#MHAM Migraine and Headache Awareness Month
#clusterheadaches Cluster Headaches
#migraine Migraine
#headache Headache
#chronicmigraine Chronic Migraine
#hemiplegicmigraine Hemiplegic Migraine
Migraine Facts 2016
Here are some migraine facts you can share.
75% of the world's adults had a headache or migraine attack in the last year.
The majority of people with headache disorders and migraine are not diagnosed.
Accurate diagnosis of cluster headaches can take years
@WHO says Migraine is the 8th most disabling disease in the world.
Migraine can and does kill through stroke and suicide.
Patients with NDPH usually know the exact date their daily headaches started.
Social Stigma increases the burden of living with migraine.
Migraine is a neurological disease caused by genetics and a hypersensitive brain.
Migraine Awareness Month 2015
Migraine Awareness Month 2015 is officially over but advocacy can last all year long! A lot happened during Migraine Awareness Month #MHAM.  I learned, hopefully, taught, raised money, and did my part to raise awareness.  Migraine is grossly underfunded and migraine treatment is not adequate.  Stigma and understanding need to change in many ways and any advocacy helps.  Thank you to anyone who participated, shared, and supported migraine awareness this month and every day.
Migraine Facts
Here are some migraine fact photos you can share. #MHAM
Migraine Awareness Fundraiser 2015
For migraine awareness month 2015, I ran a fundraiser in June to support migraine awareness. I raised money for Migraine Research Foundation through Jamberry fundraiser.   It "raises money to fund research into the causes of migraine, to develop improved treatments for sufferers, and to find the cure." Money raised from the nail fundraiser was given to Migraine Research Foundation
Sign up for our newsletter
Do I have chronic laziness or a health condition? I constantly fear being seen as lazy when I live with chronic migraines. I run a marathon, and some days, an iron man inside my body every day. Hence, I am a stay-at-home mom, and I work HARD. I think my job is one of the…
Read More

→
Happy National Puppy Day! Every year I post a picture of my dog. She is my nurse, my therapy, my medicine and my first child. As I was locked in my room with a 3 day Migraine from hell, guess who slept beside me? Guess who kept me company in the middle of the night while the pain was raging? My dog. She'll always be my puppy! My almost 13 year old puppy!
Read More

→
I've been looking for unscented bath products. I am susceptible to scent! Because of this, I am particular about the bath products I use. Fake scented products make me sick! I previously reviewed Aromafloria's Muscle Soak. I love their products! The bath products were subtle and soothed my muscles. I keep the inhalation beads in my purse and recommend…
Read More

→
Allay Lamp- Green Light Therapy