Migraine Magick giveaway begins!
I love the holidays! November is a time to talk about thankfulness and gratitude.   I'm saving those posts for December this year.  I'm making November my products month to prepare for holiday shopping. My mission is to give thanks every day so although I'm not writing about it, I remain thankful each day and could write about it year-round.  This month I will be talking about my favorite migraine and self-care products while giving away products and direct links to my favorite things.  Many of these products are affiliates, which means I am rewarded for your purchase through my link. I use them ALL!
What is Migraine Magick*?
According to Lisa, owner and creator, it is "An integrative approach to self-care, The Magick Brand™ bridges elements of ancient eastern medicines with the latest in western technology, infused with energy through precious minerals and gemstones….

The Magick Brand™ incorporates principles of eastern medicine focused on balancing energy within the mind, body and soul as fundamental to nurturing energy and well-being. Combined with the latest advances in biotechnology, quantum physics and frequency, the results provide an unparalleled synergy which noticeably transforms your body, mind and soul with each use."
I'm not sure how crystals work and how they balance or nurture the body. I tend to be a bit skeptical about gemstone healing, but when I'm in chronic pain, I tend to be a bit more open to options. The idea of stones and crystals sounds pretty but I didn't experience the healing powers until Migraine Magick.
Migraine Magick Review
I've been using the spray now for over a year and find it to be refreshing and light.  I love the spray because I spray my whole face, neck, and shoulders.  With the essential oil roller, I rub a specific pressure or pain point with it for direct needs.  The spray is recommended for larger areas and maximum saturation. I get pain behind my eyes, temples, jaw, forehead, neck, shoulders, and back of the head and they all need to be sprayed. I also spray my stomach when I'm nauseous. The spray can widely treat the pain areas without burning or too strong of a smell.
Migraine Magick isn't a "burning" type of muscle rub.  I try a lot of different oils and rubs and this one isn't strong smelling or burning (a slight tingle sometimes though).  I typically reach for it as I walk out the door with a headache, migraine, or stressful day.  It is a product I keep reaching for and have in my daily routine.  It relaxes me and subtly soothes my wide-spread pain without smelling like menthol.
The downfall is, Migraine Magick is a bit expensive which is why I love a giveaway.  With all the things I try, how do I know it will work for me and be worth the investment? The only advice I can say is, try it and take advantage of the discount!  The roller is on sale now and I keep mine in my purse at all times.
Migraine Magick Giveaway
I have 2 ways for you to try it and win the Migraine Magick giveaway!
Use code mymigrainelife to get $30 off your bottle. This is a tremendous deal and I recommend you try it here.
Enter to win a bottle!!!!
runs 11/10/2018-11/10/2018
*I am an afffiliate for Migraine Magick and received the spray and roller to review.  I recommend it without hesitation or influence.  If you purchase from my link I will get credit that I will put towards buying myself a new bottle.  Thank you!
Sign up for our newsletter
Is there a relationship between a Himalayan salt lamp and migraine? I know it sounds crazy, but I'm interested in trying anything natural, so I thought I'd try. I know it's ridiculous to rid the symptoms of my neurological disease, but it's pretty so why not? *Links in this post may be Amazon affiliate links…
Read More

→
I have been named as one of The Best Migraine Blogs 2019 by MigraineAgain. Thank you!!!!  As I scroll through the names, I read some of my favorite bloggers of 2019 also.  Their top 10 are some of my top 10!  They are advocates that fight and cry alongside me and some powerhouse women. Best…
Read More

→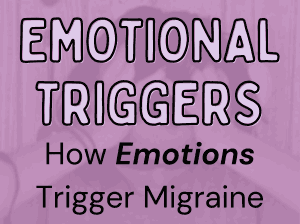 What are your emotional triggers? Are your emotions triggering migraine? Emotional triggers are all around me these days. This summer was fun, fast, and filled with migraine attacks.  In the last few weeks, my emotions have been building for the fall excitement.  My first child is entering Kindergarten.  For some that may not be a…
Read More

→
Allay Lamp- Green Light Therapy