Avoid Migraine While Traveling: Tips to Avoid Triggers and Packing List
How do I avoid migraine while travelling? I love to travel but inevitably get a migraine attack before, during, and after. I have been lucky enough to travel all around the world and unlucky sufficient to have migraine attacks in most of those places. These experiences taught me many lessons and ways to pack and avoid triggers. In this post, I will tell you about migraine travelling triggers and give you my migraine tips for travelling and my packing list.
I'll tell you a bit about how I do it. I'm not always successful, but with preparation and experience, I have learned how to deal with it better. There is no vacation from chronic migraine. But that doesn't stop me from travelling. It's part of My Migraine Life. Travelling with chronic illness is very difficult, but I try not to let it hold me back.
Recently, I took a trip, and it was a doozy. I want to share my travelling experience with you and some tips on managing migraines and living with a chronic illness. I don't have a cure or something that works for me every time, but I have some ideas that may help.
Links in this post may be affiliate links, meaning if you purchase from my link, I am rewarded for my recommendation. Thank you! It helps fund my blog.
Plan Ahead
To avoid migraine attacks while travelling, I need to be prepared! I saw 3 doctors the week before I left. I was on a 20-day antibiotic and was taking sinus medication. With that, I had acupuncture, got a massage, made trips to the pharmacy, and made a follow-up doctor's appointment the week I returned home. Preventative Treatment care is crucial! I was able to make it until day 4 before my migraine spiked. Typically, I get a migraine attack on day 2, which was good for me.
Migraine Travel Preparation
Appointments with doctors and therapists
Refill medication
Good sleep routine
Controlling my diet
Exercising Regularly
Managing Stress
Making Lists
Giving time to pack
Make Copies of travel documents, insurance, and doctor's note
How Do You Prevent Migraine While Traveling?
I had a suitcase and carry-on filled with natural products that I use. I didn't take a picture but check out my migraine reviews, which will give you a good idea of some things in my purse.
Pack a Migraine Bag
Avoid Migraine Triggers While Traveling
I had a few days of migraine symptoms, but only my evenings were consumed with pain. I was able to stop a level of 7/8 from going to a 10 and enjoy the next day at a reasonable level with varying symptoms. These are all victories for me!! I battle many triggers while travelling.
Traveling Migraine Triggers
Travel anxiety and Stress
Jet Lag
Loud Noises
Ear Pressure
Lack of Movement/Too Much Movement
Strong Odors
Dehydration
Diet
Weather
Alcohol
Travel Anxiety
Today, I woke up at 5 am to embark on a trip to meet my husband for a weekend away without our kids. The first trigger I couldn't control was sleep. My mother-in-law and mom are sharing child care for my children for the weekend. My mother-in-law was kind enough to travel for the weekend and arrived last night. By the time I got the kids to bed and we chatted a bit, I got to bed at about 11:30 pm. At 2:00 am, my daughter woke up with leg cramps, and by the time I comforted her and fell back asleep, I had gotten about an hour of sleep. I wasn't anticipating getting much sleep with the anxiety of leaving my kids for the weekend anyway, so oh well.
Stress
I was fortunate to avoid many stressful things that travelling often brings (I got my luggage, and my flights arrived as scheduled, yeah!). But when I did feel stressed, I meditated and breathed through it.
Jet lag and Sleep
I often lose Sleep the night before a trip. Then I travel and have an altered sleep schedule. Not having a consistent sleep schedule can be very triggering, so I try to minimize jet lag by keeping my regular sleep schedule even in different time zones.
Pressure Headache
On the way to the airport, I chugged a big bottle of water and took an allergy pill. I never realized how much my sinuses contributed to my head pain until about 3 years ago. I saw an ENT, and he told me I had had a sinus infection, from his guess, for months. Since then, I have had sinus surgery and have tried to be more aware of how congestion triggers my migraine attacks.
Caffeine
Not too much, not too little, but just right. I grabbed a cup of coffee and boarded the plane. Caffeine helps some people and triggers others. I am one that it helps.
Exercise
I didn't work out, but I made sure to take a few laps around the concourse to get my endorphins slightly raised and blood flowing. Travelling can make a day of moving too much or too little. It's all about balance, and I try to be consistent with the amount of movement I'd have on a typical day.
Noise
I am hugely sensitive to noise. The white noise of a plane can trigger me. I use headphones or earplugs to help navigate my migraine noise trigger while travelling.
Airplane Smells
The woman sitting next to me had taken a bath in perfume before boarding the plane. I put up my wall of defence by putting my hoodie up and over my nose as I politely looked out the window. Hoodies act as my armor. I wear them because they are not only comfy, but when the hood is up, it helps shield peripheral light and sound. It, combined with my vast sunglasses, is practically a uniform for me. I often carry a scarf with me for the same reasons. The perfume lady went to the bathroom twice, came back, and lotioned her hands with more perfume-laced lotion.
Hydration
One of my biggest migraine tips for travelling is to stay hydrated! There are many migraine travelling triggers I can't avoid, but this one, I can.
I grabbed a glass of water every time the flight attendant walked by. No ice; it grosses me out on airplanes. At my layover, I got lunch and another vast water. It was $5.00 but worth keeping me hydrated. Plus, I saved it to reuse for my trip. (Not that I didn't already have one packed in my suitcase too.)
Food
I packed healthy non-trigger snacks, and my stress was low beyond that. I chose a burrito with no trigger foods and packed healthy snacks. No Chinese for me with the possibility of msg!
Climate and Weather
I had a long layover, but by the time I ate lunch, talked to my best friend, texted another, checked on the kids, shopped, and walked around a bit, I was ready to board again. This time it was a small plane for a short ride. As we boarded, my stress level began to rise with the increase in temperature. The ground air was not working for the plane, and it was what felt like 100 degrees or so. My head was immediately filled with throbbing pain. I took off my hoodie, closed my eyes, and started calmly taking slow breaths.
Migraine Tips for Traveling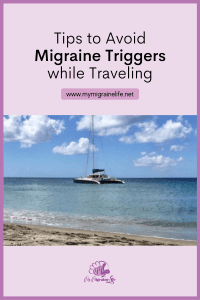 Coping Strategy
Staying calm about the rising pain is essential to keep in control. When I panic, it comes on faster and more intensely. Of course, our plane had to wait in line, and we sat in our sweltering seats for about 20 minutes. I was so glad I had drunk so much water and praised myself for controlling the triggers that I could know there were many I couldn't. Not to get too graphic, but as we ascended, the man behind me had gas and forced us to boil in his stench. I wished for the perfume lady to come back. Once we got in the air and the smell dissipated, it was a quick flight, but my head was starting to give way to the building triggers.
Medication
I often wait too long to take meds because I hate taking many pills. I was proactive in taking my Sudafed and reactive in taking my pain pill.
Migraine after Flying
As I exited the plane, I braced myself for the change in weather. As you can imagine, the temperature and barometric pressure are slightly different from Cleveland to California. Here came another trigger. I got my luggage and sat outside, breathing the fresh air I needed all day. I then took my medication, took a deep breath, and arrived at the hotel. A success, I made it! Not to say that wouldn't trigger a migraine by that night or the next day, but I did my travel for the day. Oh, the joys of travelling.
Adjust to Returning Home
I usually plan a day after I get home to recover. Unfortunately, that's not always an option, and sometimes that's not long enough. Remembering to get back into my self-care routine and back to normalcy is essential.
I have now had migraine attacks for 12 days straight with no relief. My pain fluctuates between 4 and 7 most days but is constant primarily, with never-ending full-body fatigue and heightened stimulus sensitivity with brain pains. My cravings have been out of control, and I've been packing on the weight that makes me even more uncomfortable.
Travelling with Chronic Illness
It's hard to describe to someone who has not lived like this. It is tough mentally as much as physically when I am in a cycle that isn't being broken at all. For me, it's like this wet blanket over me that I only feel in my downtime. Priorities of my spoons are the best way I can describe it. I had to cancel plans this week. This weekend, I was like a rag doll and felt crappy since I'd been home.
Travelling is a huge cost for me but one I'm willing to pay. It seems wrong when I live with a migraine daily, travelling and spiking, but I'd get a few days of glory rather than a week missed in my hole.
Migraine Travel Feelings
I always get a range of emotions after I travel. Gratitude for the ability and opportunity to go. Anger at how I felt and continue to feel after. Joy from the experiences I got to live. It all is emotional and exhausting!
What are your migraine tips for traveling?
What are your migraine traveling triggers?
Sign up for our newsletter
This is a significant fact for me. My mom and grandmothers both suffered from Migraines. I remember my grandpa being very sensitive to my suffering after he saw my grandma suffer on the couch with a wet cloth for so many years. I am a mom that worries daily about the fact and possibility of…
Read More

→
Please share this with all the mothers you know. We are all different, come from different places, and are going in a different directions. But somehow, we all have something in common. Being a mom! Happy Mother's Day!
Read More

→
This year I was introduced to Koldtec Halo and bamboo masks. I fell in love with the ice halo headband and added them to my 2020 gift guide. I am an affiliate and compensated if you purchase through my link. Although I am here to introduce you to Koldtec, I'm also here to GIVEAWAY one…
Read More

→
Allay Lamp- Green Light Therapy