Migraine World Summit: Join the Global Community
The Migraine World Summit is a virtual conference set to educate the global community.
Migraine World Summit 2020
The World Migraine Summit 2020 is returning for a replay. Due to the hardships that COVID-19 provided, the people at World Migraine Summit decided to re-run this year's summit again for a free viewing each day. During the June replay, there will be both live and recorded webinars with the event hosts plus other helpful resources.
You have the option to purchase unlimited on-demand access* to the Migraine World Summit 2020. (*affiliate link) If you purchase, it will be delivered in a boxed set so you can watch the sessions at your own pace, or share them with family. Free interview availability is limited to encourage a small percentage of people to purchase a copy of the Migraine World Summit, which helps keep the event running each year.
Learn from 30 of the world's best migraine headache experts. The Replay will run from June 10-19th. You can access the interviews directly on the website. It will start later today (Tuesday, June 9, 2020) at 6:00 pm ET. Register for FREE  and you will have 24 hours to listen to each day's interviews. After 24 hours you will receive another link to view the next day's sessions.
A significant proportion of people have found that isolation has led to an increase in migraine frequency or severity. Many households have come under financial stress or hardship with pay cuts and jobs furloughed or lost entirely. Access to health or emergency services and medications has also been affected. In many respects, those with migraine may be disproportionately impacted by the additional burden brought on by the pandemic.
World Migraine Summit 2020 schedule
Topics and speakers from the event including, Whitney Cummings that you don't want to miss
What to Expect during the Summit Week
How you can speak with the experts
New features this year
How to get even more resources and tools
Answers to your questions
Migraine World Summit 2017
July 10-17th
This global community brings you "a free online event hosted by headache and migraine experts. The Chronic Headache and Migraine Summit bring together over thirty clinicians and researchers who have succeeded in helping people look deeper into the root issues causing their headaches or migraine pain." Last year I learned so much and looked forward to new information. Migraine World Summit 2017 starts on July 10th, and tens of thousands will learn from the expert wisdom necessary to reach the root cause of suffering! Will you be there?
What can you learn at Migraine World Summit 2017?
A broader understanding of contributing factors

Hormonal, digestive, and psychological influences

Potentially life-changing holistic remedies

Easy, practical, at-home tips and secrets

And more!
If you learn even one fact from an expert that changes your life, it will be worth it!
1. Register immediately to make sure you'll see the free talks:
2. Purchase all of the expert talks (I will receive a small commission) and help us reach more people struggling to live healthy lives (thank you for supporting the mission!):
*The online access package for all expert talks is $59 now through Tuesday at 10 A.M. U.S. Eastern. After that, it increases to $79.
Join the Global Migraine Community
It's true; tension headaches are one of the most common diseases on the planet. Your support of this event, in sharing or buying the talks, will not only help the host but will help me continue to reach those who are in dire need of my message and expertise. Thank you!
Click here to learn more about owning this expert advice and supporting the mission:
Simply forwarding this email to a friend or family member can help them tremendously. The more people we reach, the more quickly we can improve the world's health together!
Recently I was contacted by the host of the Migraine World Summit 2016.  It sounds like a great opportunity to get questions answered, a chance to learn about migraines, and a way to participate in the migraine community from the comfort of your home.  Many of us have trouble traveling, can't sit in fluorescent conference rooms, or have the funds to participate.  If this is your case, the good news is….it's FREE and from HOME!
* Some of the links in this post are "affiliate links."  This means if you purchase the item by clicking here, I will receive an affiliate commission.  This in no way alters my opinions or the reason why I am referring you to them.  I use everything I recommend.
The Migraine World Summit 2016
April 15-20, 2016
Dr. Rigaux, the CEO and inventor of Cefaly (the only FDA device approved for the preventative treatment of migraines) as well as 30+ other doctors will be speaking. The doctor of Axon Optics will also be a doctor participating. If you don't know who Axon Optics is, they are migraine glasses to help with photophobia and light sensitivity! There will also be experts from Harvard Medical School, the Mayo Clinic, Stanford Medical, the Cleveland Clinic, and the International Headache Society. It will feature interviews with Migraine Research Foundation experts.
World's First Migraine Conference
Set to Relieve Pain Experienced by Millions
Over 30 doctors, professors, and specialists have gathered from world-leading institutions to help answer some of the most difficult questions for patients in desperate need of relief. Specialists require referrals, patients may incur significant costs and there can be waiting lists when treating migraines.  The Migraine World Summit is a great opportunity to jump the line and get into the room with doctors to hear the latest best practice and approaches being used by some of the best in migraine.
Carl Cincinnato, the host of the Migraine World Summit, sees how migraine can cripple an individual over time:
"Migraines can be devastating to someone's quality of life. It can affect not only their physical well-being, but their relationships, family life, and in severe cases their ability to keep a job and have a career. There is still a stigma associated with migraine. Many people feel guilty or ashamed to admit they have a migraine. Migraines can also lead to depression and anxiety as many struggle with isolation, lack of progress, and loss of hope. Research shows a direct link between the frequency of migraine and a person's quality of life."
Global Community
Migraines are more common than diabetes, epilepsy, and asthma combined. [i]
There are 956,000 thousand migraine attacks every day in the USA[ii] with around 37 million affected.
Migraines were recently found to be the 6th highest cause of disability worldwide in terms of years lost to disability [iii]
A severe migraine can be as disabling as quadriplegia or active psychosis.[iv]
Despite the prevalence of migraine, it remains underdiagnosed and under-treated with less than 50% of patients consulting a physician.[v]
For those who do seek help, finding the right doctor can be difficult. Just 4 hours are committed to headaches disorders in undergraduate medical training worldwide.[vi]
The US is one of the few places where there are subspecialty certifications for headache medicine, yet there is only one headache specialist for every 85,000 patients.[vii] This shortage is consistent worldwide.
Sources:
[i] Headache Disorders – not respected, not resourced. All-Party Parliamentary Group on Primary Headache Disorders. 2010.  Migraine Trust
[ii] Steiner TJ et al. The prevalence and disability burden of adult migraine in England and their relationships to age, gender, and ethnicity. Cephalalgia. 2003;23(7):519-527.
[iii] Steiner, Timothy J., et al. "Headache disorders are the third cause of disability worldwide." The Journal of headache and Pain 16.1 (2015): 1-3.
[iv] Blumenfeld, A. M., et al. "Disability, HRQoL and resource use among chronic and episodic migraineurs: results from the International Burden of Migraine Study (IBMS)." Cephalalgia 31.3 (2011): 301-315.
[v] Pavone E et al. Patterns of triptans use a study based on the records of a community pharmaceutical department. Cephalalgia. 2007;27(9):1000-4.
[vi] World Health Organization. Atlas of headache disorders and resources in the world 2011.
[vii] Mauser, Emily D., and Noah L. Rosen. "So many migraines, so few subspecialists: Analysis of the geographic location of United Council for Neurologic Subspecialties (UCNS) certified headache subspecialists compared to United States headache demographics." Headache: The Journal of Head and Face Pain 54.8 (2014): 134
Sign up for our newsletter
My dog gives the greatest love, comfort, support and treatment in life and with migraine.
Read More

→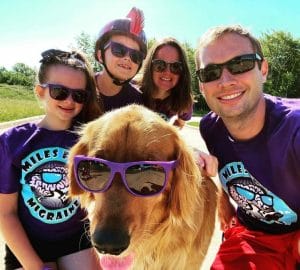 Shades for Migraine is a campaign by the Association of Migraine Disorders (AMD). It is an annual event. I have participated in Shades for Migraine since its launch in 2017 and have won in both the pets and funniest photo categories. Over the years, the campaign has hit the streets of New York City, passing out…
Read More

→
Time for a Good Greens Bars Giveaway! Who doesn't want to feel Good? About what they are eating? I was given a box of Good Greens bars to review. Although the product is a gift, all opinions in this review remain my own. To begin with, I like the slogan, "Whatever you are, wherever you…
Read More

→
Allay Lamp- Green Light Therapy