Migraine attacks, the holidays and missing out
Before Thanksgiving I posted about being thankful and planned on posting a follow up with all of the wonderful things my readers shared.  Thank you for your inspiration!
Guess what happened?  Yep, I was very migraine sick all through Thanksgiving.
Prior to the holidays I read a post about being aware that not everyone is grateful and some feel loss during the season due to missing loved ones or other reasons.  I never considered that my thankful post could possibly offend someone and made me cognizant all the same.
So after I spent my Thanksgiving the way I spend many holidays (sick!), I thought, "What about the people who are missed?"  I understand that this was in reference to people who probably have passed away or are missing in some way  and  it applied to me also.
In my case, people didn't miss me physically but missed me personally.  Also, to be the person missed is really sad.  My thankfuls include so many people and to miss out is really hard.
I no longer feel guilty that I'm laying on the couch, in fact my kids piled on top of me to watch the parade and had no clue how excruciatingly awful I felt.  I feel sorry for myself.  I don't usually allow myself to go down the negative route but the truth is, missing and being missed is sad.  The holidays aren't easy, they just aren't.
When I finally felt well enough to distract my head for a bit I saw all these happy smiling posts about Thanksgiving.  I'm sad I didn't get to smile that day in pictures.  I saw all these delicious meals and I'm sad I didn't get to cook.  I saw my kids run around with their cousins while the adults gathered in the kitchen drinking and laughing and I'm sad I got to hear it from the other room because it was too bright and loud for me while being unable to be vertical.
I slowly felt better throughout the weekend but recovering is not a quick thing.  I choose to be positive because going down the negative road is something I don't feel makes me better.  But I do get sad.  I get missed and miss a lot.  I get down about my past and discouraged by the little changing future I see ahead with my migraines.
Yesterday I started my week with a cry.  I only cry alone and don't let myself get too carried away because it will trigger me.  I can't even cry without being dictated to by this disease that plagues me.  But I'm moving on.  I cried, I'm posting to give and get support and I'm moving on.    Tomorrow is a new day and a new reason to post thankfuls.
Sign up for our newsletter
My treatment plans change depending on what preventative or abortive medications work for me at the time. Some examples of preventive are Topomax and Botox. I get Botox but the effectiveness is hit or miss and I get different side effects from the injections each time. I never know how I'm going to feel the…
Read More

→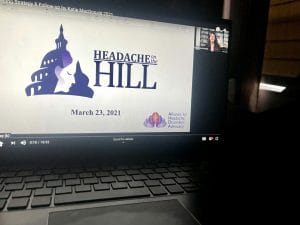 I participated in the 2021 Headache on the Hill with Alliance for Headache Disorders Advocacy in March. This year is year 14 for Headache on the Hill. I have been following AHDA for years and supported it virtually through a fundraising walk. But this year, I applied to be an Ohio representative. After 2020, I feel like…
Read More

→
Review and Giveaway of hemp oil and cbd isolate. They give relief for nausea, pain and anxiety. Enter now.
Read More

→