Migrastil Migraine Stick and Travel Kit Review
I was given Migrastil migraine stick and travel kit to review. The links in this post are affiliate links that will reward me if you purchase through them. My opinion is my own and I am not giving medical advice. I simply tell you about the products I try and how I feel about them. Try everything at your own risk and reward. I hope you experience migraine symptom relief!
Recently, my family and I took a trip to Disney World! The happiest place on earth! Although it's the happiest place, unfortunately, I always bring migraine with me. It was so nice to finally get away but I prepared a lot in advance with lots of products.
As you know, I love to travel! Some of the trips I've blogged about are Phoenix, Disney, Puerto Rico, New York City, and more. Over these trips and many more, I have learned and accumulated tips and products for traveling.
Prior to my trip, I was sent the new migraine travel kit. This kit takes some of the guesswork out of all the products I bring in order to face nausea, muscle pain, light sensitivity, noise, and dehydration.
 10% off ALL products for a limited time with the code: mymigrainelife10
 Migraine Kit Relief Box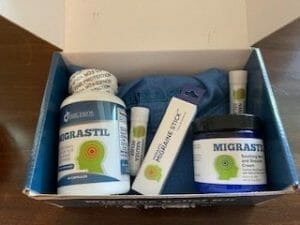 Migrastil Travel Kit
To begin with, the bag is amazing! It is cute and flexible enough to throw in my carry-on without much-added bulk. It is a perfect size to fit my migraine relief tools and soft enough to fit just about anywhere.
Nausea Relief Inhaler
I use this mostly on the plane and in crowded places. The smells of perfumes and lotions around me often make me nauseous. The inhaler is a gentle relief with a change from perfume to natural healing smells. Nausea Inhaler ingredients are Spearmint, Lavender & Ginger Essential Oils.
Eye Mask
In case you are sensitive to light like I am, the eye mask can block harmful glares.
Soothing Neck and Shoulder Cream
I use the rub while I was cramped on an airplane.  Once I got back to the hotel after a shower and at the end of the day, I used the cream for my neck and shoulder tension. Migrastil cream ingredients for Neck and Shoulder Relief are peppermint, spearmint, lavender, ginger, and frankincense in a moisturizing cream fortified with Shea Butter and Aloe Vera.
Earplugs
Block out triggering noise.
Natural Electrolyte Drops for Better Hydration
When I travel, I dehydrate pretty easily. Instead of buying an expensive electrolyte drink at the airport, these drops allow me to add drops into my water bottle without the added cost and with the added hydration benefits. These drops are tasteless and can be added to any beverage.
Migrastil Migraine Stick
I use this one the most! Migrastil migraine headache stick roll-on relief essential oil aromatherapy is simple and easy natural relief. I rub it on my temples, forehead, jaw, wrists, and back of the head. I leave it in my purse and close by! Migrastil migraine stick ingredients are Peppermint Essential Oil, Spearmint Essential Oil, Lavender Essential Oil, Fractionated Coconut Oil (FCO). Essential oil roller
 15% off ALL products for a limited time with the code: mymigrainelife
All of these items can be bought separately and I have each in my home. But when I travel, I reach for Migrastil's travel kit with their cute bag and throw in all my products to keep in my carry-on. The size is perfect for a trip and convenient altogether. Overall, I think the travel kit is a wonderful jump-start to a migraine relief bag.
But wait….there's MORE!!! Migrastil has generously offered to give away a migraine stick to one lucky winner on Instagram. Head over and enter to win (11/9-11/13/21)
Allay Lamp- Green Light Therapy
Sarah tells stories of My Migraine Life. Living life through Migraine consists of advocacy, treatment, prevention, and searching for health and happiness in a positive honest way. Her kids, husband, dog, family and friends motivate her to make a difference in the Migraine World.
This post introduces you to migraine Lyfebulb ambassadors and the patients like me that it connects. I am ...
Read More

→
The grief of my therapy pet has been an ongoing process! A year ago, I said goodbye to ...
Read More

→
This year I was introduced to Koldtec Halo and bamboo masks. I fell in love with the ice ...
Read More

→