Miles for Migraine Cleveland 2019 Results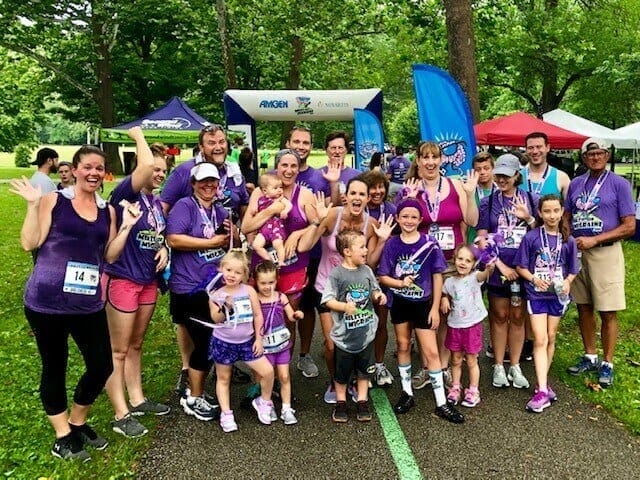 This weekend was the Miles for Migraine walk/run/just relax event in Cleveland. My home town!! Last year was the first year and this year I wanted to step up my fundraising and team efforts. Wow, did it pay off!
Building funds
I will fully admit that I'm not the best at asking for money or participation. I get shy and don't like to pressure people when it comes to my cause. The reality is, I like to model my advocacy efforts and hope that others fall in line. This is NOT the best strategy for fundraising and even my own team reminded me that it's ok to ask. I mostly advertised the event through my website and social media. I sent reminders when there were early entries and codes for discounted registration. Next year, I plan to reach out to more via email and possibly reach out to businesses or places that provide therapies for migraine and headache disorders to participate or donate.
Luckily, my team got involved. My team reached out to work and friends via an altered fundraising letter provided by Miles for Migraine. With each letter, my team members wrote how the race would benefit those living with migraine and how my disease has affected their lives. My husband, dad, and my friends have all been touched by migraine by being in my life. The response was overwhelming and I'm so thankful that they saw the need to donate to our team's efforts.
Miles for Migraine Cleveland 2019
Together we raised $3,211.54
Awards
At the race, I was honored with a few awards.
Largest Fundraiser- Thank you for donating! This was a big year of donations and I hope it only continues.  A little goes a long way and a lot goes beyond.  All donations are appreciated!!
Warrior Honoree-I love this title! I feel like a warrior fighting lots of battles in the face of evil.  May the good that I am doing raising awareness, bringing communities together and fundraising prevail. We are not alone and together we can make a difference.
Largest team- My team consisted of family, friends, neighbors, boss, coworker,s and students.
Spirit award- This award was given to my daughter.  This is our fifth Miles for Migraine event and each race we add some more flare.  It's fun to make it a tradition and a reason to dress up. Any time I give her the freedom to use glitter, gloss, and embellishments she never disappoints.  The glitter shows up days and weeks later reminding us of the walk.
Building a team
I had over 20 people on my team this year.
When I found out the Miles for Migraine Cleveland date, the first people I asked were my parents. They have lived and seen what this disgusting disease has done to me over the years. I have been so lucky to have them on board going to doctor after doctor and always believing me. For many years, I felt crazy with how I felt and they never give up on me. For years, the guilt over the amount of money and time they spent on me wore me down.
Now as a parent, I'm seeing that they supported me as much for themselves as for me. Having a child in pain and not being able to solve it is worse than suffering yourself. A feeling of helplessness and not being able to change my health has been an ongoing theme for decades amongst us. I'm hoping the walk empowered them to know that we are making a difference (they always have!). Although they may not be doctors, their money is funding fellowships to help many in the future, ideally, myself included.
Friends
Next came my childhood friend.  Unfortunately, she had had a few migraines recently and was triggered by the heat (we had record high temperatures). They didn't end up coming that day but we walked for her all the same.
I walked for so many that would have liked to have been there while not physically being able to.
Neighbors
My neighbors joined us as a family of walkers and fast runners. They are another family touched by migraine. In the last year, my neighbor has had leaps forward with her migraine treatment and I could feel her praying for continued success and the rest of us to have the same. (By the way, her husband won the 5k and it felt like such a win for the whole family.)
When I met her, I instinctively had this migraine sisterly bond with her.
Family
I had one uncle come to walk and another who donated. In a note, my uncle recalled how my grandmother had suffered for so many years with migraine. He remembered how she didn't have medication that was effective, how it stopped everything she was doing and how vicious the disease can be. Migraine is genetic and both of my grandmothers and mom have experienced their lives with it. Unfortunately, I did not know my grandmother well. Hearing the stories from my uncles and having their support made me tremendously proud that I'm fighting for us all.
I felt close to my grandmother and feel like she'd be proud of me.
Work
The rest of my team came from the preschool that I teach. My boss and co-teacher are incredibly supportive of my migraine advocacy and efforts to make myself and others better. My boss's husband lives with migraine and she treats me as a human before an employee. They both see me on my rough days and give me credit for my hard work and dedication.
Working for someone who motivates me with support is WAY more productive than shaming me for my health.
The newest additions to my Miles for Migraine Cleveland crew are the families I teach. This year I had 3 families from my school to join us. Wow! I'm impressed by these women. One of my team members ran the 5k with a double stroller, baby, and preschooler aboard. She came to us pregnant at the beginning of the year and finished the year by signing up for the race and focusing on the goals she set.
The next mama that ran for us is equally impressive. She had a year of weight loss and had never run a race before. She not only ran it but did so pushing a stroller with her preschooler and rocking out to Elsa's music. What a difference a year makes for this group! My third family, I walked with. This mom grew up with her mother having migraine and understanding how it alters lives. She's the type of person who lifts women up and we all need people like her!
Their moms are teaching them that their health should never be taken for granted while being charitable to others.
The Next Generation
The thing that excites me most about them coming is how they are setting this incredible example for their girls. The unfortunate reality is, my preschoolers will not go through life without knowing a person living with migraine. They see me as this teacher dancing around the room with them and they don't know that I lay in pain for hours after teaching them. But, someday they will come home and tell their moms that their friend had a headache, stomachache and needed to go lay down. Maybe they have plans canceled on them and they don't understand. Someday, they will come across a person with migraine and be confused by its complexity.
Because of this Miles for Migraine Cleveland race, they will have a better understanding. My hope is that their moms will be better equipped to answer questions and explain migraine. They will have resources to help another child and family desperate for answers. They will be reminded that we all are struggling inside with something and how being gentle is always the best approach. Because these moms came, I feel like I'm helping future generations. My heart bursts at the thought that I am teaching these sweet girls their letters and numbers while also showing them the value of giving back and understanding differences. I have always seen my students as these powerhouse humans that can do anything and with their mom's examples, they are going to change lives!
My Reason
Lastly and most importantly, I had my husband and babies by my side. This is our 5th Miles for Migraine event and with each one, they get more excited and learn more.  I never leave a race without feeling like I'm floating out on a love cloud.
The best thing about these races is that we are making positive memories around migraine.
Migraine has such a negative impact on families and bringing mine together to fight it feels so good. We now look forward to these events and brainstorm how we can make each one more fun and impactful. We plan on going to lots more Miles for Migraine events in the future. If you missed this one, join us next year! If we aren't coming to a city near you, donate to our team or start your own event locally. Please continue to share, like, and donate to team My Migraine Life.
It feels good, to do good, and we all can do it!
Shout out to my favorite nurse.  She was there representing my neurologist's office and is my go-to person with migraine.  I hope you all find someone who supports you like Karen.  I have gone to her for over 10 years now and she has seen me cry and desperate many times.  She has never given up on me and is always searching for answers.
Check past races:
[UPDATED]
Sign up for our newsletter
Here is…my natural dog shampoo review of Rockwell Pets Pro. Everyone knows I love my dog Lucia! She is my support animal, best buddy, and first child. I treat her the best because she gives me her best every day and deserves the same! That's why I was thrilled to partner with Rockwell Pets Pro.…
Read More

→
I just came home from vacation with 4 children under 9.  When we left for vacation I was reminded that school districts look poorly on unexcused absences.  My answer was, "My children learn endless lessons on vacation and I'm not apologizing for showing them the world." While on the cruise, I noticed lessons learned and…
Read More

→
Miles for Migraine Cincinnati 2020 will look a lot different than 2019 and 2018. It looks a lot more like 2017 before we were adding many cities around the United States. Due to COVID-19, we will be doing our regular event virtually. I am so bummed that we won't be able to gather this year!…
Read More

→
Allay Lamp- Green Light Therapy