Miles for Migraine Cleveland Results 2020
Miles for Migraine Cleveland results 2020 are in. Even though we aren't gathering in large groups this year, didn't stop us from fundraising and bringing awareness about migraine and headache disorders.
Miles for Migraine Cleveland Results 2020
Cleveland's virtual walk/run/relax was July 15-23, 2020.  Each day my goal was to do something active with my team. Although we can not gather in large groups, we decided to walk in small groups outside with distancing. The reason Miles for Migraine 2020 gives you a range of time is because as a person living with migraine, I'm not always able to move or advocate each day. My week is an example of the true ups and downs my disease has handed me. Here's how my virtual fundraising week went…
Day One-Miles for Migraine 2020 (Self Care)
All out of spoons. Do you know what the spoon theory is? To begin my fundraising week, I was wrecked with an ongoing migraine attack and was unable to do anything.
But that's OK. Miles for Migraine 2020 encourages taking care of yourself and adding an hour for self care. Some days, walking, running and other activities just aren't possible. On those days, take care and realize that taking care of yourself comes in many forms.
Day Two-(Relax)
This day should have been named postrome (the migraine hangover phase). I tried to walk a small amount and got caught in the rain. Rain is a trigger for me so I didn't make it far and didn't attempt to.
Day Three-(Run)
Day three was a success! I gathered together some of my youngest supporters. As a teacher, I struggle with migraine disease and am supported by my lovely families at school. I didn't give much explanation to my students as to why we were there because I don't think they wanted to hear how their teacher suffers. What my students expect from me is a smile, encouragement to do their best and fun.
I provided this by doing a "fun run" with my preschoolers followed by a toilet paper finish line. This idea was given to me by my fellow Miles for Migraine warrior board member and it made us all laugh.  What says memory of a pandemic more than TP and masks?
Day Four-(Hike)
We went hiking with friends. The mom of this adorable family has been my friend since middle school.  She and I have traded stories of migraine over many years and she has supported me through my advocacy efforts. At the inaugural Cleveland walk, we froze and she watched me speak prior to the start. Since then, she has added two more baby boys to her family and was unable to hike with us.
We took a "together but apart" picture and it is a great snapshot of our pandemic frazzled minds.
Day Five-(Migraine Attack)
Day five was disappointing personally but lifting at the same time. I went to bed with migraine pain as always but nothing unusual. Then, I woke up at 3 am in the midst of a huge migraine attack. I crawled to the bathroom and took my meds then passed back out in my bed. By 6 am I was back up to get ice and more meds. At 9:30 I groggily opened my eyes and realized that my family was arriving in my driveway to do a group bike ride.
I tapped my husband, yelled for my kids to get up and passed back out. My migraine attack was so severe that I couldn't talk, couldn't sit up and couldn't even wave. I passed back out and stayed in my cold dark room until the following morning.
Family Support
In true family support fashion, my parents, sister's family and my own crew rode Miles for Migraine 2020 without me. I was too sick to even ask how it went but they took pictures for me and rode those miles in honor of me.
Was it ironic that my family showed up on a migraine day? Less ironic and more probable. The chances of me having a week where migraine doesn't stop me in my tracks are very unlikely and something I haven't experienced in years.
Without my family behind me, I never would have the ability to be my best or even better. My children would be more affected, my mental health would fail and my body would give up. Without them, my disease could have destroyed me years ago, but instead we fight together! They may not be able to take my pain away but they provide me with a quality of life that I would not be able to gain without them. My Migraine Life has a silver lining because of their love.
Day 6-(Migraine Recovery)
Day 6, I crawled out of my room and felt like I had been there for months. Missing an entire day of life while fighting pain, nausea, body aches, tension and sensory attacks is brutal. I tip toed around everything I did and was cautious not to trigger another attack and send me back to bed. It wasn't a successful day in Miles for Migraine advocacy but it was better than the last day. Sometimes that's all I can focus on. I'm better than yesterday and that's about as far as I got.
Day 7-(Cancel Plans)
Per my usual migraine-self, I canceled plans to go for a walk. Canceling plans to a friend with migraine is somewhat OK because I know she understands, yet still defeating. Some days I feel so flaky walking around with brain fog, head pain, nausea and am so distracted by what's going on in this world and it's hard to even answer a text.
I look at my week and it feels typical. Migraine attacks, ups & downs, needing support/giving support, frustration, silver linings and great moments that feel even more special. I may not get everyday to enjoy life but I take the moments that I can and appreciate the small moments as great moments. This week I look back and focus less on what I missed and more on what I did.
Virtual Team
Being that we couldn't gather all together, I had team members walking/running/biking at home. Thank you to my friend, fellow intervention specialists and migraine warrior for riding on a day that I couldn't. The best part of the migraine community is that when I get knocked down, I know there is another warrior carrying on.
Miles for Migraine Cleveland Results 2020
Miles for Migraine continues to be a highlight of my summer.  If you'd like to donate Please Support Here. Thank You!
Team My Migraine Life
Raised: $1,542.66
Largest Fundraising Team
Sarah: Largest Fundraiser
Past year events:
Miles for Migraine Cleveland Results 2019
Cincinnati Miles for Migraine Results 2019
Cleveland Miles for Migraine Results 2018
Miles for Migraine Cincinnati Results 2018
Miles for Migraine Virtual Results 2017
Update:
Sign up for our newsletter
While visiting NYC for3 days, we explored the city and found our 10 favorite things to do and eat.
Read More

→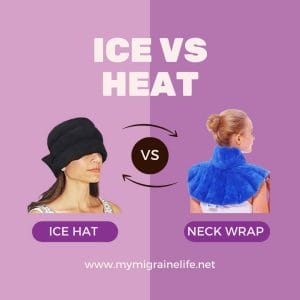 Is Hot or Ice Therapy Better for Migraine? Ice therapy and heating are common practices in treating migraine but what method is best?  Well, like everything else, we are all different and I use both at different times for different reasons.  When I was pregnant there was not a time in my first trimester that…
Read More

→
I was been given glasses for a Theraspecs review. Since then, I have worn them everywhere and become an amazon affiliate! I use them in my classroom and outdoors. I reach for them when the fluorescent lights are too much and when the morning sun is shining in. Snow glare hurts my eyes and I…
Read More

→
Allay Lamp- Green Light Therapy