Norb Sleep Giveaway: Wellness Lighting
I am doing a Norb Sleep Giveaway leading into Christmas. I love doing giveaways and sending gifts to my Migraine Lifers.  Norb Relief is a new product I found and fell in love with this year. They made my 2020 Gift Guide and generously have offered to GIVEAWAY a Norb Sleep bulb. As we all know, migraine and sleep are very much related. Am I getting enough sleep? Did I get too much sleep? It all depends on the routine. Now, I use sleep patterns and wellness lighting to give myself the best quality of sleep. I have not tried the sleep bulb.
Enter to Win a Norb Sleep giveaway

Wellness Lighting
Norb lighting has many different types of bulbs to increase wellness. I have only tried the Relief bulb, but have been looking and speaking with the people at Norb about the variety of ways lighting can be used for everyone.
Norb Smile Light Bulb
After researching wellness lighting, it looks like the Norb Smile may be another great fit for someone. "NorbSMILE provides a light spectrum like natural sunlight (minus UV radiation), helping you to feel happy and healthy, and to perform at your best." With long winters around here, I often feel the heaviness of the lack of sunlight. The smile bulb may be able to help!
SAD Light Therapy with NorbSMILE
The light spectrum is similar to sunshine, without the damaging UV rays

Sunlight spectrum promotes a happy mood; helps with Winter Blues and Seasonal Affective Disorder (SAD).

Combats fatigue from too much time indoors—the average person spends 93 % of their time indoors in an unnatural light spectrum.
Norb Sleep used in combination with the Norb Smile can have an even more dramatic impact on your sleep/wake cycle and overall feeling of wellness.
Norb Relief: The Migraine Light
Earlier this year, I reviewed Norb Relief bulb and have been using it daily. It has been a great new tool in my migraine toolbox. The green light is in my family room and I often use it for reading to my children, games, and evening activities. By the end of the day, my migraine attacks often spike. I find that the relief light helps lessen my light sensitivity compared to overhead white bulbs.
NorbRELIEF A19 $19.99 ($69.99 4-Pack)
Norb Sleep
The Norb Sleep bulb is dimmable which is my favorite part about it. Being able to control the amount of light I see is helpful since each day is different.  It allows you to see clearly, be safe, and conduct your evening routine without eye fatigue or strain. Don't look into the Norb, simply use it to illuminate your space… as you would any other light. "NorbSLEEP provides a light spectrum similar to natural evening lighting allowing you to produce melatonin, to sleep better, and feel better."
NorbSLEEP A19 $19.99 ($69.99 4-Pack)
Norb Lighting Coupon Code
If you are interested in any of Norb lighting wellness bulbs, My Migraine Life followers get 10%off with code SUPPORT10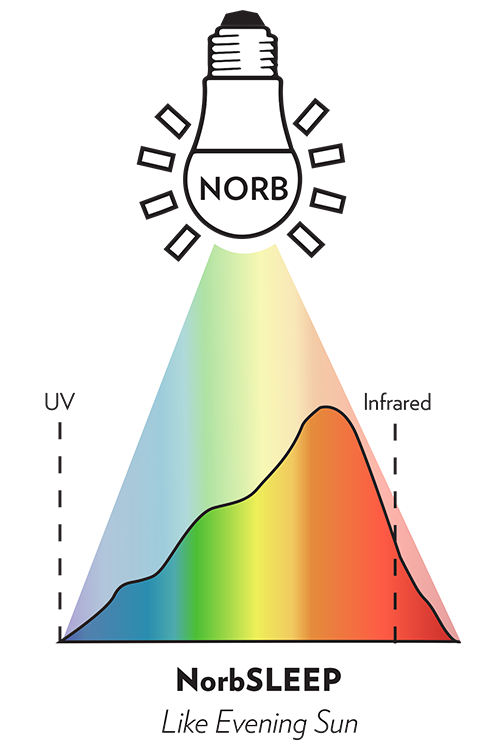 Best Light Bulbs for Sleep
"People respond physiologically to light through special photoreceptors in their eyes.  The natural daytime light spectrum helps energize us, and the natural evening spectrum helps us produce melatonin. This helps us sleep and to maintain healthy circadian rhythms. Regular lights can interfere with melatonin production, impede our ability to sleep, and disrupt our circadian rhythms. Norb SLEEP is a Nutri-Orb, a unique white light with a specialized spectrum to help you get a restful, natural night's sleep. NorbSLEEP replicates natural evening sun (without the UV) for restful sleep. Standard lights are far from natural and often impair normal sleep."
What makes Norb SLEEP the right choice for enhancing your sleep?
Proper spectrum for Melatonin production and enhanced sleep
Supports normal Circadian Rhythms (sleep/wake cycle)
Looks natural
Norb Sleep Giveaway
Runs 12/18/2020 @12am through 12/25/2020 12 am.
This promotion is in no way sponsored, endorsed, administered by, or associated with Facebook, Instagram, or Twitter
U.S. Residents only (18 or older)
Giveaway Items Are Not Intended to Treat, Cure, or Replace Your Doctors' Advice and Ongoing Treatments.
Finalists will be chosen and contacted. If the winner does not respond in 48 hours a new winner will be chosen
[UPDATE] A winner has been chosen- Congrats Lexi P!
Check out my next GIVEAWAY for Ice Headband, Koldtec.
Sign up for our newsletter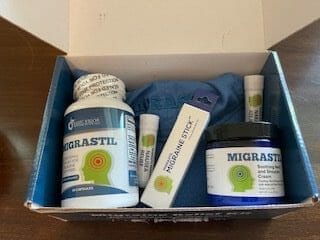 I was given Migrastil migraine stick and travel kit to review. The links in this post are affiliate links that will reward me if you purchase through them. My opinion is my own and I am not giving medical advice. I simply tell you about the products I try and how I feel about them.…
Read More

→
Today is the second anniversary of blogging My Migraine Life! I have spent it going to work out, leaving quickly to be sick and sleeping. So when I saw the anniversary notification, I realized I haven't gotten too far in finding solutions for my problems. Because of blogging, I have support, have raised money, built…
Read More

→
Corona virus is not a break. Last week, the announcement was made that school will be shut down for 3 weeks. 2 weeks of extended spring "break" plus our normally scheduled week off. Each day seems to be a new world and now I'm hunkering down anticipating teaching my children for the rest of the…
Read More

→
Allay Lamp- Green Light Therapy