Brain Fog, Brain Haze, Mommy Brain and Migraine
I live with pain haze, brain fog, mommy brain and migraine. It's A LOT!
Migraine
I got a migraine after the 4th of July (which was not a surprise, I get a migraine on every holiday) that lasted a few days and was severe. I spent the remainder of my week recovering. So when I woke up again with another migraine attack, I was totally frustrated!
My husband left for a trip before I woke up and I went directly into survival mode. I took my meds, iced, and drank coffee before my kids got up. By the time they got up, I was able to put on a happy face and told myself I was going to make it through the day and to keep on fighting. I talk to myself and my migraine a lot! I felt brain fog, mom exhaustion and migraine hungover.
Brain Fog
So I decided to continue on with what I planned for the day and started addressing thank you notes that I had written for my daughter's birthday. As I did this, I responded to a wedding invitation. The invitation already had a stamp on it and at this point, I realized I had addressed my envelopes backward. I had reversed the stamp and return address and would not have noticed had I not seen an example of the correct way to address an envelope. Brain fog, how frustrating!
Was it the end of the world? Of course not! It was just an honest mistake but it frustrated me. When I was on preventatives I made mistakes like this a lot (See why I don't take preventatives). Now that I'm not, I try to keep my head as clear as possible but controlling the pain is a priority. I have many friends who do not suffer and tell me they are the same way with "mommy brain."
Pain Haze
Call it what you will, it's mommy brain, pain haze, migraine hangover, busy life, or brain fog. The problem with Migraine is that I never know what's normal. What is normal anyway? Knowing how to address an envelope is normal, so maybe I'm a bit hazy. I guess I could be called worse.
What have you done in a Brain Fog?
If you are feeling migraine frustrated or mommy crazy, connect with me on social.  I'm here to support you and let you know, you aren't alone!
Instagram
Sign up for our newsletter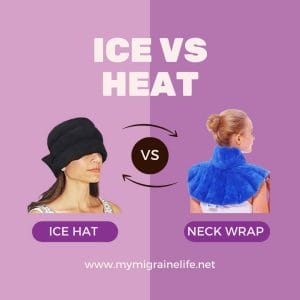 Is Hot or Ice Therapy Better for Migraine? Ice therapy and heating are common practices in treating migraine but what method is best?  Well, like everything else, we are all different and I use both at different times for different reasons.  When I was pregnant there was not a time in my first trimester that…
Read More

→
Simplicity is the key to happiness with migraine.  I think just like beauty, happiness is in the eye and mind of the beholder.  I have always been very happy and grateful for my life.  My life is surrounded by people who love and support me along with privileges that not all people get the opportunity…
Read More

→
In this post, I will give my Enviroklenz air purifier review. Additionally, I will talk about the Enviroklenz laundry enhancer I use in my home. I use them to eliminate odor, clean our air and provide a healthier home environment. As a follow-up to Migraine and allergies, I have changed a few things in my…
Read More

→
Allay Lamp- Green Light Therapy