Parenting with Chronic Illness and Celebrating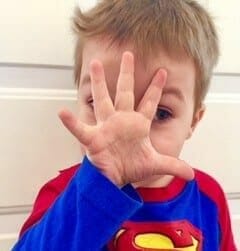 Parenting with chronic illness remains to be one of my biggest hurdles. I love being a mom, but parenting with migraine makes things especially difficult. This post has turned into a love letter to my baby on his birthday. A day to celebrate and reflect on parenting and parenting with chronic migraine.
How does Chronic Illness Affect my Family?
Last night I went to bed with a migraine attack. This morning I woke up with a 10-year-old. Not one hand but two whole hands and I'm done with having kids in the single digits. Just like that.
Parenting with a chronic illness is a blur. But isn't parenting, in general, a blur? It's this whirlwind of an everyday grind trying to avoid the next meltdown. But every now and then I stop in my tracks at how absolutely lucky I am to be raising my favorite human beings and get to watch the magical creatures that they are growing into.
And that time always happens on birthdays.
Now that I get to give my buddy a double high five what happens next? I feel like the saying, "big kid, big problems" is coming back to get me. The issue with my big kid problems growing up is that parenting with migraine doesn't go away (and can also grow during these stressful times).
With my baby turning 10 and my oldest turning the corner to 13, I feel like I am as worried as ever. But now in a bigger kid way. No longer the stroller mom but now the sports and activity driver, email and schedule personal assistant, chef, and social coordinator.  All of these titles hold migraine triggers for me and roles I don't take lightly.
Parenting with chronic migraine takes me away from my life more than I'd like to admit and that means time with my kids and family. It hurts! But on my baby's birthday, I choose to be so insanely grateful. I choose to have fun! I can't walk away from parenting with a chronic illness but for a while, I'm going to soak in the best title. MOM.
Everyone's getting double high-fives today!
[written 1/23/19]
This week I'm focusing on my baby's birthday party instead of my migraine! He now has to hold up 2 hands to show how old he is. Each year seems to be going faster, and I need things to slow down.
How Can I be a Good Mom with Chronic Illness?
I've been fighting this month with the crazy snowstorms and thaw around here. Migraine robs me of so many things, and time is one of them. Parenting with chronic illness changes everything. This week I have gotten frustrated that my meds aren't working. I'm angry that I'm forced to lay and ice my head while I have so many other things to do. Being sick is a waste of my time, and it's more than annoying!
So I'm focusing on my baby's birthday and the blessing that he is.
By the end of the week, I'll have a 6-year-old. He is no longer my favorite preschooler (and he has had some competitions since I teach there). Now he's my bus riding, friend-making, still my superhero little man.
Does anyone else get emotional around their child's birthday? I typically am stressed, trying to cover up a migraine attack and trying to make the best of my day. My goal is to make his day so unique that they don't see my pain. As a mom, I reflect on the day I gave birth and thank my body for giving me my greatest gifts. My mentality of focusing on my baby's birthday is always gratitude.
[written 1/25/18]
Parenting with chronic illness and having small children is not easy. It's a lot! Today is my baby's 5th birthday! He tells me, "It's easy Mom, a whole hand!" and throws his little fingers out. This Superman is my heart. Now that my baby is a whole hand and thinking about Kindergarten, I think about how hard it is parenting with chronic illness.
Parenting and Migraine
Many people ask me questions about being a mom of young ones, pregnancy, being a stay-at-home mom, and how I have managed all those things while battling migraine. Raising children is hard enough and parenting with chronic illness makes these events much more twisted.
It brings up so many emotions about how hard it was being pregnant, having a baby, and living a migraine life. As with everything, both pregnancies were different, both births and babies were too, and migraine life was significantly different.
I can say I never considered not being a mom. I was meant to be a mom. In my mind, body, and soul, I was told to be someone's mom (cue the tears). My heart beats for my children. Being a mom is the best thing that has ever happened to me and the best thing that ever will. I feel these seconds, days, and months fly by. At the same time, each second seems complicated, and crazy, and isn't it nap time yet? I look back at how wonderful it was and then think back at how hard it was. Like, hard, in SO many ways. Yet so very magical, precious, and fleeting.
Parenting with Chronic Illness and having Small Children
People told me that having little ones was the most challenging time with migraine. But parenting with chronic illness and having small children makes it even tougher. Isn't having a little one the hardest part of most people's lives? At the same time, I feel that when I look back on my life, I will see these as the days of my life. (If you are a Days of Our Lives watcher, read the last line in the dramatic voice.) Like sand through the hourglass. HAPPY BIRTHDAY to my birthday boy. To know him is to love him. Truly! His smile is contagious; his stories make me laugh, and he tells me "I love you" all day long while giving the best hugs.
A whole hand now!  How does time go so fast?
Sign up for our newsletter
"I dreamed a dream" is one of my favorite songs. I have seen the play Les Miserable more than once. One of my favorite things is to blast the music in my car, belting out the ballads. Even though it's a sad song, it's a song that gives me goosebumps every time! I think with…
Read More

→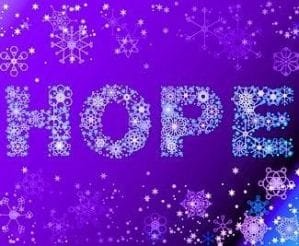 What do you do or say to help others have hope with Migraine? Over the years, I have had hundreds, if not thousands, of pieces of advice about my Migraines. Most of the time it is well-intended but wildly misunderstood. Just do this; why can't you do that? All you need is… Well thank you,…
Read More

→
What is your treatment care plan for chronic pain? I have had migraine my whole life and lived with chronic pain along with them. My head is the main spot for pain, in my case. It changes locations from intense swelling and throbbing in my occipital (back of the head) to face pain consisting of pressure…
Read More

→
Allay Lamp- Green Light Therapy