Running for Migraine Research and Icing
Last weekend, my family did some running for migraine research through American Headache  and Migraine Association.  AHMA is a patient arm of the American Headache Society. We virtually ran for the Morgantown run but if you missed it, you can still participate in the run in Lousiville on October 17th.    My family are not runners but we chose to donate and move.  Here I am on the treadmill.  It was a cold and rainy day and I didn't run, but I walked.
Biking for Migraine Research
My in-laws participated virtually to support me. Instead of running for migraine research, they rode their bikes. Having support and giving money for research feels great! But working out doesn't come without some sort of aches and pains.  Both my mother in-law and husband have had knee surgery and need to ice after they have exercised.  I am a huge user of ice therapy for my head and ice helps my husband control swelling in his knee.
Ice for Running
Fortunately, he was able to use Flexi Kold.  Flexi Kold was sent to me for a review and my husband is a perfect person to try it.  He likes the large surface that it covers and how you can conform it to the knee.  It is a polygel product with a money back guarantee.  There are many different types including the standard size, half size, neck contour, oversize and more.  He really likes that it is cold yet he is able to put it on his skin without a barrier in between.
While he enjoys it, he has found that it doesn't stay cold that long and wishes it could be used for a lengthier amount of time.  On the picture on the right you can see that he had a towel under his knee and thrown up on the couch.  When he uses Flexi Kold, he wraps a towel around the ice pack and likes it's flexibility to cover the entire knee.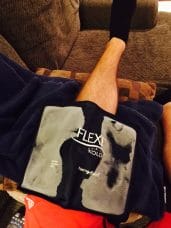 Disclosure: "I have been given Flexi Kold as part of a product review. Although the product was a gift, all opinions in this review remain my own and I was in no way influenced by the company. After using it I became an affiliate which rewards me for my recommendation. "
Runnin' for Migraine Research
I encourage you to try running for migraine research or walking or biking on October 17th. Remember to take it at your own pace and in your own way.  Ice and take care of yourself!
[UPDATED] Check out more Runnin' for Research events:
Runnin for Migraine Research: Virtual Challange 2015
Allay Lamp- Green Light Therapy
Sarah tells stories of My Migraine Life. Living life through Migraine consists of advocacy, treatment, prevention, and searching for health and happiness in a positive honest way. Her kids, husband, dog, family and friends motivate her to make a difference in the Migraine World.
I'm always searching for a way to relieve pain, nausea, anxiety, and the host of symptoms that plague ...
Read More

→
The holiday season with migraine attacks is miserable but inevitable for me. Every year, I get a spike ...
Read More

→
The headache pose is not flattering, can we agree? My latest post was about Elle Magazine's Gross Portrayal of ...
Read More

→