Sending My Child to Kindergarten and Finding Myself a New Normal
Here it is again, the start of a new school year. But this year is different….very different. This year my baby starts kindergarten. Sending your child to kindergarten is not for the faint of heart.
Sending your Child to Kindergarten
As I looked around, this summer, it was obvious that I am no longer a stroller mom. You know the stroller moms. The ones who:
Takes 10 minutes to unstrap the kids and get out of the car
Has her hair unbrushed and spit up on her clothes
Tired (I mean, really tired)
Most days don't leave the house due to nap schedules and too much trouble to leave
Carrying 100 things at a time
I could go on….
Although I'm still many of those things, I'm no longer in the baby phase. I still deal with tantrums with a louder, much bigger child. I still wear yoga pants when I'm not going to yoga. I'm still tired and flustered, but the differences are enormous.
When I was a stroller mom, I remember someone telling me the baby phase was ok because "Big kid, big problems." I remember looking at her and nodding while thinking, "Talk to me when I've slept more than 4 hours straight."
And it's true. Baby moms can't fully see the beauty in these chubby tiny babies because they suck the life out of you. Their problems are eating, sleeping, playing, pooping, repeat. My baby now faces bullies, learning at a pace that pushes towards testing, increased independence, relationships that I don't control, and situations I can not protect him from.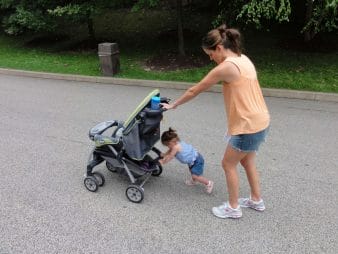 Starting Kindergarten
As my son steps towards his kindergarten doors, I regain some of myself. I recover time in my day, the energy that took and quiet I have not had in 8 years. All these things I wished for as a stay-at-home mom desperate in the winter months feeling trapped and lonely are now coming to me. And now I want my babies back.
For years, all I wanted to do was go to the store alone. I was once tapped on the shoulder by a nice old woman who calmly said, "Miss, your daughter is standing in the cart." As I turned my head back from the cereal aisle, she leaped from her seat, and I caught her. I wanted calm, and now the calm feels boring. Now, I talk to myself and look crazy (They never really listened, but at least I had someone with me.) I need my shopping buddies!
I'm now the mom smiling at babies and telling stories about mine while the stroller mom thinks, "Talk to me when I'm sleeping more."
When your baby goes to kindergarten, it's an end of an era. It's an era that some may happily leave behind with diapers and childcare tuition. But with new generations come new problems, big kid problems.
It will change us both. As a stay-at-home mom, I gave up my life. I gave up my job, my only friends were moms at the library, and I sacrificed a lot while my husband traveled. Additionally, I nursed and battled chronic migraine without medication. I look back at those years as hard. Like, tears roll down my face as I'm writing this HARD. I didn't recognize myself those days because I wasn't just myself; I was them. Every second of my day revolved around these tiny humans that I had pushed out of my body and continued to give. Gone are the days of playing and reading to them all day while no longer scraping play-doh out of their mouths and running wild.
Sending my Child to Kindergarten
The possibilities of this year are new to my kindergartner, new to me, and similar in nature.
I hope he is safe. 

We all need safety.

I hope he makes many strong friendships.  My hope is to see mine more.
I hope he is healthy with the new cesspool of germs that will live in his classroom.  Overall, I hope with the added time to myself that I can focus more on my health and advocate to improve the lives of many migraines and chronic illness fighters.
As my baby finds his way to the kindergarten doors, it's hard not to think that I won't be needed as much. The reality is, after my oldest went, she needed me more in a big kid, big problem way. I may not need to teach him to speak, but I must teach him to communicate. I may not need to put him down for a nap, but I need to help him understand how to relax and decompress after a long day. I'm no longer his only friend, and I need to help him navigate the ways of friendship, build lasting ones, and avoid toxic people. My baby bird is leaving the nest, and I know he will soar above the clouds as I count the seconds until he's securely tucked back in.
Whether you were a stay-at-home mom or a full-time working parent who has had their child in daycare since they were a few months old, you still fear "big kid, big problems." You may be looking forward to no more child care payments. You may be relieved to have some added time. But we all face changes in schedule and dynamics in the home. Everyone's lives change.
I'm no longer the stroller mom. I'm the carpool mom, the sports mom, wherever life takes them mom, the still tired mom. Regardless of the title, I'm proud to be a mom.
To a happy, healthy, safe, and fun school year!
Sign up for our newsletter
Recently, I was invited to meet fellow migraine patient Nicole Lapin to talk about migraine in the workplace. Nicole, a career coach, TV anchor, and New York Times bestselling author, has partnered with Amgen on their mission to challenge public misconceptions, start new conversations, and make the world a more migraine-friendly place. Nicole's Migraine Story…
Read More

→
I have a lot of migraine triggers I can't control. Something I can control is my beauty products and routine. Some of my favorite clean beauty products are Aromatica. Aromatica focuses on the beauty that is vegan and eco-friendly. I was given products to review and am giving my experience and opinions only. The links…
Read More

→
Tomorrow is our chance to participate by Runnin' for Migraine Research. I am virtually going to be a runner/walker for the American Headache and Migraine Association which is a patient arm of American Headache Society. It is a 5k run/1mile walk to raise funding for headache and migraine research. This year it is being held…
Read More

→
Allay Lamp- Green Light Therapy