Funniest and Best Pet Photo Contest Winner: Shades for Migraine
On June 21, I participated in the Shades for Migraine photos campaign and was the funniest photo contest winner and pet photo. My pictures were then voted on for best photos, and We Won!!!!! Thank you for voting!!!! Small victories like this inspire me to continue my advocacy efforts!
Funniest Photo Contest Winner
We won in the pet and funniest categories. This picture was taken with my daughter this summer. It was her first year on the swim team, a summer of ribbons, laps, friends, and fun. She won the most honorable award for her age range at the end of the season. Her dedication, willingness to practice, and bravery should be a lesson for us all.
Never give up; keep trying and take each stroke at a time.
The cap that I am wearing is a "brain hat" from Miles for Migraine. Miles for Migraine recognizes people living with Migraine with a purple cap and supporters with a pink cap.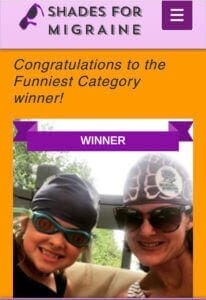 Best Pet Photo Winner
We had fun with this photo. When I saw that my sweet Lucia was the best pet photo contest winner, I cried. Ok, so it doesn't take more than a glance at her to make me cry, but I was proud this time. As most of you know, we lost Lucia this summer, and she was My Migraine and Life warrior. Seeing that she won made me so proud even after her passing. I'm proud that she continues to advocate for Migraine and proud that she was my supporter every day. I feel so lucky to have had her in my life for 13 years. She was my best friend and my migraine sidekick during the hardest years of my life (so far). Because of her, I feel like a winner! I will always hold the time we had together as my reward.
Thank you again to all who voted for our Shades for Migraine photos
Sign up for our newsletter
Happy Birthday to Me…I just keep swimming. At least that's what Dory taught me. Yeah, it's my birthday!!!!  Thank you for all the well wishes on my day. My summer birthday has always been a fun time for me to celebrate and always shadowed by migraine. Many years ago, I took my kids to see…
Read More

→
Using February to inspire self care and love. Each day will be a different focus on the small things to grow into a big change mentally
Read More

→
One of the first signs that a migraine attack is coming is my migraine sugar craving. I have a lot of good habits that I follow every day to manage migraine. If I ignore the things I do to live preventively, I will probably be bedridden permanently. The list changes constantly, but I'm diligent and…
Read More

→
Allay Lamp- Green Light Therapy