Should Everyone Get a Medal: Participation Trophies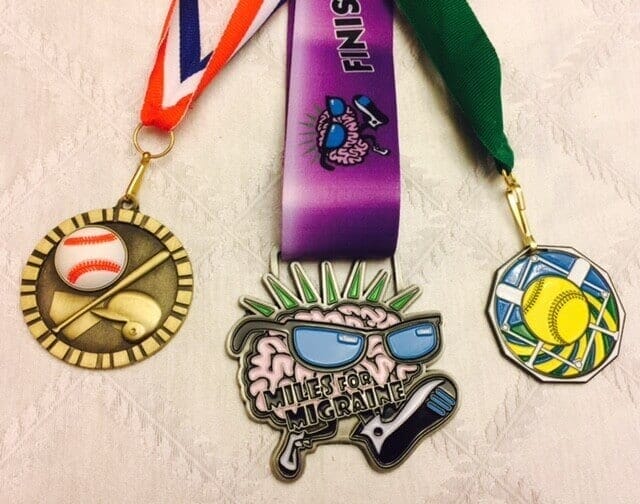 Should everyone get a medal? Growing up, I was involved in many athletics and competitive events. I have a box full of trophies, awards, and certificates showing my success. As my children begin their adventures in the sports world, their generation's parents have created a push for participation trophies. While receiving a medal for my participation and fundraising efforts for Miles for Migraine, I took a second to reflect. 
Should everyone get a Medal?
When I received my medal, I felt good. I felt happy and proud and had done something for a good cause and for myself. The trophy made me feel like a success. My children also received participation medals for their T-ball and softball efforts this summer. In our cases, we were not playing winning or losing games. We participated and were rewarded for our actions.
I think participation should be recognized at a non-competitive level. I see the recognition for my children and myself this summer as motivation. The medals we received were souvenirs of our hard work and dedication to the race and season. My children are young and beginning to find what interests them. Children need to be motivated. My son's league was not keeping score; there were about 20 four-year-olds playing in the dirt more than playing the game. They didn't even understand the concept of the score. A game without a score is a game of instruction, not winners or losers.  
Participation Medal
The only thing I can say about the medals is that they look at them and want to play next year. They have a physical reminder of their good memories and the fun they had throughout the year. If the medals were a pat on the back to say good season, I think a snack would have done the same. My son looked forward to the snacks at the end of the game as much as the game. A pizza party and snacks could have just been an influential participation trophy.
Should everyone get a trophy? Once they get into the winning and losing age of sports, I think medals should go to the winners. Will they always win and be rewarded? No, that's life. They will learn how to overcome setbacks, see progress, learn how to have sportsmanship, and how to be a team. Losing is part of life; participating does not mean a reward is given. Are you still paid if you show up at work but don't get the job done? Probably not for long. Sports teach lessons of winning, losing, and working hard to be the winner and best. I believe you can learn without a physical reward for showing up.
Participation Trophy
I think rewarding those who show up when it's non-competitive is OK. We all felt good and were reminded of our dedication. I feel proud of what I did and want my children to feel the same. Overall, we all need to be reminded to keep trying and improving. A snack can be swapped for a medal, and the trophies can be saved for the winners once they reach that point. If they don't have a box full of awards at the end of their lives, does that mean they are losers? No! They may learn more from losing than winning. It's all about the process, not the gift. I will take many pictures to save those moments as reminders of the ups and downs. They won't need a trophy to remind them they showed up.
Everyone Gets a Trophy
Participation trophies have become a way of saying the game doesn't matter. You are a winner if you got dressed and showed up that day. The real world doesn't reward you for showing up. The real world needs people to show up and then do something! It's something that counts. They don't need to show up for school; they need to do something! They need to work hard and improve to be a life winner. It will hurt to learn that sometimes they aren't good enough, smart enough, or fast enough. As an overprotective mom, I don't look forward to those moments. I
n the end, I will sit and cry with them when they lose, but I won't be giving them a trophy. I'll give them a hug, a sports tap, and get them back out there. It's not the things in life that motivate; it's the experiences.
When you fall off your bike, get back on and ride. Your medal will know how to ride for the rest of your life.
Now let's go have a snack!
Allay Lamp- Green Light Therapy
Sarah tells stories of My Migraine Life. Living life through Migraine consists of advocacy, treatment, prevention, and searching for health and happiness in a positive honest way. Her kids, husband, dog, family and friends motivate her to make a difference in the Migraine World.
My migraine support dog is my emotional support. She provides comfort and Treatment that no prescription can prescribe. ...
Read More

→
While watching the Cavs last night I had no choice but to compare Cleveland sports to my migraine ...
Read More

→
Are you looking for fun weekend family activities in Phoenix Arizona? There are so many things to do ...
Read More

→