The Dizzy Cook: Vestibular Migraine Diet
I'd like to introduce you to the Dizzy Cook, Alicia Wolf. I'm lucky enough to call her my virtual friend and look to her for advice on a vestibular migraine diet. Alicia Wolf has worked so hard to help herself and shares her knowledge with many. In doing so, she created 2 cookbooks and continues to create recipes to treat her Vestibular Migraine and help the migraine community.
Links in this post may be affililiate links. If you click and buy from this link, I will be compensated which funds my blog. Thank you!
Vestibular Migraine
What is Vestibular Migraine? Vestibular migraine can cause balance symptoms with or without an actual headache. Similar to migraine, vestibular migraine isn't fully understood. Many of the triggers are similar to those of episodic migraine.
Vestibular migraine can involve combinations of the following symptoms:

Severe, throbbing headache, usually on one side of the head
Nausea and vomiting
Unsteadiness and loss of balance
Sensitivity to motion
Sensitivity to light, smell, and noise
Vertigo (dizziness), usually lasting minutes to hours, but sometimes day- Hopkins Medicine
Because a majority of people who have vestibular migraine do not have vestibular symptoms and headaches occurring at the same time, the onset of dizziness by itself may make it challenging to arrive at a diagnosis.- Hopkins Medicine
Vestibular Migraine Diet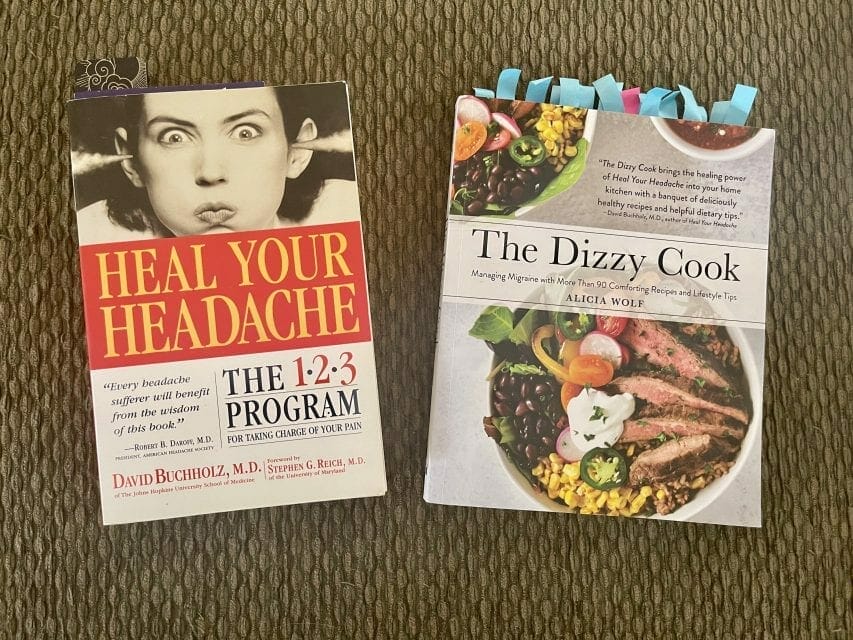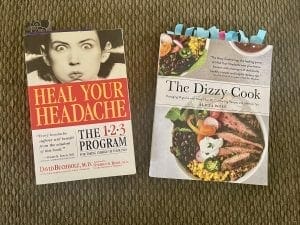 The Dizzy Cook, Alicia, lives with chronic vestibular migraine and creates resources with her vestibular migraine diet. At the onset of her vestibular migraine diagnosis, she realized that there weren't many resources for migraine elimination diets. She began with Heal Your Headache-123 Program for Taking on your Pain.  The book gives helpful information and an overview of all types of managing migraine. The book shows how to find and avoid triggers, including food. Food is used as a treatment and preventative for migraine attacks.
I also have this book. It is split into sections describing how to avoid the quick fix with standard abortives. Next, raise your threshold by incorporating preventive medication, treatment, and reducing migraine triggers. Some triggers are not avoidable like, stress, light, sound, weather, or hormones but diet is controllable. The thought behind her migraine diet is to control your migraine with as little medication as possible and a maximum amount of non-triggering foods and drinks. By lowering food triggers, the migraine brain may be able to handle the unavoidable triggers with less intensity or duration.
You need not be diagnosed with vestibular migraine to benefit from this diet.  It is meant to help with many forms of headaches and types of migraine. I have not been diagnosed with vestibular migraine, but I have had a vestibular attack and tend to have vestibular symptoms with my chronic migraine so I tend to follow her advice.
The Dizzy Cook Cookbook
With this thought in mind, Alicia created the Dizzy Cookbook. My favorite part of her cookbook is that it tells me what I can have. Often, I read a list of what I CANNOT eat and it's frustrating. What the Dizzy Cook Cookbook does is tell you what you CAN have and recipes to create it. It's so refreshing to open a book that says, you can have all of this!
There are so many times that I eat a meal, being triggered, and then blaming myself. What did I eat? Why did my body react that way? Maybe it's the weather or stress and not what I ate? It all gets blurry and gives me guilt. But with the Dizzy Cook Cookbook, I can rest assured that I'm doing my best, eating how it is recommended, and decreasing self-blame.
With that said, we are, of course, all different. Some people may tolerate foods better than others so, it's up to you to find your triggers. Maybe you can have citrus and bring that back into your diet.  It's all up to each individual but Alicia takes the guesswork about what you can't have.
Dizzy Cook Cooking Class
The amazing thing about The Dizzy Cook is that she's ready to show her cooking skills and connect. Because of the Dizzy Cook cooking class, I have added a whole new flavor to my cooking. Previously, I had taken out soy sauce from my diet.  In came aminos! I have to say that my family has loved all of the Dizzy Cooks recipes and she has added meals that I wouldn't have thought of or known how to make. Plus, her photos are beautiful! I enjoy just flipping through the pages and seeing what meal stands out. The book also provides a ton of educational information and bonus migraine knowledge.
Not long ago, a Dizzy Cook Cooking Class was held by Miles for Migraine as a social event. Alicia not only has written a cookbook and website that is a tremendous resource but she spends a lot of her time volunteering.  The Dizzy Cook is quite the migraine advocate! Thank you, Alicia, from so many of us!!
Prior to the Dizzy Cook cooking class, she sent us a list of our meals and mocktails. When I said "fancy drinks" my children were in. It was a night of cooking, cooking tips, and delicious food with lifestyle tips. We have since made the same meal several times and added it to our weekly rotations. Having Alicia answer questions, and talk us through some new ingredients and timing was so beneficial.  The virtual cooking class was so much fun!
The Dizzy Cook
Are you interested in trying a Dizzy Cook cooking class? Lucky you, she's having one Memorial Day to kick off the summer! Alicia and Karen, an ingredient-sensitive mixologist will lead us in creating a summer recipe and zero-proof cocktails.  A simple shopping list will be provided prior to the session or you can just come and ask questions about cooking with migraine.
Register for Summer Kickoff: Memorial Day Menu
Dizzy Cook's recommendations beyond diet include: Migraine Shields, Allay Green Light, Pure Wine
Check out how I use an integrative approach to migraine
Allay Lamp- Green Light Therapy
Sarah tells stories of My Migraine Life. Living life through Migraine consists of advocacy, treatment, prevention, and searching for health and happiness in a positive honest way. Her kids, husband, dog, family and friends motivate her to make a difference in the Migraine World.
Miles for Migraine Cleveland results 2020 are in. Even though we aren't gathering in large groups this year, ...
Read More

→
Pill Drill review is a sponsored post. I have been compensated through the Chronic Illness Bloggers network. All opinions ...
Read More

→
Happy Birthday to Me...I just keep swimming. At least that's what Dory taught me. Yeah, it's my birthday!!!!  ...
Read More

→