Salt Cave for Allergies, Stress and Migraine Relief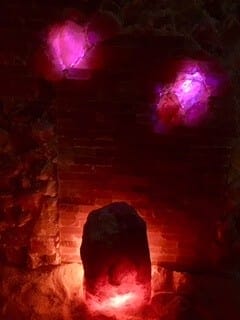 I have had a ton of response about my Himalayan Salt lamp post.  The main question being, "Did it help your migraine?"  With long term benefits, possibly yes?!
After I found that it wasn't giving me particular relief, I placed it in my son's room.  My son suffers from seasonal allergies, coughs, congestion, sinus infections and ear infections.    Within 2 nights I noticed that he was coughing less.  I was shocked!!!  My husband (who tends to medicate over natural therapies) saw a difference also.  I leave it on in his room next to his bed and feel that the purifying salt is helping him breathe better and have less congestion throughout the night! YEA!
After this, I had renewed faith in my Himalayan salt lamp. 
 

What it may help
Coughs and chest congestion
Improves lung functioning
With this knowledge, I found Tranquility Salt Cave of Columbus, Ohio.  I had a trip planned to visit a friend in Columbus and I always get sick when I travel.  My friend was traveling from Denver and under stress with a new baby, preschooler, her job and running on little sleep.  I knew I would be suffering from allergies, was experiencing stress and anxiety from my last migraine attack and was ready to try it.
Tranquility Salt Cave
"Tranquility Salt Cave is not your average spa. With the powerful use of salt from the Himalayas, only 45 minutes are needed to feel cleansed, inside and out. With pure salt lining the walls, ceiling, and floor, you'll experience an effortless and pain-free total-body cleanse."
Our experience was quite relaxing.  The owners are extremely nice and have a daughter who suffers from migraines also.  They were happy and eager to help me with my issues and hopeful that I would feel benefits from their beautiful facility.
The salt cave is a beautiful place.  You enter through a grand wooden door walking onto warm salt at your feet.  The ceiling is twinkling with lights in a cave like surrounding. 
Breathe
"The salt cave is lined with Himalayan rock salt boulders, and literally tons of granulated salt rest on the floor of the cave.  The Himalayan rock salt is millions of years old and it contains over 84 trace minerals which are readily absorbed by the human body. As pure salt is diffused into the salt cave, the healing begins.  Negative ions are released into the air, helping to promote calmness and toxins begin to be removed from the air which you breathe. The salt is anti-bacterial and begins to clear clogged mucous and debris from the lungs.  Skin conditions may even improve after repeated salt sessions." 
Relax
You find a chair with a blanket, turn off your phone and relax for 45 minutes with meditative music.
My friend and I both found it easy to relax yet difficult with the person snoring next to us.  Next time I think I'll book the room with more friends and less strangers.  With that being said, it obviously was relaxing.  My friend had been up with a preschooler and baby all night and enjoyed the quiet time.  I used my time to relax from the stressful snowy drive and breathe in the salt to help my allergies from the change of climate.
Overall, it was a time for us to relax, recover and just breathe.  It was a great way to treat ourselves to a spa experience while reaping the benefit of Halotherapy. 
Thank you Tranquility Salt Cave for showing us a spa day can be so much more!
*I was not paid or given my services for free.  I am writing this review with my own opinions in hopes of shedding light on the benefits of Halotherapy.  Please see a doctor for any guidance in your medical needs and be advised that my experiences are my own.
Sign up for our newsletter
Migraine awareness merchandise is an easy way to start a conversation, lower stigma, and take pride in the cause you are fighting. What better way to kick off migraine awareness month than by wearing migraine apparel all month long? June is migraine awareness month and Achy Smile Shop has a ton of options for you.…
Read More

→
Introducing my Healthline Migraine Video. Meet me at the Walk with Migraine was filmed by Healthline, a partner of mine. They contacted me because they were interested in my efforts with Miles for Migraine. This summer, I worked hard to fund raise for Miles for Migraine.  I participated in walks in Phoenix, spoke in Cincinnati…
Read More

→
I'm excited to announce the launch of the new migraine app by Healthline called Bezzy Migraine! I am sponsored by my partner, Healthline, to kick start the migraine app and share how it benefits me and possibly you. I will host live chats, post information, and give support. All of my opinions are my own…
Read More

→